The first few days of the Butt Challenge are officially here!
That's right: It's time to get started on making your butt into the strongest posterior possible. Today and tomorrow, you'll start getting into the groove by doing 10 reps of each of the four moves. And on the third day, you'll get some time to let your butt rest and recover.

~Bonus Butt Facts~: Even though you might think of the glutes as just one large muscle, there are actually three different muscles that comprise your overall booty — the gluteus maximus, the gluteus medius, and the gluteus minimus. Don't worry — this challenge will help with them all!

Now get out there and kick some butt! Well, not literally. You know what we mean.
Need a reminder of what the four exercises are and how to do them? Don't worry — we've got your back.
Keep your planted foot flat and point your toes forward.

Push through the heel of the foot that's on the ground.

Extend your hips as high as you can while maintaining a neutral neck.

Squeeze your butt at the top.

Keep your knees stacked over your ankles.
Let your knees cave in.

Push your hips so high that you can't keep your back in a neutral position.
Plant your hands under your shoulders.

Initiate the lift from your butt and hamstring.

Lift your leg till it's about parallel with your hip.

Maintain a neutral neck and flat back.
Use momentum to move your leg.

Let your back arch.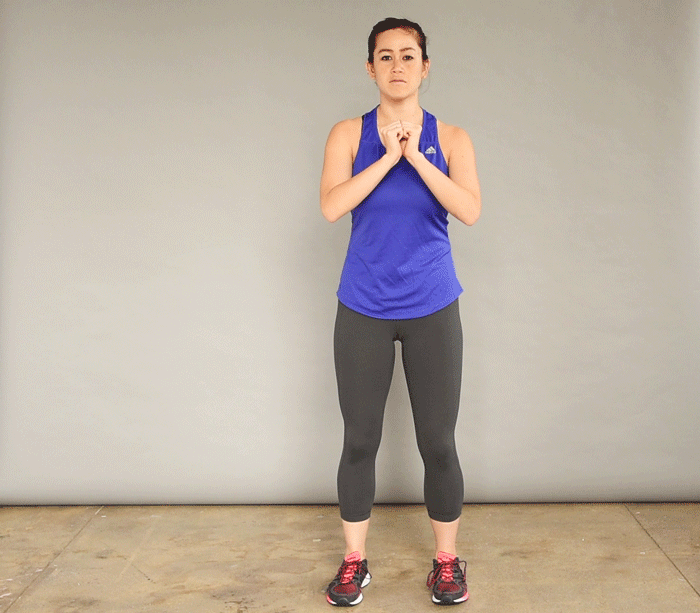 Keep your core engaged.

Make sure your hips are facing forward.

Keep your upper body relaxed.

Use your glutes to power your kick.
Kick higher than you can while maintaining control.
Engage your core.

Keep your standing leg slightly bent.

Maintain a neutral neck and keep your hips in line with your shoulders.

Think about staying tall and keeping your chest lifted.

Lower only as deep as your flexibility allows.

Pull yourself back to standing using the hamstring of your planted leg.
Lock out the knee of your standing leg.

Reach for the floor by leading with your fingertips; concentrate on hinging at the hips instead.

Try to touch the floor if your flexibility will not allow it.