21 excellent books out in paperback this month
Forwarded this newsletter?
Well, hello there! BuzzFeed Books celebrates all things books for every kind of reader, and the newsletter is the best way to keep up with curated posts, exclusive reviews, virtual events, and author features. We'll pop into your inbox every Tuesday and Sunday, with the occasional offer from a sponsor. Maybe we're biased, but we think you'll really enjoy it. Hit the button below to join us!
Celebrating Black lives and stories
Read Receipts:
Texting with Catherine Cohen
Comedian, cabaret star, writer, and general Renaissance woman Catherine Cohen has been sharing her raw, stream-of-consciousness poems on her Instagram since 2016. Now they're gathered in God I Feel Modern Tonight — an unflinching collection that explores sex, ego, art, bodies, millennial ennui, and longing. I chatted with Cohen via text message about earnestness, comedy, and the reasons we fight to survive, in a conversation as free-flowing and unaffected as her poetry. Here's a snippet.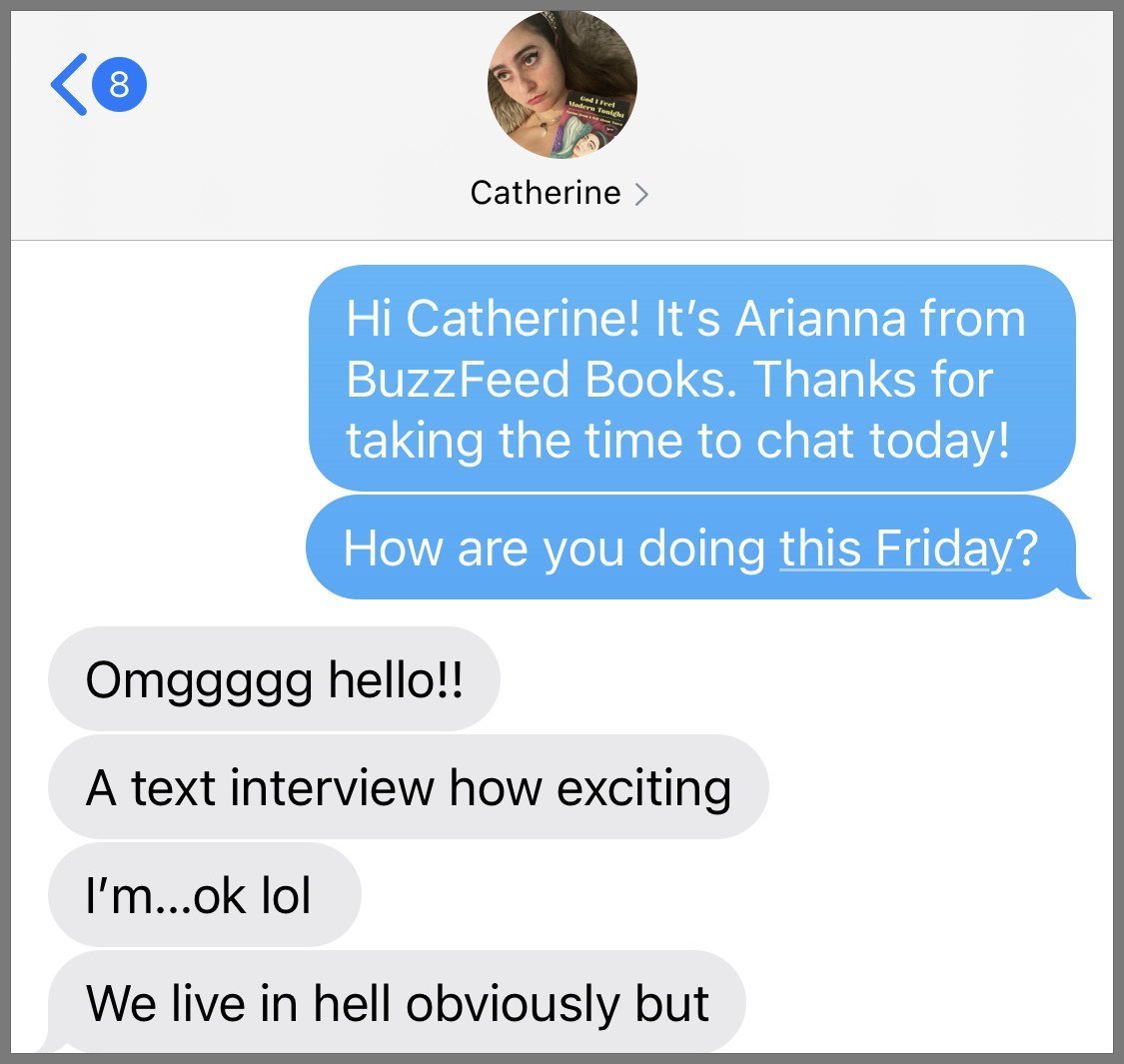 AR: True, living for the honesty
CC: hahaha
CC: Too honest for my own good vibes
CC: No but things are looking up I just watched the finale of Bling Empire on Netflix
CC: Sooo good
CC: How r u?
AR: Same more or less, I discovered this British show called Rosemary & Thyme and it's about gardeners who solve murders, which I can't recommend enough. So that's been a real highlight.
CC: Omg sign me up
CC: I famously love British
AR: Let's talk about the book!! How does it feel to (almost) have it out in the world?
CC: I'm so excited
CC: Love that girl
CC: (My book)
CC: She's rly good
AR: I am, full disclosure, a big fan
CC: Eeee !
CC: Honored
AR: I suppose we should probably say what it is — God, I Feel Modern Tonight, a poetry collection. For people who might not be aware already, can you tell us about it, how it came to be, etc.?
CC: Yes! Its a collection of lil poems I wrote, some are funny some are
CC: Dare I say…earnest?
CC: Heartwarming etc
CC: I've always loved poetry because I'm Too Emotional For My Own Good (TM) and started writing and posting lil funny poems to insta in 2016
CC: then I started reading them on stage during my act and that evolved into me bravely thinking I should have a book
AR: Knopf agreed!
CC: LOVE Knopf
CC: Working with them has been a dream
AR: What was it like integrating something more earnest into your act/"brand" (sorry) — were you nervous about it?
CC: Hehe yes!!
CC: It's mortifying
CC: But I will be dead one day (annoying) so might as well share the things I'm proud of !
AR: True! Solid advice
AR: I'd love to hear about how you approach comedy vs poetry, how they feel similar or different
AR: I know you do a lot of songwriting too, which feels sort of between the two
CC: ya sometimes I'll have an idea that could be a poem or a song or a joke and I have to decide what feels right
CC: All of it is very stream of consciousness
CC: Writing poems and songs is easiest for me. Jokes are hard and boring lol
CC: I've come up with most of my standup bits from just being on stage every night and now that we famously can't do that, poetry has been a good outlet for whatever I'm feeling in the moment
This week in virtual book events: Feb. 8–12
R.O. Kwon and Garth Greenwell, co-editors of the short story anthology Kink, discuss the book with contributors Carmen Maria Machado and Alexander Chee — hosted by Politics & Prose, 6 p.m. ET. More info.
Maisy Card discusses These Ghosts Are Family — hosted by Book Soup, 6 p.m. PT. More info.
BuzzFeed, Inc.
111 E. 18th St.
New York, NY 10003
We hope you love the products we recommend! Just so you know, BuzzFeed may collect a small share of sales from the links in this email.