☕️ Monster mash
| TOGETHER WITH | |
| --- | --- |
Good morning. We've been working all week preparing our brand new, ultra-cool, hot-off-the-presses, equal parts mesmerizing and spectacular Sunday Edition. If you're subscribed to the newsletter, you don't have to do anything—just check your email Sunday morning.
It's so easy a caveman could do it...uhhh still working on Sunday Edition's tagline. 
MARKETS 1-DAY PERFORMANCE
Bitcoin

+0.14%

$59,104.00
*Stock data as of market close, cryptocurrency data as of 7:00pm ET. Here's what these numbers mean.
Markets: The US stock market is closed today for Good Friday, but it probably wished it could keep the engine running. The S&P 500 climbed above 4,000 points for the first time ever to close at a record. It was at ~2,300 about one year ago.
Energy: OPEC and its allies agreed to bump up oil output over the next three months, which is basically making a bet on a global economic rebound.
US economy: Today's jobs report is expected to be the opening act of a mega hiring boom this year. Economists expect 615,000 jobs were added last month.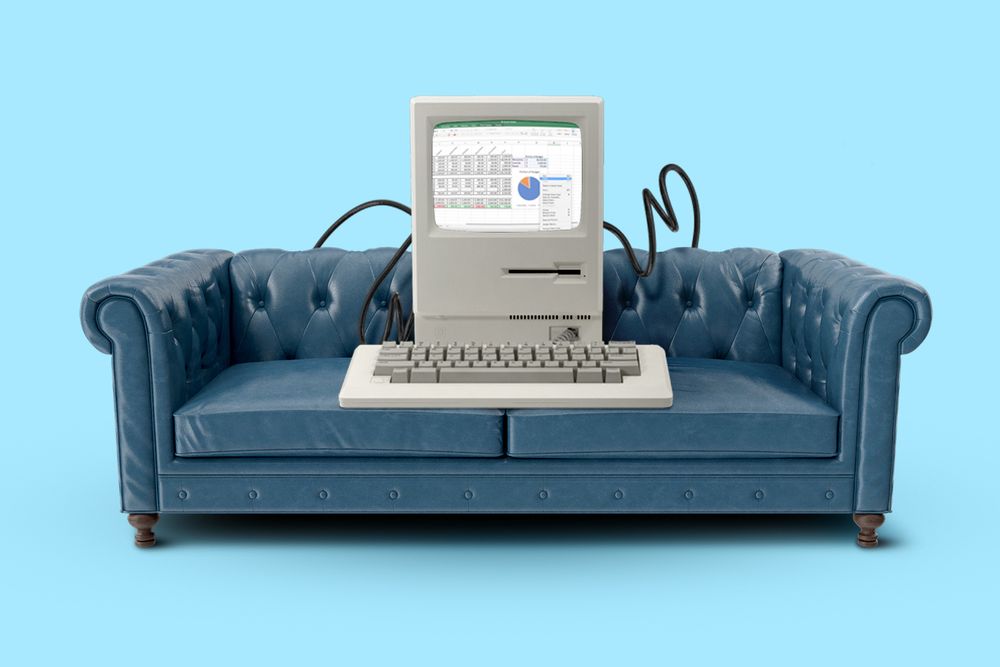 Francis Scialabba
Dust off your daily podcast of choice, because an old friend is waiting to welcome you back: the commute. In the last week...
Companies are going full Prius
As offices reopen, many firms are embracing "hybrid" arrangements where employees only come in a few days a week. Which is apparently what they crave: A Microsoft survey of 30,000 workers found 73% want flexible remote options. 
Microsoft itself is already allowing some workers back, with part-time remote as the new standard. 
Citigroup CEO Jane Fraser also plans on 3 days/week in the office for most employees after the pandemic.
Why not go full remote? Some execs aren't convinced full-time remote work is better for the employee or the business. Microsoft CEO Satya Nadella has warned it causes burnout, and incoming Amazon CEO Andy Jassy said that with WFH, "You just don't riff the same way," which hurts innovation.
Plus, there are social effects to consider. Economist Enrico Moretti told Vox that "high-productivity" workers and specialized industries have always clustered in cities (think tech in Seattle, financial services in NYC, biotech in Boston). Moretti argues the pull of certain industries, packed bars, and Shawarma Guys is too strong for most people to work remote full-time in the long run. 
Either way, prepare for office changes
As companies accommodate a partially remote workforce, they're reimagining office spaces to include:
Larger meeting areas
"Zoom rooms" with lots of screens and cameras
Bringing back SMART Board glory days
Fewer personal desks, more "hoteling" workstations (aka hot desks)
Mobile furniture 
One thing to figure out? How to preserve the essential afternoon nap.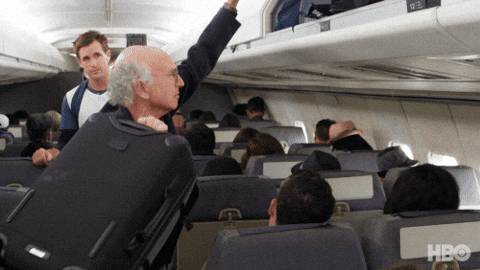 Giphy
Frontier Airlines raised $570 million in an IPO yesterday, becoming the second budget airline (after Sun Country) to go public this year. Because if you thought IPOs were just for tech companies, you haven't heard the news: Air travel is becoming a more popular spring trend than florals, especially in vacation hotspots like Jackson Hole, WY.
Big picture: After losing about $35 billion last year, the airline industry says it's time to come get your Biscoffs and tiny Sprites. US airports have recorded nearly three weeks of 1+ million daily passengers, and American Airlines said spring bookings are at 90% of 2019 levels. Other airlines are also preparing for a hot girl summer:
Delta will stop blocking middle seats on May 1 (sigh).
United told staff it will hire hundreds of pilots to keep up with increased demand, per CNBC.
But...while leisure travel may be returning, business travel is still trying to defrost with a broken hairdryer. And business passengers account for 60%–70% of industry sales, per the trade group Airlines for America.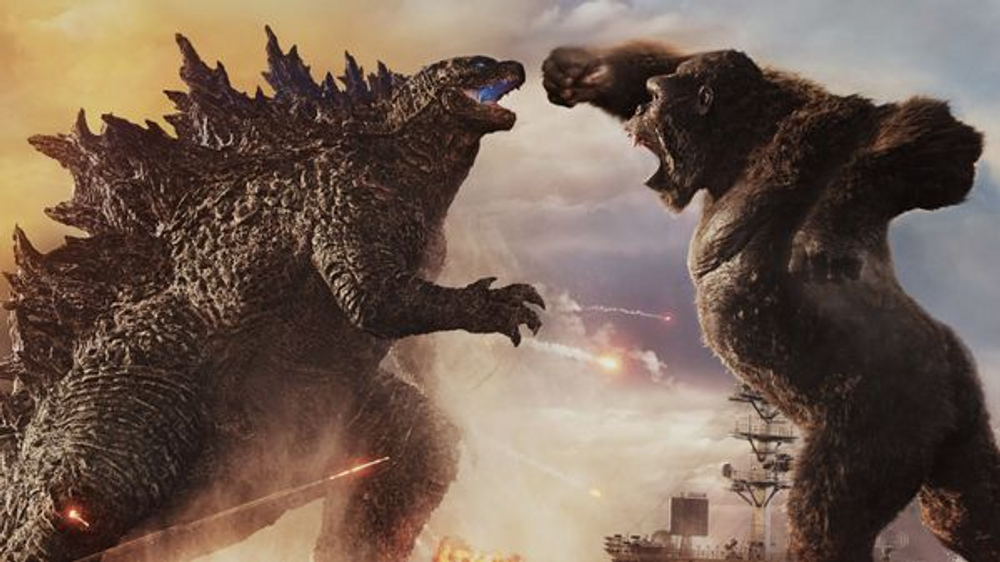 WarnerBros
It's been a big week for anyone who loves monster movies or watching Daniel Craig snoop through rich people's things.
Godzilla vs. Kong
Warner Bros. and Legendary Entertainment's monster mash had the best opening day for the US film industry since the pandemic began, collecting $9.6 million at the domestic box office. That comes after a $123 million weekend overseas that broke pandemic-era international box office records.
Side note: The film was also released on HBO Max for no extra cost to subscribers, but in a bullish sign for theaters, plenty of people still wanted to witness the two beefy boys battle it out on the big screen.
Speaking of beefy boys...
Netflix shelled out a mammoth $450 million for the rights to two more Knives Out movies. The first film from Lionsgate and MRC, an Agatha Christie-style murder mystery with everyone's favorite chunky knit sweater, earned $311+ million and an Oscar nomination for best original screenplay.
As more streaming services crowd consumers, Netflix has realized more seasons of Love is Blind just isn't enough to grow its subscriber base and sealed one of the biggest deals ever for the rights to a movie series.
It's spring, daffodils are sprouting, the days are getting longer, and yet your student loans are still bumming you out. 
It's time to refresh your student loans with CommonBond. CommonBond can replace your old loans with a single, smarter one. You can save money every month or pay off your debt more quickly—either way, your debt will go from ceiling stain-brown to the bright yellow hue of the bloomin' beauties in your yard. 
Though the daffodils are growing taller, CommonBond's interest rates are as low as they've ever been. Rates are starting to rise, though, so now is the time.
While refinancing can be intimidating, CommonBond's award-winning CARE team can walk you through any questions via text, chat, email, or phone. 
Nature doesn't get to hog all the refreshing—refresh your student loans with CommonBond.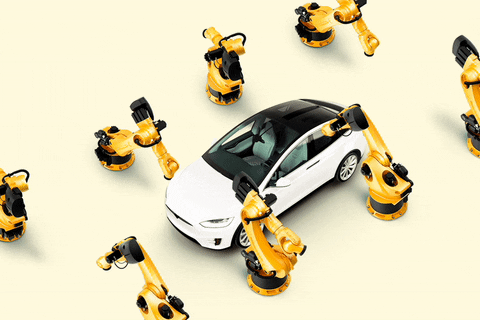 Francis Scialabba
Stat: US manufacturing activity hit its highest level in 37 years last month. The biggest problem right now is the Peloton one—making products fast enough to satisfy all the demand.  
Quote: "If the mailman stopped to kick every dog that barked at him, he'd never deliver the mail."
That's a classic saying from Roy Williams, the legendary UNC coach who retired yesterday after 33 seasons coaching college basketball. 
Read: The guy who created istheshipstillstuck.com about the Ever Given explains what it was like to run a viral website. (Not Fun at Parties)
Who doesn't spend their days dreaming of a bright future for American rail transportation? Here are three possible paths forward.
1. After President Biden released his $2.3 trillion infrastructure plan yesterday, Amtrak released a map showing what it'd do with extra funds: 30+ new routes in 15 more states, serving 160 additional communities and 20 million more passengers.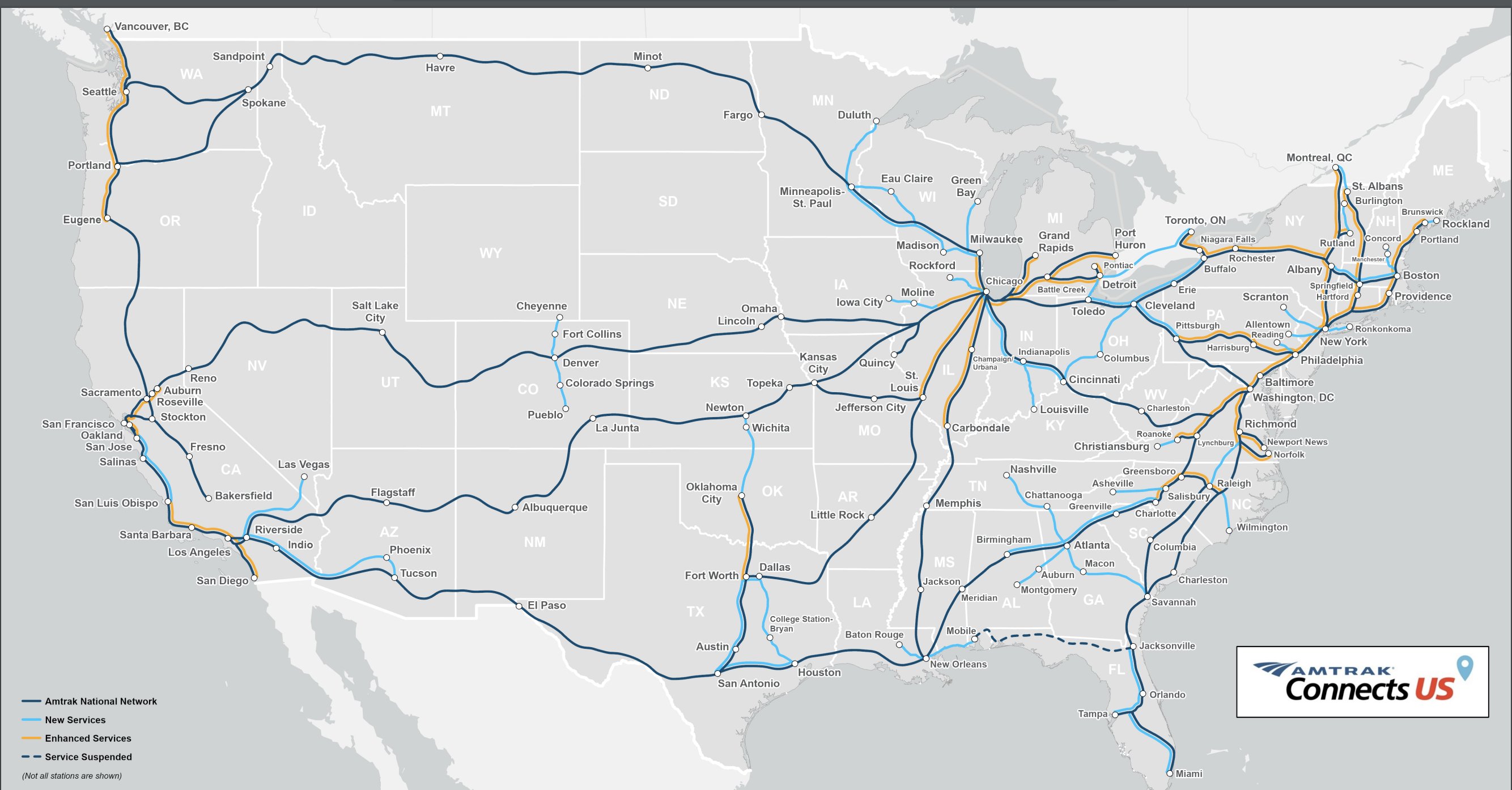 Amtrak
2. This next map, created by graphic designer Alfred Twu in 2013, envisions a Captain America-style, high-speed rail network across the US. It's been tweeted by Transportation Secretary Pete Buttigieg and has become a meme among Gen Z transportation geeks. It's not considered realistic.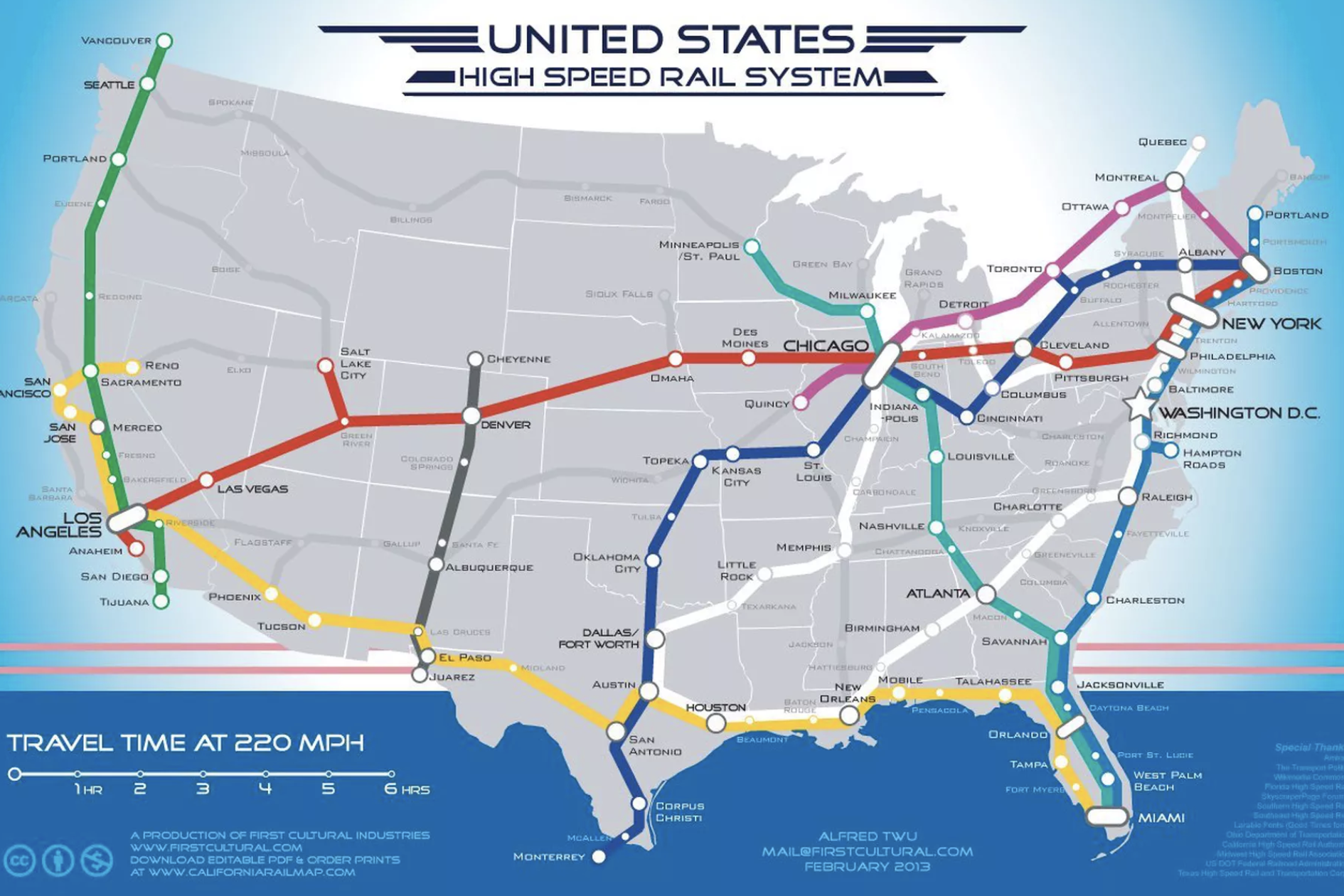 Alfred Twu
3. A more realistic vision for high-speed rail comes from transit researcher Alon Levy, who thinks more concentrated regional networks make the most sense.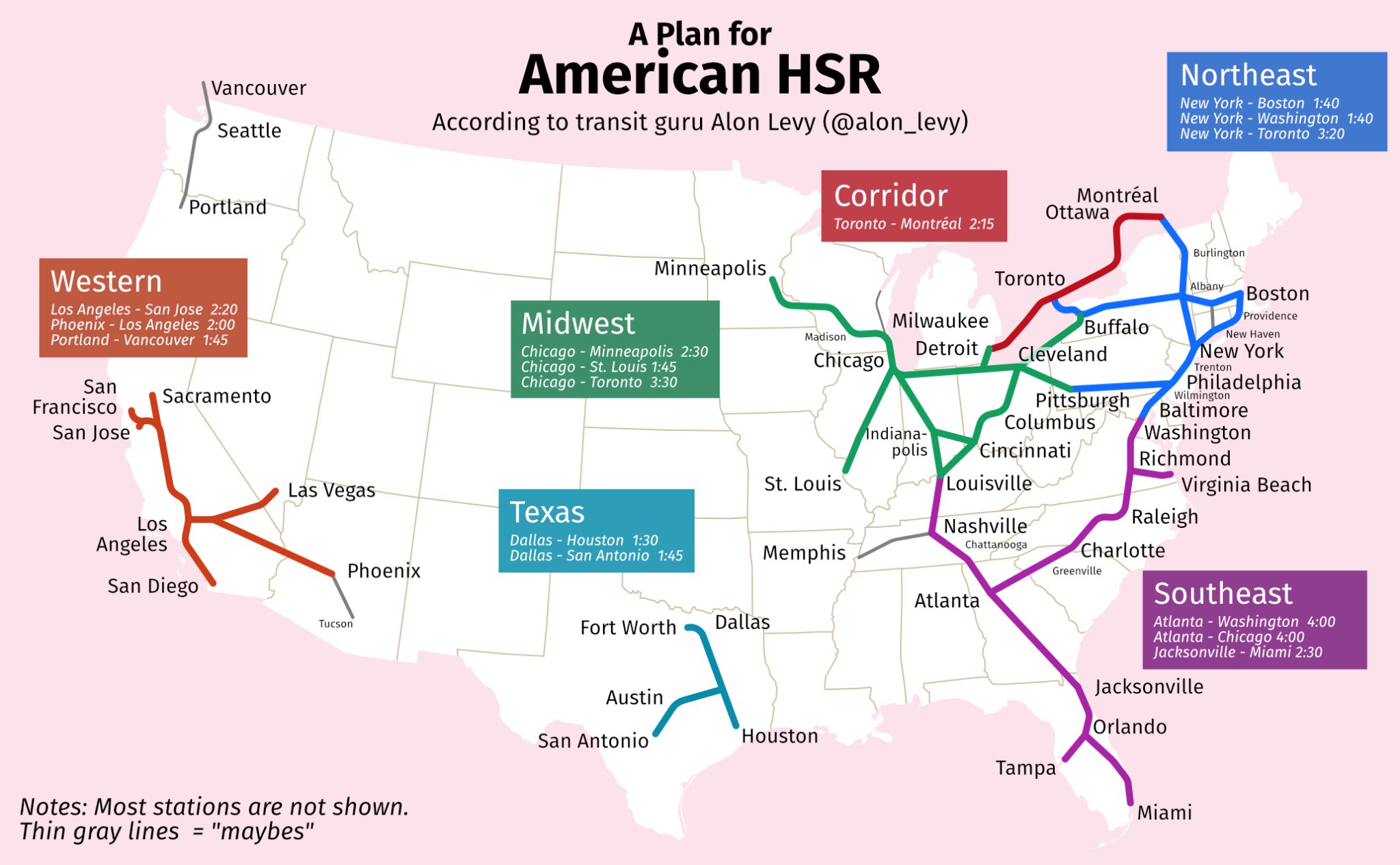 Queaugie

Francis Scialabba
The feeling of getting a 5/5 on the Brew's Weekly News Quiz has been compared to winning a free scratch-off with your free scratch-off.
It's that satisfying. Ace the quiz.
Excuse us, which way is Wall St.?
Titan
gives everyday investors access to investment management strategies traditionally reserved for the ultra-wealthy. Unlike the passive robos, Titan's award-winning investment team actively manages your capital.
Join Titan today
.*
Follow Friday: For first-person tales from the fast-food counter, follow Dylan Lemay on TikTok. And that reminds us, follow Morning Brew on TikTok as well, where you can find fun videos like this one. 
Simon says: Listen to Paul Simon break down his approach to writing "Bridge over Troubled Water." The quote you'll think about all day? Simon describes the feeling of being stuck as "Everywhere I went, led me to where I didn't want to be." 
*This is sponsored advertising content
Each of the following rectangles represents the dimensions (to scale) of a field/court/etc. for a popular sport. Can you name each sport? 
Hint: There is an NFL field on there.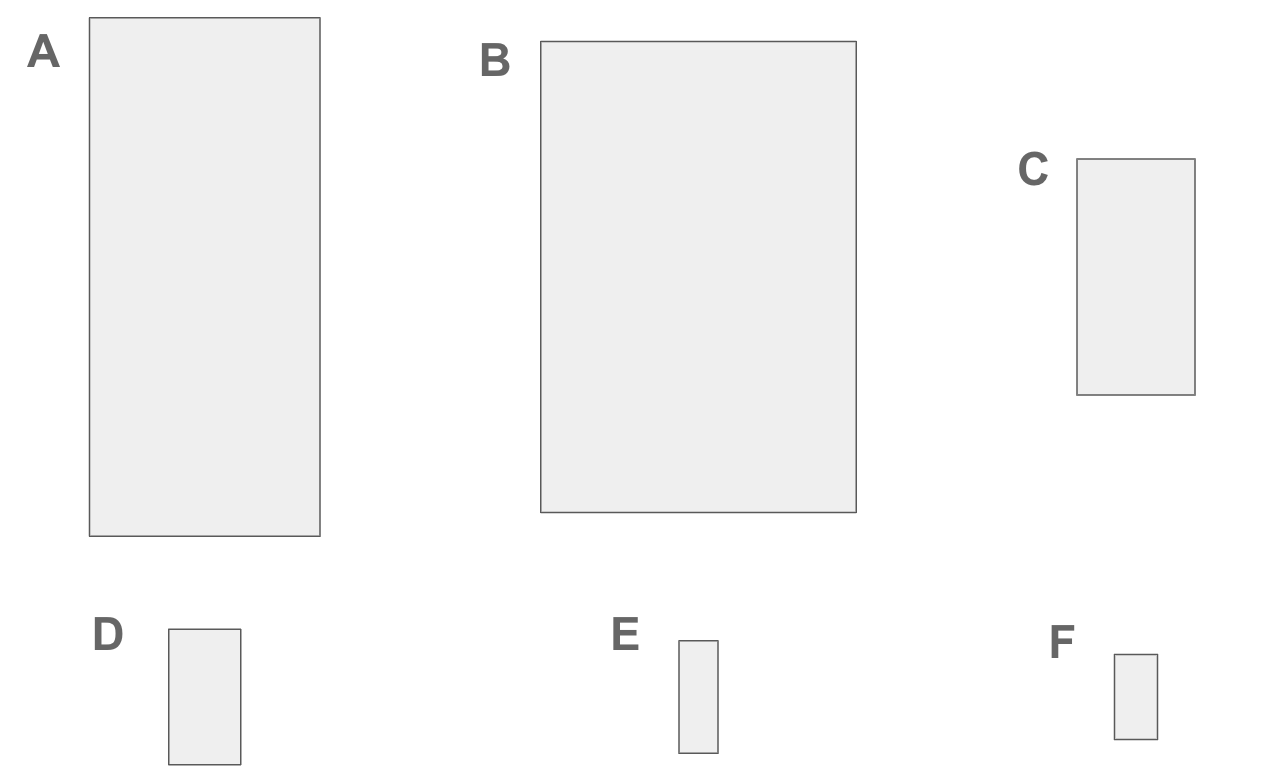 When you share the Brew, you earn rewards.
From Brew swag like t-shirts and coffee mugs to exclusive content, we've got something for everyone in our premier rewards program.
Hit the button below to start sharing the Brew.
Click to Share
Or copy & paste your referral link to others:
morningbrew.com/daily/r/?kid=8e8ccc8f
A = NFL
B = Soccer pitch
C = Olympic swimming pool
D = Basketball court 
E = Tennis court 
F = Volleyball court