☕️ Sales mode
| TOGETHER WITH | |
| --- | --- |
Good morning. What a performance from Baylor, who long after our bedtime closed out Gonzaga to win the NCAA men's national championship. 
And to all of our readers who won your office pools, make sure you cue up a fun Zoom background today to relish your victory. 
MARKETS 1-DAY PERFORMANCE
Bitcoin

-1.78%

$58,754.00
*Stock data as of market close, cryptocurrency data as of 6:00pm ET. Here's what these numbers mean.
Economy: The services sector grew at the fastest pace on record in March. That data, when paired with last week's bullish reports on manufacturing and jobs, present a pretty rosy picture of this economic recovery. 
Markets: Thanks in part to the good news , the Dow and S&P notched more records. AMC stock shot higher, but it wasn't because of Reddit traders. An analyst upgraded the company following the monster opening of Godzilla vs. Kong.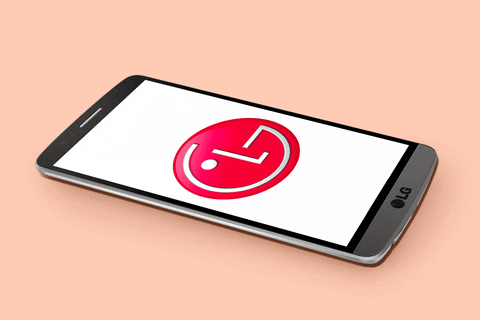 Francis Scialabba
Sunday night, South Korean electronics maker LG said it's powering down its 12-year-old smartphone business to focus on more profitable areas, like smart home devices and electric vehicle parts.
Once the world's third-largest smartphone maker, last year LG shipped just 23 million phones to Samsung's 256 million. Execs once thought the unit would turn profitable this year, but 23 consecutive quarters of losses totalling $4.4 billion said otherwise.
What went wrong?
Like Golden Delicious apples, LG's biggest issues boiled down to poor marketing and the lack of a clearly defined identity. 
Its higher-end smartphones failed to compete with the iPhone or earn a similar cult following. Mid-tier options couldn't keep pace with Samsung and its massive advertising budget. And cheaper models were outstripped by Chinese competitors like Xiaomi and Oppo. 
LG accounts for about 10% of the US smartphone market, and its departure will create even more opportunity for its South Korean rival, Samsung, which competes more in the mid-tier market. 
Ars Technica puts it a little more succinctly..."LG's phones were never good." As consumers held onto their devices longer and looked for budget options, LG fell behind.
Don't cry because it's over; smile because it happened
LG is credited with pioneering ultra-wide angle smartphone cameras and the first full touchscreen. While attempts to build buzz with features like a curved phone, swiveling screens, or modular customization fell flat, the company thought outside the box when many smartphone enthusiasts feel innovation has otherwise stalled.
Tech blogger Austin Evans tweeted, "LG were never perfect but in a world of boring slabs they delivered some of the most unique phone designs, ideas, and features ever."
Zoom out: The smartphone biz is hard. LG joins the growing ranks of failed smartphone makers, from Big Tech titans (Facebook, Amazon, Microsoft) to legacy tech companies (Dell, HP, Toshiba, Ericsson) to phone manufacturers now in their second life (Blackberry, Nokia, Motorola).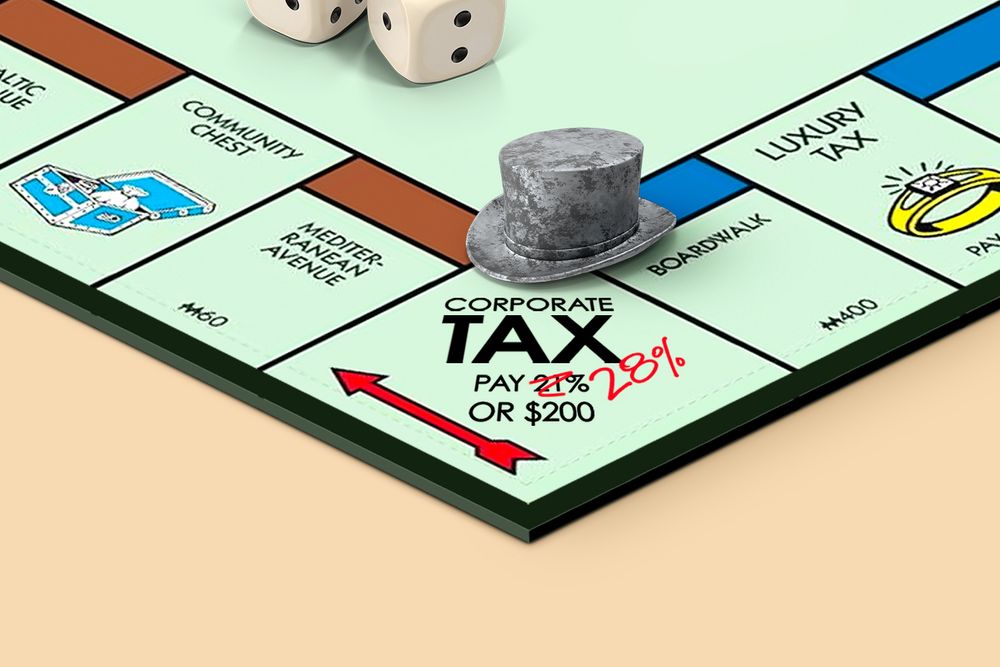 Francis Scialabba
The British Virgin Islands' tourism board might soon have to tweak its pitch. Yesterday, in her first major address as Treasury secretary, Janet Yellen called for international cooperation on a new minimum corporate tax rate.
Reminder: The US corporate rate is currently 21%, though many firms pay less. Globally, the average is ~24% and has been declining since the 1980s. 
The Biden administration is in full sales mode for the president's $2.3 trillion infrastructure proposal, which would raise the US corporate rate to 28% and double taxes on foreign profits to 21%. If that happens, Yellen wants to make sure US companies won't up and move to a country with more favorable tax policies. 
Under a coordinated international tax, multinational firms would face the same minimum rate regardless of where they park their HQ.
Zoom out: The OECD, a group of wealthy countries, has been talking about a new taxation scheme for multinationals for years, and members are hoping to reach an agreement this summer. Yellen will press her case at virtual IMF and World Bank meetings this week.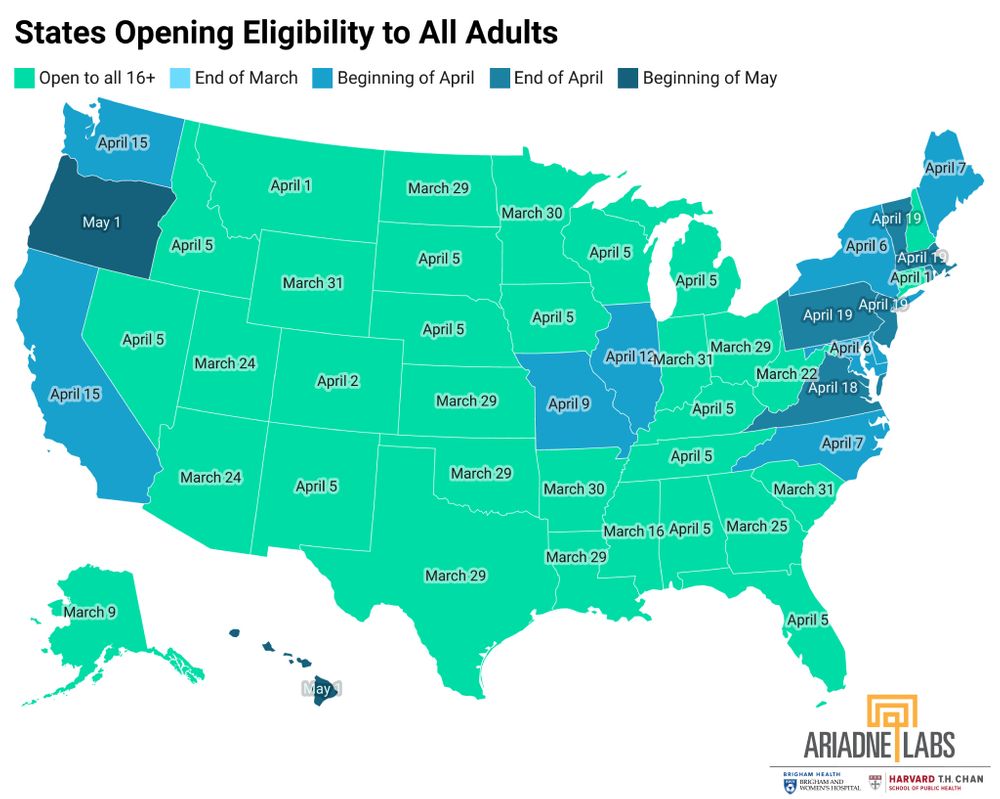 Ariadne Labs
As of today, all adult New Yorkers are eligible for a Covid-19 vaccine, setting up a new Subway Series between Pfizer and Moderna. 
Zoom out: More than 30 states have made shots available to all adults, including a dozen more states yesterday. New Jersey just announced it's opening up eligibility to everyone over 16 beginning on April 19.
SPONSORED BY MISO ROBOTICS
What do burger robots like Flippy dream about when they sleep? It's not perfectly proportioned ketchup blobs or artful aioli additions.

In fact, they don't dream at all—Flippy is powered by sophisticated AI that learns as it flips to create the perfectly cooked burger.
This emerging tech is helping businesses in the restaurant industry increase profit margins from 5% to a much healthier and tastier 14%. That translates into a 3x increase in earnings. Flippin' cool, right?
Speaking of increases, you can invest in Miso Robotics, the company behind Flippy—which could make for a tasty investment. With over 8,000 investors already, your chance to revolutionize the quick service restaurant industry just got here in a jiffy.
Learn more about Flippy and make the world's burger dreams come true.
Pixabay
Yesterday, the Supreme Court ruled that Google did not violate copyright law when it used parts of Oracle's Java code to develop the Android operating system. The ruling handed Google a W in its decade-long copyright battle over the origins of one of the most important software programs used today. 
Here's what happened: Oracle said Google "committed an egregious act of plagiarism" by using ~11,500 lines of code from the Java platform now owned by Oracle. Google argued that because it used Java APIs, or application programming interfaces, that were essentially building blocks and lacking much creative expression, Google was covered under "fair use" protections.
Ultimately, in a 6–2 decision, the court said that Google's use of the code did fall under fair use, and that if Oracle had its way, other developers could be blocked from getting the code they needed and tech innovation might slow down. 
Expect future battles. The court didn't decide on whether any APIs could be protected under copyright law, and Justice Stephen Breyer acknowledged that tech is changing so fast it's best to "not answer more than is necessary."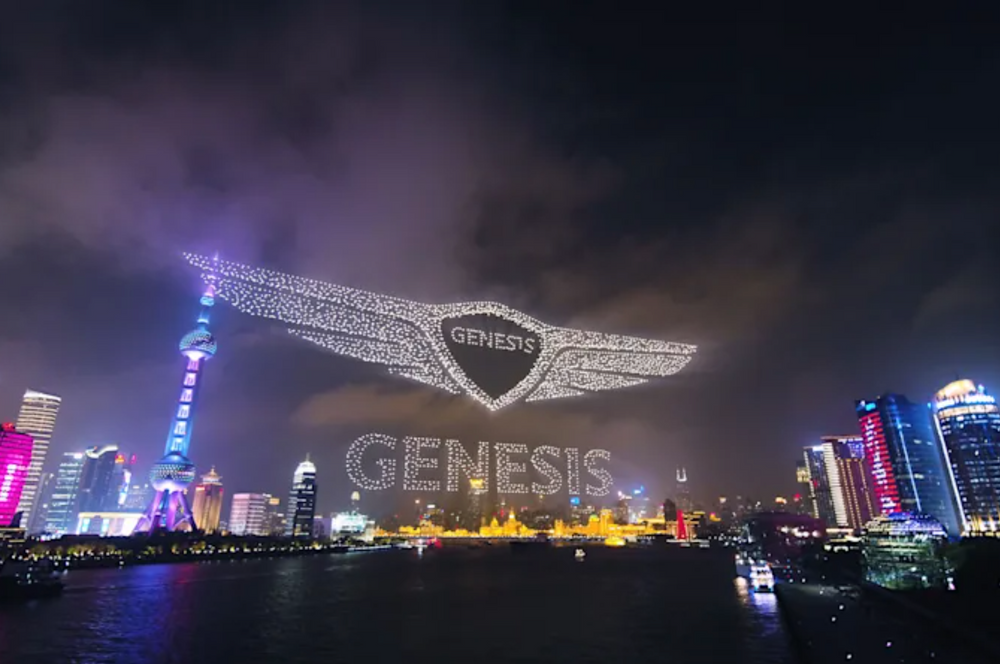 Genesis
Stat: Genesis, the Hyundai-owned auto brand, just set the Guinness World Record for most Unmanned Aerial Vehicles (aka drones) in the air at the same time. It sent 3,281 drones into the Shanghai night sky on March 29 to promote its entrance into China. 
Quote: "On Monday, April 12, I will be going to the pub myself and cautiously but irreversibly raising a pint of beer to my lips."
An "I'm going to grab a beer" probably would have sufficed, but UK Prime Minister Boris Johnson offered his own unique way of confirming that England will proceed with reopening non-essential businesses next week, including hairdressers, gyms, and outside service for restaurants.
Read: How beauty filters took over social media and changed the way young girls see themselves. (MIT Tech Review)
Around 80,000 retail stores, or 9% of the total in the US, will close their doors by 2026 if e-commerce sales continue their upward trend, a new report from UBS projects.
The category that'll be hit the hardest: clothing and accessories retailers, which are projected to close 21,000 stores by 2026.
Plus, 45% of office supply stores are expected to close in the next five years.
But Home Depot hot dogs remain safe. Retailers in the home improvement, grocery, and auto parts sectors are expected to be relatively immune from having to shutter stores.
Some good news: For the first time in years, 2021 store openings are actually outpacing closures, per Coresight Research. And even as many retailers struggled to stay afloat during the pandemic, there were still more than 1,000 fewer closures in 2020 than there were in 2019, thanks in part to the government's historic stimulus measures.
0.00000000000% APR. This card has 0% intro APR for 18 months with a $0 annual fee. You can even save up to $1,863 in interest charges. We think we made our point—apply for this card in just 2 minutes here.*
Ready to have your mind blown? The Great Courses Plus has mind-blowing content with its selection of over 13,000 video lectures from the world's greatest minds. Get a free trial and 20% off your annual plan here.*
Tech Tip Tuesday: "Zoom Escaper is a tool to help you escape Zoom meetings and other video conferencing scenarios. It allows you to self-sabotage your audio stream, making your presence unbearable to others." If that intrigues you, try it here.
America, America: From the mountains to the prairies, check out this map of US elevation.
"My cofounder": Morning Brew CEO Alex Lieberman talks about his relationship with his cofounder Austin Rief on the latest episode of the podcast Founder's Journal.
*This is sponsored advertising content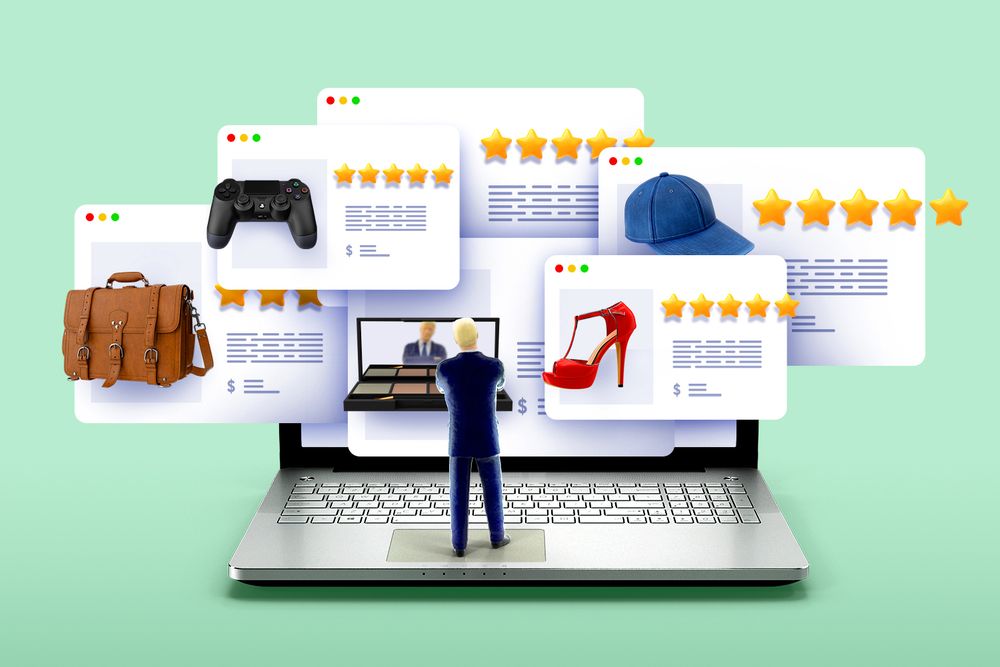 Francis Scialabba
Retail prose for retail pros. 150k retail insiders already know that our fellow publication, Retail Brew, is the best source for news and insights on everything retail, e-commerce, D2C, social shopping, and much more. Get it in your inbox Mon, Wed, Fri, and become an industry insider immediately.
Which popular beverage product has the following ingredient list?
Filtered Water; Sugar; Pear And Grape Juice Concentrates; Citric Acid; Orange, Apple And Pineapple Juice Concentrates; Natural Flavor
Enjoying the Brew? Consider sharing it with a friend.
When you do, we don't just give you a pat on the back and say, "Well done old sport." You earn rewards like our classic coffee mug or T-shirt.
Hit the button below to start sharing the Brew.
Click to Share
Or copy & paste your referral link to others:
morningbrew.com/daily/r/?kid=8e8ccc8f
Capri Sun Fruit Punch. What a throwback...