The Daily PetaPixel for 05/01/2021
By Anete Lusina on Apr 30, 2021 04:54 pm
The Royal Photographic Society has set out on an extensive initiative, titled "Photography for Everyone" with the goal of making the photography industry more inclusive and accessible for all through a number of projects.
By Jaron Schneider on Apr 30, 2021 04:43 pm
Photographer Michael Shainblum is has shared multiple videos and tutorials about landscape photography and in two recent uploads, he juxtaposes what can be done with two different perspectives — wide-angle versus telephoto — in a very familiar environment.
By Jaron Schneider on Apr 30, 2021 03:48 pm
In an effort to encourage more people to adopt black, dark-coated animals, photographer Chantal Levesque has been working on a long-term photo project designed to highlight their happiness and push aside stigmas associated with their color and boost adoption rates.
By Anete Lusina on Apr 30, 2021 02:19 pm
The Photo Is Light World Photography Contest has announced its 2020 winners in six categories and, among them, the "Illuminated Photographer," who received the highest score throughout the competition.
By Will Seward on Apr 30, 2021 01:39 pm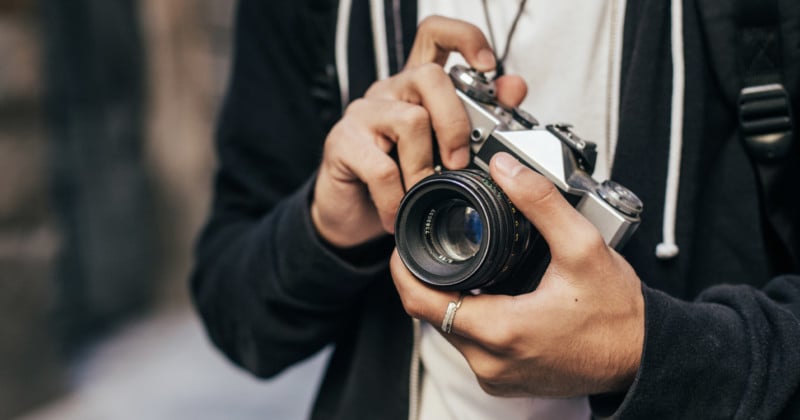 Just outside of the Twin Cities in Minnesota, in my childhood home's partial basement, there were only two rooms without windows: the darkroom and the crawlspace, which younger me had deemed the "icky space."
By Denis Hocking on Apr 30, 2021 12:32 pm
I have an irrational fear of ships based on 90-minute voyages on car ferries across the relative calm of the English Channel and yet I was sitting with my wife, Fre, listening to Tony Spencer trying to convince us that we should join him on "the adventure of a lifetime," the fulfilment of a dream that Tony had been working on for three years.
By Jaron Schneider on Apr 30, 2021 11:54 am
The Perlan Museum — host of a state-of-the-art 8K planetarium and other exhibitions focused on Iceland — commissioned filmmaker Ragnar Th. Sigurðsson, founder of Arctic Images, and drone pilot Arnar Þór Þórsson to fly an 8K-capable 360 camera over the erupting volcano to capture an immersive virtual reality (VR) experience.
By Jaron Schneider on Apr 30, 2021 11:13 am
In celebration of the Hubble Space Telescope's 31st year, NASA astronomers aimed the famed observatory at what is called a "celebrity star," or one that is one of the brightest in our galaxy. This one, named AG Carinae, is wavering on the edge of self-destruction.
Earlier Stories:
Photo Series Shows Pandemic Emotions, Starts Mental Health Talks
Identify a Lost Dog with NOSEiD: Scan Snouts with Image-Detection Tech
Sony Again Underestimates Demand, Delays Sony 50mm f/1.2 GM
The Secret to Amazing Cityscape Photos: A Magic 15-Minute Window
NASA Astronaut Who Captured All of Humanity in a Single Photo Has Died
Copyright © 2021 PetaPixel, All rights reserved.
You are receiving this email because you opted in via our website. 
PetaPixel · 2944 N 44th St Ste 100 · Phoenix, AZ 85018-7258 · USA
You can update your preferences or unsubscribe from this list.