New eBook. Learn to Be a Better Boss, Negotiator, Organizer and More in How to Do Anything Better

Improve Your Skills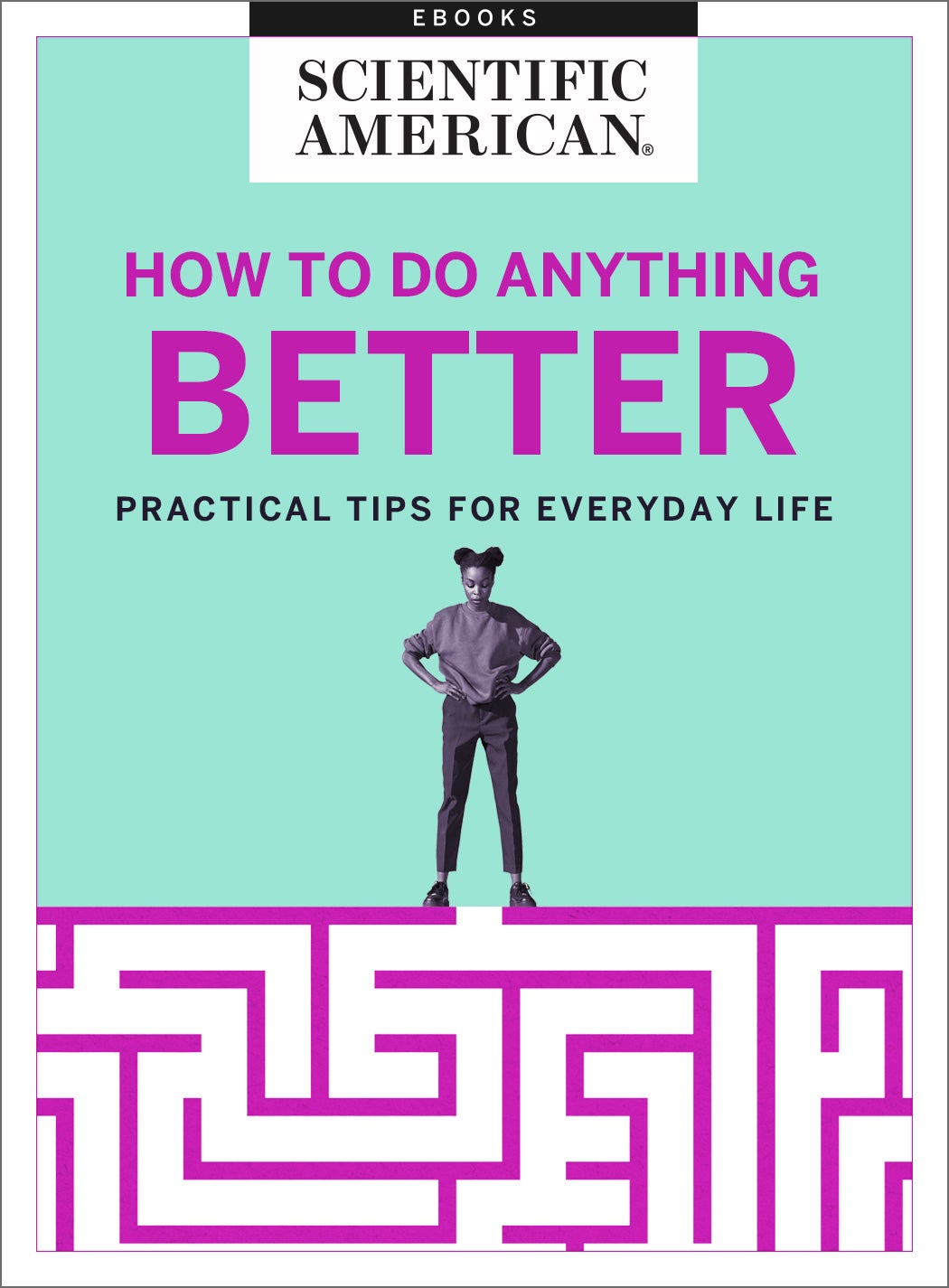 When we think about the things we do every day—driving, working, parenting—we realize that even with tasks we are generally good at, there is always room for improvement. As always, science is on the case. This eBook contains a collection of columns written by health and psychology journalist Sunny Sea Gold. These selections, published by Scientific American between 2009 – 2017, offer practical tips for acing life from nailing that job interview to giving the perfect gift.
The Science of Climate Change
As evidence for human interference in the Earth's climate continues to accumulate, scientists have gained a better understanding of when, where and how the impacts of global warming are being felt. In this eBook, we examine those impacts on the planet, on human society and on the plant and animal kingdoms, as well as effective mitigation strategies including resourceful urban design and smart carbon policies.

Criminal Psychology and the Roots of Violence
In 2020, mass shootings and hate crimes reached record highs. On January 6, 2021, a deadly mob stormed the US Capitol. In this eBook, we examine the factors that contribute to aggressive and brutal behavior, including its biological and genetic underpinnings, how intimacy and bias can lead to violence, how people become radicalized to commit acts of aggression, as well as certain psychological disorders and their role in violent behavior.

Racism: Confronting Injustice, Bias and Inequality
The murder of George Floyd in May 2020 brought fierce and renewed tensions to issues of anti-Black racism and police violence in the US. The outcry and eruption of protests following Floyd's killing led to a long-overdue reckoning across industries, in politics and in society to confront white supremacy and racial injustice. For Scientific American, part of this reckoning is to make a commitment to improved and wider reporting of racism and to elevate Black and Brown voices. In this eBook, we've gathered some of our most important coverage to date, including how systemic racism is linked to COVID-19 and other public health crises, injustice in law enforcement practices and bias in academia and the scientific community.

Hacking the Immune System
The immune system is a marvel, but sometimes those defenses need help. In this eBook, we examine various ways the immune system is being manipulated to fight disease, starting with the science behind the research into COVID vaccines and treatments. We also examine cutting-edge interventions for infectious diseases beyond COVID such as a universal flu vaccine, immunotherapies for cancer and more.

Women
Women have too long been an afterthought: denied equal opportunity at home and in society and ignored by science. Recent decades brought progress toward some measure of parity, but yawning gaps remain, and some are growing, threatening to undermine everyone's well-being. In this eBook, we explore research on the scientific and economic implications of gender disparity in the realms of economics, politics, education and health care.

Technology vs. Truth: Deception in the Digital Age
In the digital age, information, both true and false, spreads faster than ever. The same technology that provides access to data across the globe can abet the warping of truth and normalization of lies. In this eBook, we examine the intersection of truth, untruth and technology, including how social media manipulates behavior, technologies such as deepfakes that spread misinformation, the bias inherent in algorithms and more.

Follow Us