☕️ Hiring everyone
| TOGETHER WITH | |
| --- | --- |
Good morning. Norm Macdonald, the standup comic and SNL legend, died yesterday at 61 after a battle with cancer. People were sharing his jokes and stories all over social media yesterday, but this one stood out: 
"And I'm pretty sure, I'm not a doctor, but I'm pretty sure if you die, the cancer dies at the same time. That's not a loss. That's a draw."
—Jamie Wilde, Neal Freyman, Sherry Qin
| | | | |
| --- | --- | --- | --- |
| | Nasdaq | 15,037.76 | |
| | | | |
| --- | --- | --- | --- |
| | S&P | 4,443.05 | |
| | | | |
| --- | --- | --- | --- |
| | Dow | 34,577.57 | |
| | | | |
| --- | --- | --- | --- |
| | Bitcoin | $46,754.25 | |
| | | | |
| --- | --- | --- | --- |
| | 10-Year | 1.290% | |
| | | | |
| --- | --- | --- | --- |
| | Crocs | $149.38 | |
*Stock data as of market close, cryptocurrency data as of 5:00pm ET. Here's what these numbers mean.
Markets:

All three major US indexes are down more than 1% in September after

another dreary trading day

yesterday. Bucking the trend: Crocs, which hit an

all-time high

after offering a 2026 revenue forecast with absolutely no holes.

Economy:

Consumer prices, as measured by the Consumer Price Index, rose at a

slower pace

in August than in July—comforting news for anyone concerned about runaway inflation. Heck, even used car prices declined 1.5%.

Politics: 

California Gov. Gavin Newsom will stay in office after

winning

a recall election.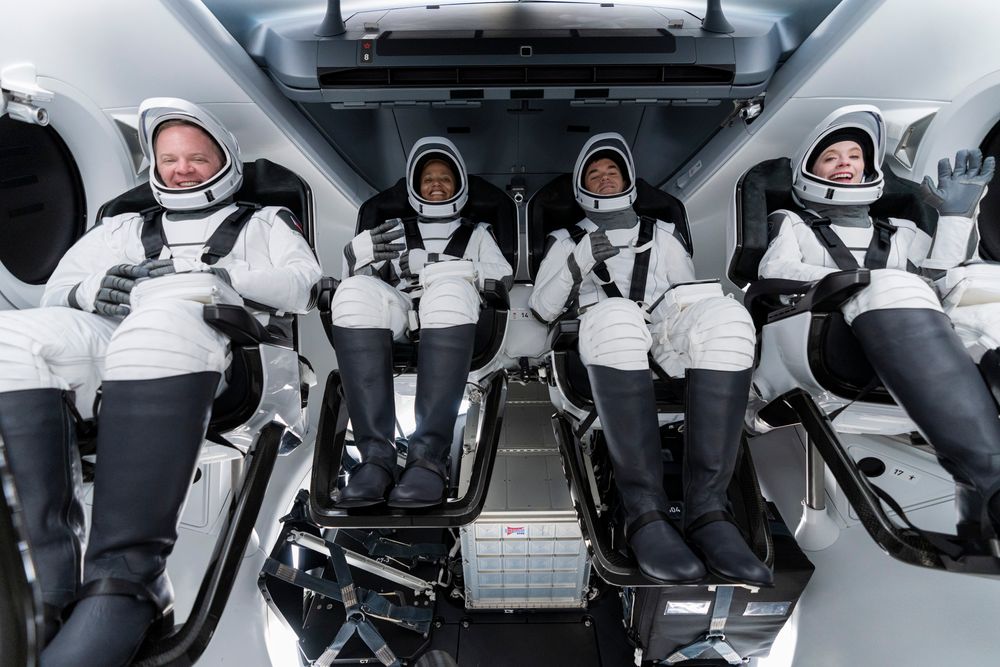 SpaceX
One billionaire and three normies currently have the coolest answer to, "What are you doing this week?"
At 8:02pm ET tonight, they'll become the first all-civilian crew to go into orbit, rising about 80 miles higher than the International Space Station at the peak of their three-day joy ride.
Why it matters: This mission, SpaceX's Inspiration4, is far more ambitious and technically difficult than the other billionaires' space flights this summer. Bezos's Blue Origin flight was the first suborbital all-civilian mission, and Richard Branson's Virgin Galactic trip was so suborbital that some question whether he was in space at all.
Meet the crew
Billionaire entrepreneur and trained pilot Jared Isaacman booked the whole ship like it's a table in Vegas for his bachelor party. Who's joining him:
Hayley Arceneaux

, a cancer survivor and physician assistant at St. Jude, will become the youngest person ever to go to space at 29, and the first with a prosthetic body part.

Christopher Sembroski

, a Lockheed Martin data engineer, is going in place of his friend who won his ticket through a St. Jude fundraising campaign.

Sian Proctor

, a geology professor and former astronaut trainee, won a contest held by Isaacman's payment processing company, Shift4. She'll become the fourth Black woman and the first person from Guam to go to space.

A lot of merch

, including a ukulele from Martin Guitar and 66 pounds of hops for Samuel Adams—"the official beer of Inspiration4." Après-space anyone?
Zoom out: Through its Commercial Crew Program, NASA invested billions in both Boeing and SpaceX to get commercial space flight off the ground. This is SpaceX's first all-civilian mission and fourth crewed flight overall, putting it lightyears ahead of Boeing, which has yet to send any humans into space.
But while the Inspiration4 is a milestone for commercial space travel, seats are still far too expensive ($450k a pop for Virgin Galactic) for the average amateur astronaut to afford.
How to watch: You can stream the mission starting at 3:45pm ET ​​on SpaceX's YouTube channel. If liftoff is delayed for any reason, SpaceX will try again Thursday night. – JW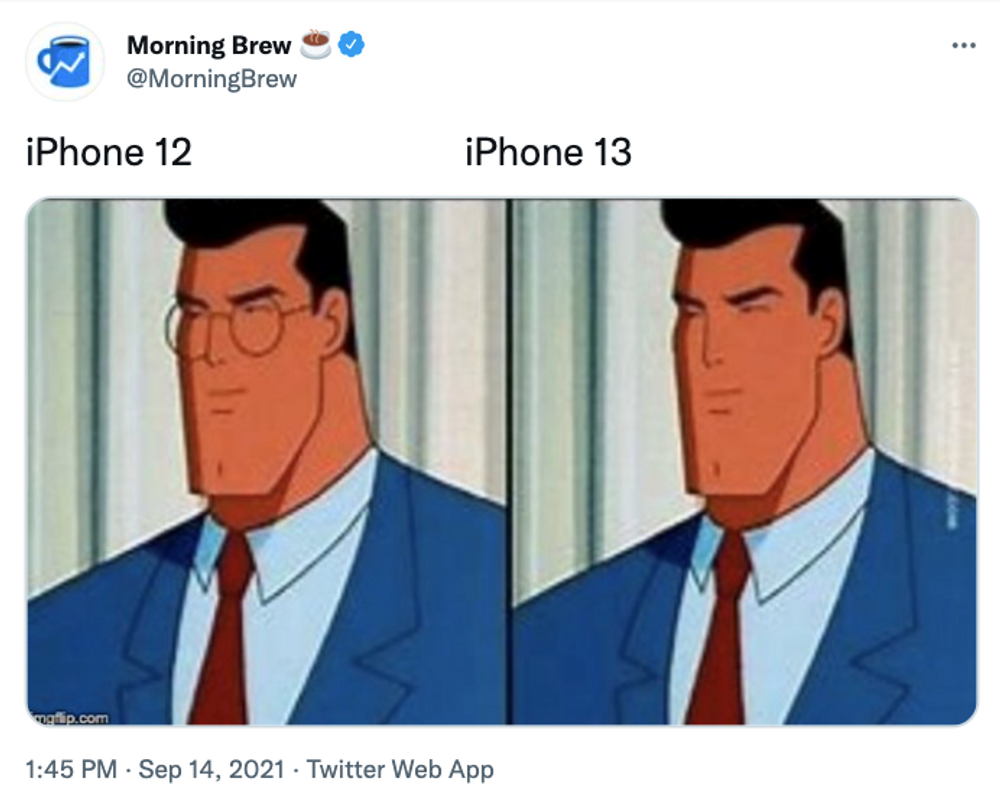 Toby Howell
After knocking on wood and refusing to pick up a quarter that landed on tails, Apple introduced the iPhone 13 yesterday. But besides a larger battery, a faster chip, and a smaller "notch" at the top of the screen, users won't find that much difference between the new model and the iPhone 12.
Okay, there is a new "cinematic mode" that's like portrait mode for videos. And the iPhone 13 Pro will become the first iPhone with the ability to store 1TB of data, so that's cool.
What else did Apple announce?
The Apple Watch Series 7

,

also

not a whole lot different than the previous model but now with a

bigger screen

.

Updated iPads

. Faster processors, better cameras, no other major changes, etc.
Big picture: Apple's event comes just days after a judge forced the company to make the biggest change to the App Store since it was created in 2008. But it mostly escaped the worst (being considered a monopoly) from a lawsuit brought by Epic Games.  
Looking ahead...these gadgets will run on Apple's new mobile operating system, iOS 15, which is set to launch this month.
For more Apple: 
– NF
"We make body image issues worse for one in three teen girls," Facebook's internal research from 2019 declared. 
Leaked documents reviewed by WSJ show that, despite knowing the harmful impacts of Instagram on teens, Facebook has taken few actions to make it less toxic and protect its most vulnerable users.
Per FB's internal research, teens who said they felt "unattractive," "not good enough," and "don't have enough money" traced their negative self-images back to the app. 

But in public, Facebook has downplayed the impacts and masked its data. "People talk about Instagram like it's a drug. But we can't study the active ingredient," Andrew Przybylski, a researcher at Oxford University, told the WSJ.
Why it matters: There are nearly 1 billion active monthly users on Instagram, and more than 40% of its users are 22 years old and younger. Teenagers may suffer from eating disorders, anxiety, and depression as they mold their lives according to the Instagram aesthetic.
Bottom line: Facebook's plan to create a new Instagram product for children under 13, which has drawn severe criticism from regulators, is still in the works. 
+ Check out this subreddit to see why Instagram isn't real life. – SQ
SPONSORED BY FIDELITY INVESTMENTS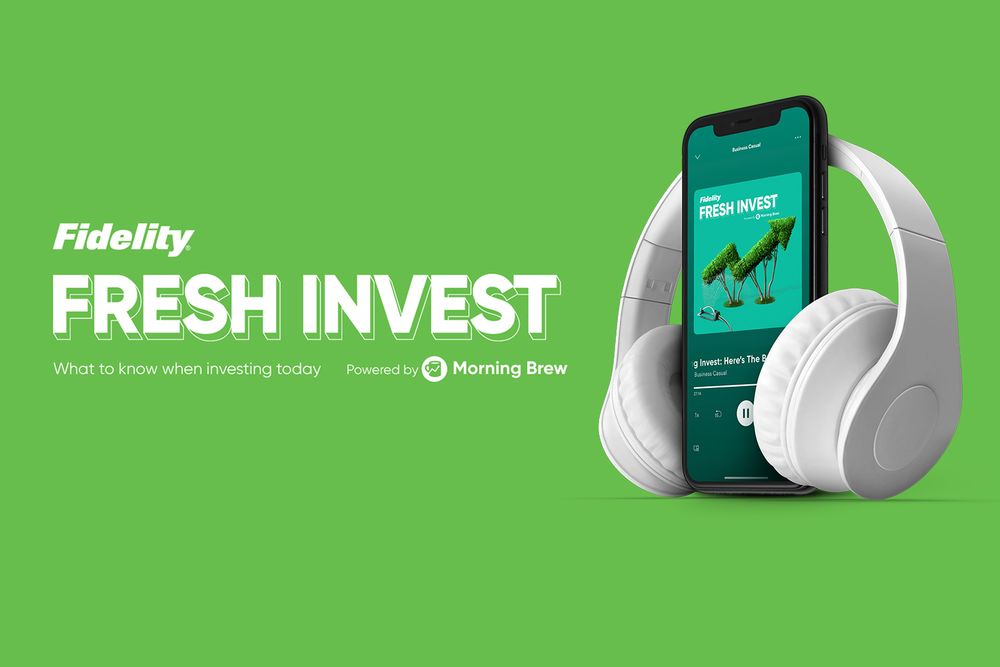 Ian McKinnon
Remember your favorite investing podcast, Fresh Invest? Well, we're officially back for a second season.
We've all heard ad nauseam, finance is undergoing a broad democratization—but market insight hasn't quite kept up with that change. The solution? We're going to deliver those market smarts every week in Fresh Invest S2. 
Now check this: Last season, we covered the economy and investing-related topics in a very macro way. This time around, we're getting personal. 
We asked you what finance q's keep you up at night, and then designed this season to assuage your wonders and worries. There's even a nifty new section where we answer one of your questions. And by "we," we mean people who really know their stuff from Fidelity Investments. 
This season, Fresh Invest isn't just about being a podcast. We want to be your BFF: Best Financial Friend.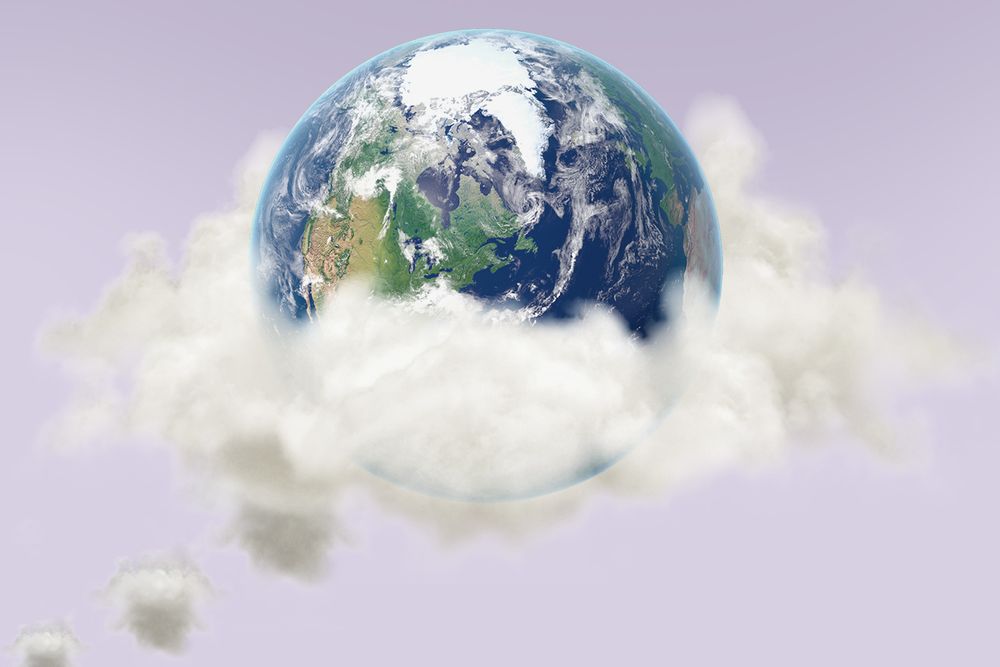 Francis Scialabba
Stat: More than 45% of young people surveyed across 10 countries said climate change caused them anxiety and affected their daily lives. 56% said they thought humanity was doomed. 
Quote: "Starting with boosters, especially giving it to healthy populations, is really not right."
The WHO's director-general continued to slam wealthy countries for starting their booster campaigns when there are countries with less than 2% of their populations vaccinated. Both the US and the UK will begin giving out third shots next week.
Read: The big problem with plastic. (Consumer Reports)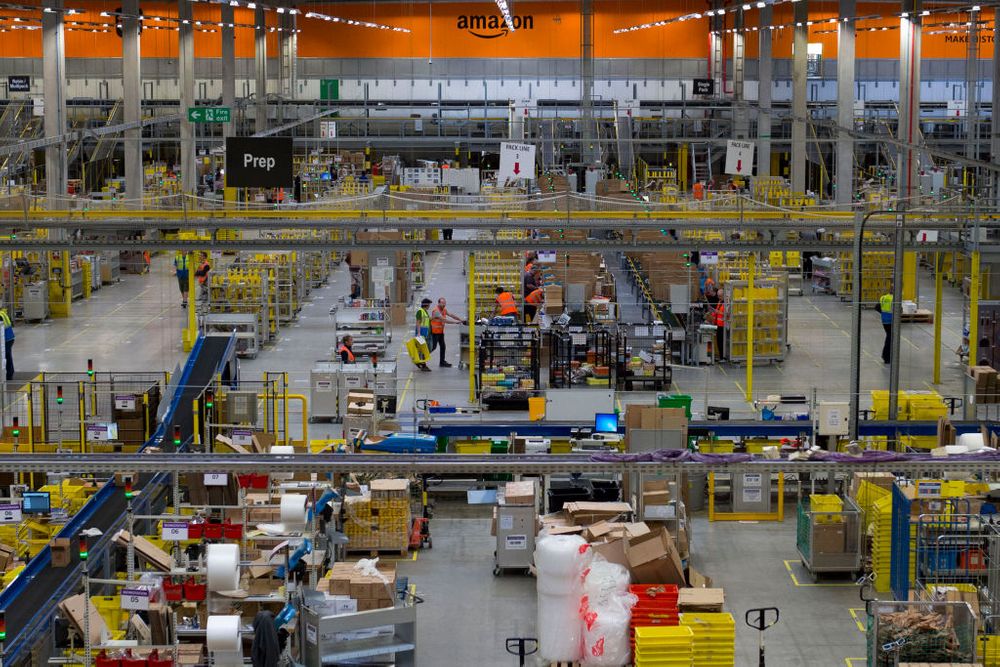 Matthew Horwood/Getty Images
Pretty soon, everyone will be an Amazon employee. 
Amazon said it will add 125,000 delivery and warehouse workers in the US ahead of the busy holiday shopping season. Those new hires will be paid an average starting wage of $18/hour, up from around $17 in May.
Where will they all work? Well, Amazon plans to open 100 new logistics facilities this month alone. It's already opened more than 250 airport hubs, warehouses, and delivery facilities this year.
This logistics hiring spree comes in addition to the 55,000 tech and corporate jobs Amazon is planning to add globally this fall. 

One out of every 153 employed workers in the US

works for Amazon

, per Business Insider.
Big picture: Amazon's raising the stakes in the fierce competition for employees. More than two-thirds of global businesses said they faced difficulty in hiring workers, a recent survey showed—a 15-year high. And yesterday, Kroger's CEO told CNBC that the company is desperate to fill 20,000 job openings. "One of the biggest constraints we have right now is finding talented people," he said. – NF
Rx, meet AI. NowRx is using proprietary software and robotics to reinvent your telehealth and pharmacy experience. They are disrupting the $480B retail pharmacy market and previously oversubscribed their $20M Series B round, proving that investors clearly want what NowRx is prescribing. Get a dose of this money-making opportunity here.*
Untuck yourself: You're cool, casual, and confident. Why not wear a shirt that feels the same? Mizzen+Main's Leeward No Tuck puts the casual in business casual and works wherever the day takes you. Use code MIZZENBREW25 to get $25 off regular price purchases of $125 or more.*
Plan your foliage road trip: Here's a map that shows when leaves' fall colors will peak across the country.
Four engineering videos: 1) The making of a Rogue barbell 2) The Dallas-Houston bullet train project 3) All about Tesla's innovative door handle and 4) Empty skyscrapers getting demolished in China
*This is sponsored advertising content
Word Search: See if you can identify subway systems around the world in today's puzzle.
For the Gram
Can you spot the the grammar/style errors in the following WSJ sentences?
A new bill would allocate competitive grants to colleges and universities to analyze, digitize and map historic housing discrimination records.

Born in Soviet-occupied Afghanistan, Ms. Popal's life had tracked the tumultuous four decades for women in her country. 

The insertion of a SWAT team like this did not diffuse the situation—it exacerbated it.

The suspect was transported to a hospital and expected to survive.
Historical, not historic. Historic refers to an important moment in the past.

This is a dangling participle. The subject should just be Ms. Popal, not her "life." 

Defuse, not diffuse.

You need a "was" before "expected to survive."
✢ A Note From Fidelity Investments
Investing involves risk, including risk of loss.
Fidelity Brokerage Services LLC, Member NYSE, SIPC, 900 Salem Street, Smithfield, RI 02917