New eBook.The Math of Everything Looks at What Math Teaches Us about Our World

Numbers Game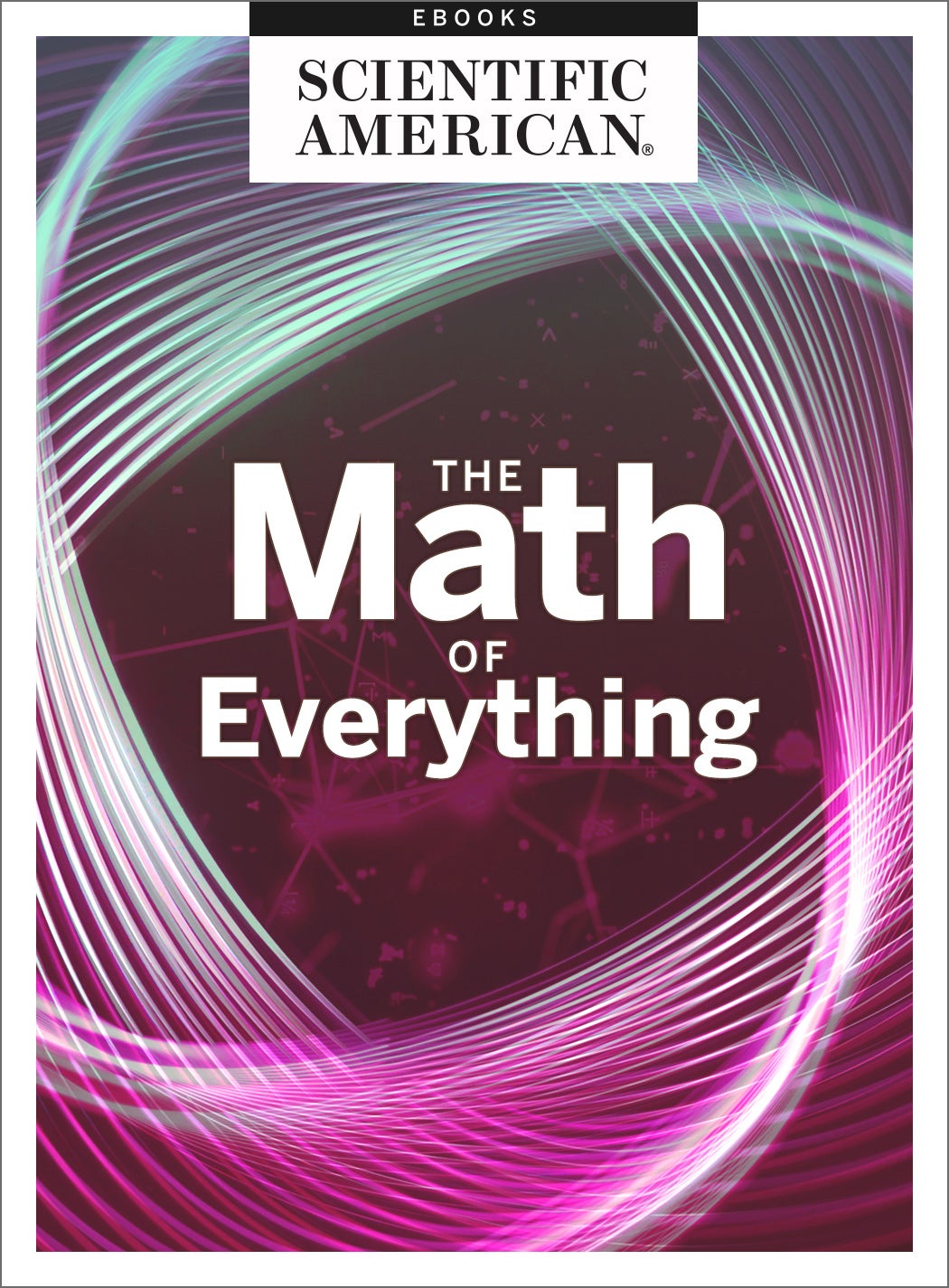 Galileo said that mathematics is the language of nature. This eBook examines math across disciplines, exploring how math is the backbone connecting the physical, social and economic worlds. From practical questions about the significance of p values and using math to fight gerrymandering to the top theoretical problems in the field, this collection looks at what math reveals about our universe.
Racism: Confronting Injustice, Bias and Inequality
The murder of George Floyd in May 2020 brought fierce and renewed tensions to issues of anti-Black racism and police violence in the US. The outcry and eruption of protests following Floyd's killing led to a long-overdue reckoning across industries, in politics and in society to confront white supremacy and racial injustice. For Scientific American, part of this reckoning is to make a commitment to improved and wider reporting of racism and to elevate Black and Brown voices. In this eBook, we've gathered some of our most important coverage to date, including how systemic racism is linked to COVID-19 and other public health crises, injustice in law enforcement practices and bias in academia and the scientific community.

How to Do Anything Better
When we think about the things we do every day—driving, working, parenting—we realize that even with tasks we are generally good at, there is always room for improvement. As always, science is on the case. This eBook contains a collection of columns written by health and psychology journalist Sunny Sea Gold, whose work has also appeared in O: The Oprah Magazine and Parents. These selections, published by Scientific American between 2009 – 2017, offer practical tips for acing life from nailing that job interview to giving the perfect gift.

The Science of Birds
Birds are fascinating creatures. They descend from dinosaurs, soar the skies and display cognitive abilities once thought to be reserved for humans. It's easy to understand why so many people are passionate birders. The more you learn about birds, the more captivating they are, and in this eBook, we examine what we know about bird evolution, intelligence, communication, migration and behavior.

Women
Women have too long been an afterthought: denied equal opportunity at home and in society and ignored by science. Recent decades brought progress toward some measure of parity, but yawning gaps remain, and some are growing, threatening to undermine everyone's well-being. In this eBook, we explore research on the scientific and economic implications of gender disparity in the realms of economics, politics, education and health care.

Hacking the Immune System
The immune system is a marvel, but sometimes those defenses need help. In this eBook, we examine various ways the immune system is being manipulated to fight disease, starting with the science behind the research into COVID vaccines and treatments. We also examine cutting-edge interventions for infectious diseases beyond COVID such as a universal flu vaccine, immunotherapies for cancer and more.

Stressed Out: Causes, Effects and Keeping Calm
Chronic stress makes people sick. The fight-or-flight response activates our bodies to face immediate threats, but that stress system must turn off to allow organs to recover. Constant anxiety keeps the system active, and in this eBook, we examine the effects of ongoing stress and trauma on both body and mind as well as ways to arm ourselves against adversity by managing stress and building resilience.

Follow Us