☕️ Olive branch
| TOGETHER WITH | |
| --- | --- |
Good morning. Apologies if the newsletter is a little sloppy this morning...we're pretty hungover from consuming too much celebrity last night at the Met Gala. And please keep words like "slay" or "icon" to yourself—we'll get nauseous.
— Matty Merritt, Sherry Qin, Neal Freyman
| | | | |
| --- | --- | --- | --- |
| | Nasdaq | 15,105.58 | |
| | | | |
| --- | --- | --- | --- |
| | S&P | 4,468.73 | |
| | | | |
| --- | --- | --- | --- |
| | Dow | 34,869.63 | |
| | | | |
| --- | --- | --- | --- |
| | Bitcoin | $45,165.72 | |
| | | | |
| --- | --- | --- | --- |
| | 10-Year | 1.326% | |
| | | | |
| --- | --- | --- | --- |
| | Airbnb | $160.32 | |
*Stock data as of market close, cryptocurrency data as of 6:00pm ET. Here's what these numbers mean.
Economy:

The S&P and Dow

snapped

a 5-day losing streak with Covid cases falling from their recent peak in the US. Airbnb stock slipped after Goldman Sachs analysts slapped a "sell" rating on the home rental company. 

Covid:

An international group of scientists, including two experts from the FDA, wrote that booster shots of the Covid-19 vaccine

weren't yet needed

for the average person. The US still plans to roll them out in less than a week.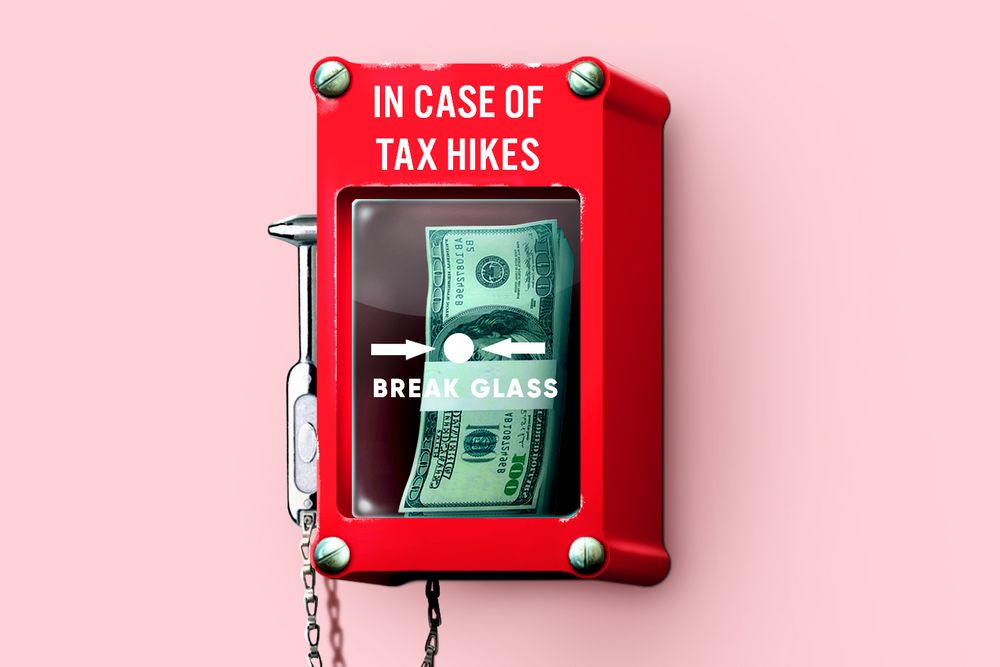 Francis Scialabba
House Democrats are all of us before wedding season as they scramble to cover the bill for their pricey $3.5 trillion budget proposal. Yesterday, they released a plan that included about $2.9 trillion in tax hikes. 
Reality check: Unless you're the CEO of Target or clutching your third boat, you won't be targeted by the increases, which aim to raise money from corporations, wealthy Americans, and investors. Here are some of the deets:
For bigger, profitable companies, the corporate tax rate would jump to 26.5% from 21% currently.

Americans who earn more than $435,000 per year would see their top tax rate

increase

from 37% to 39.6%.

Individuals earning over $5 million would get hit with a 3% surtax.

The top capital gains rate (taxes on the sale of stocks, real estate, NFTs of gorillas) would jump from 20% to 25%.
On the spicy scale, this plan is mild
While it reverses many of the Republican tax cuts for 2018, the plan stops short of the ambitious tax hikes President Biden first proposed. For instance, he initially wanted to bump the corporate rate up to 28% (26.5% in the new plan) and the top capital gains rate to 39.6% (25% in the plan). Plus the proposal doesn't include the Senate Finance Committee's taxes on billionaires' investments, where most of their wealth is tied up.
This tax proposal is seen as an olive branch to moderate Democrats who don't want to play the villain to business. However, it's not nearly tame enough to gain support from Republicans.
Zoom out: You'd think that a $2.9 trillion tax proposal to fund the biggest social spending plan since the '60s would be the No. 1 priority on Capitol Hill, but it's not. Lawmakers must pass a budget before Oct. 1 or else face a government shutdown, and time is also running out to raise the debt ceiling before the US defaults. – MM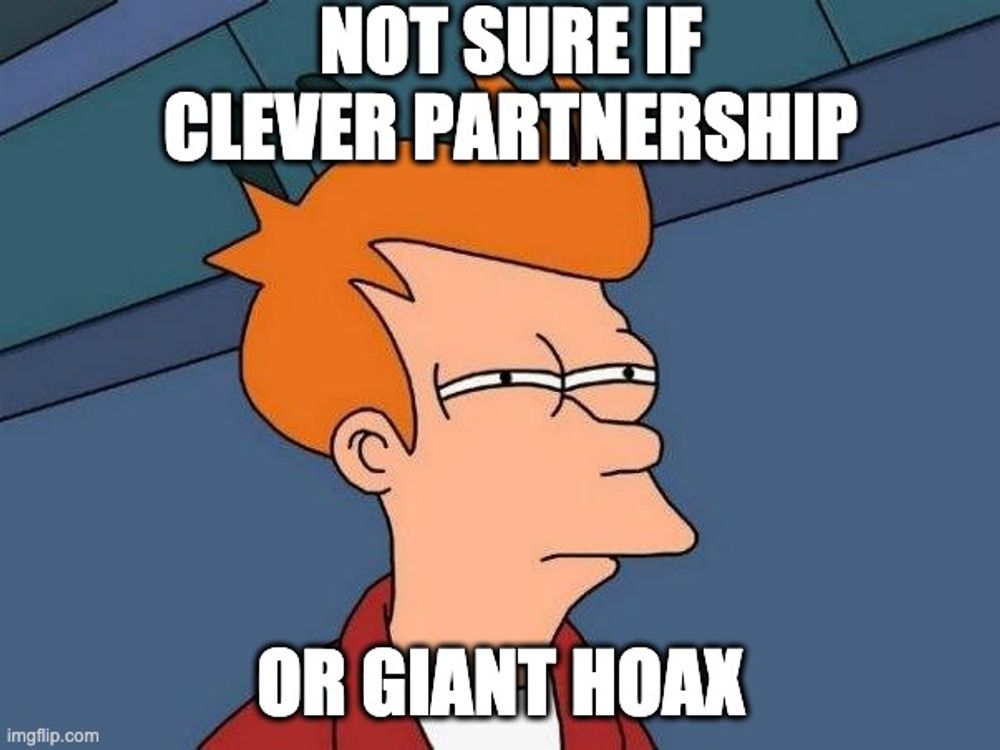 Someone just pulled off the biggest hoax since Bishop Sycamore weaseled its way onto ESPN.
A press release published yesterday morning by GlobeNewswire stated that Walmart would accept litecoin, a small cryptocurrency, as payment. While the partnership sounded odd, the release seemed pretty legit—litecoin's official Twitter handle tweeted out a link to the announcement, and news outlets like Reuters posted stories.
After reporters did some digging, though, it became clear this was fake news. That caused litecoin prices, which had surged up to 33% due to the "partnership," to fall back down.
Everyone went into clean-up mode: 
Litecoin's creator said its social media manager was "

wrong to retweet

" the announcement.

Intrado, the company that operates GlobeNewswire, said it is looking into how the fake release, which even included a made-up quote from Walmart's CEO, got through its filters.
Bottom line: Scammers have faked news announcements for "pump and dump" schemes before, but cryptocurrencies, which are less regulated and more volatile than public company stocks, are particularly fertile ground for hoaxes. – NF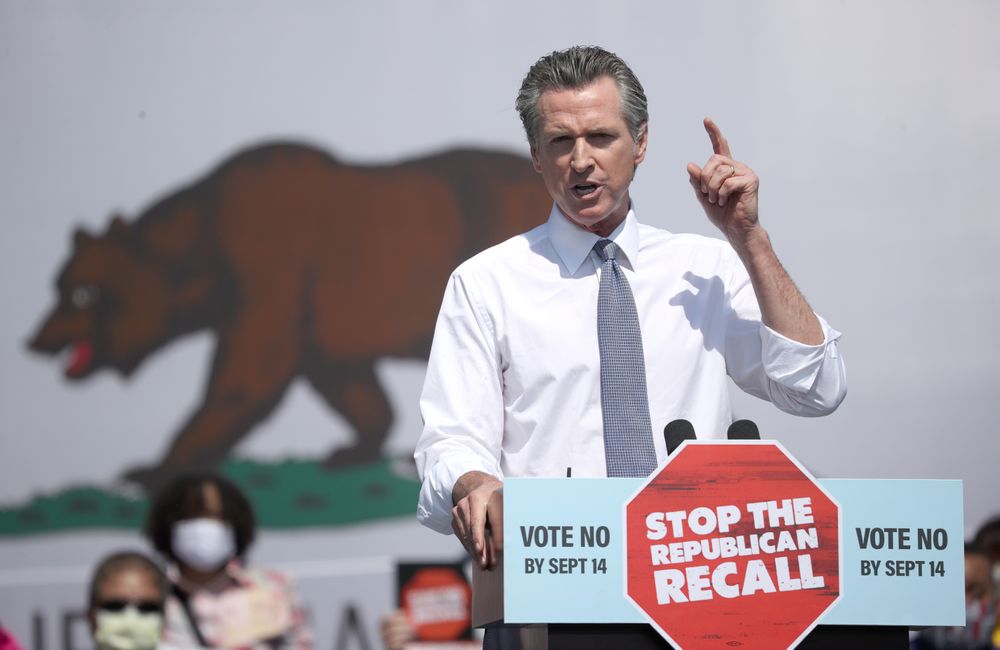 Justin Sullivan/Getty Images
California, the most populous state in the US and the fifth-largest economy in the world, will decide today whether Democratic Gov. Gavin Newsom should remain in office. If Newsom is recalled, his successor would serve the remainder of his term, which is set to end in January 2023.
The backstory: Many Californians have disapproved of the governor's handling of homelessness, water policy, and undocumented immigrants. This recall effort, which started in February 2020, grew into a real threat throughout 2020 as the pandemic worsened in the state.
This election has consequences far beyond California. It will be the first test of Democrats' strength ahead of next year's midterm elections, and, if certain things shake out just right, it may even influence which party has control of the US Senate. 
Here's where things stand right now:
The latest polls compiled by FiveThirtyEight

show

Newsom with a sizeable lead.

Radio talk show host Larry Elder is the Republican frontrunner, leading 45 other candidates trying to take Newsom's spot. 
Bottom line: Recalls are as Californian as breakfast burritos for dinner; in fact, there have been 179 attempts since 1913. But few have prompted an election and only six officials have actually been recalled. – SQ
Honestly, we have no idea (but we imagine it's horseradish-y). Good news is, we don't need to sniff out danger when we can see if there's danger lurking outside with SimpliSafe's new Wireless Outdoor Security Camera. 
The camera takes SimpliSafe's award-winning security system and extends it to the far reaches of your property—backed by 24/7 professional monitoring agents ready to dispatch help in an instant. 
That way, you'll know your raccoons from your robbers, if you have a bad actor in the backyard, and what Dad is really up to when he says he's "mowing the lawn."
Do all of that without even leaving the house or making spy-moves while trying to look out the window. SimpliSafe's camera boasts a crisp 1080p HD resolution, a built-in spotlight with color night-vision, and 2-way talk from the SimpliSafe app.
You only have until tomorrow to get 40% off new system orders.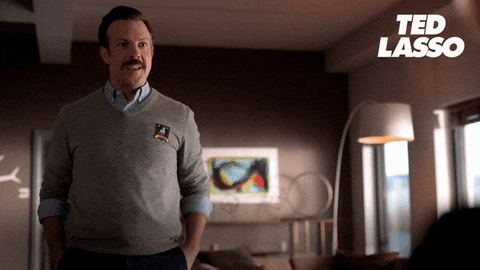 Giphy
Stat: Jason Sudeikis will make nearly $1 million per episode for season 3 of Ted Lasso, according to the Hollywood Reporter. That's a nearly 4x raise from seasons 1 and 2. 
Quote: "New York will no longer be anti-business. This is going to be a place where we welcome business and not turn into the dysfunctional city that we have been for many years."
Eric Adams, the Democratic nominee for NYC mayor, wants to reset the relationship between the leadership of the city and its business community. 
Read: Facebook says its rules apply to all, but company documents reveal a secret elite that's exempt. (WSJ)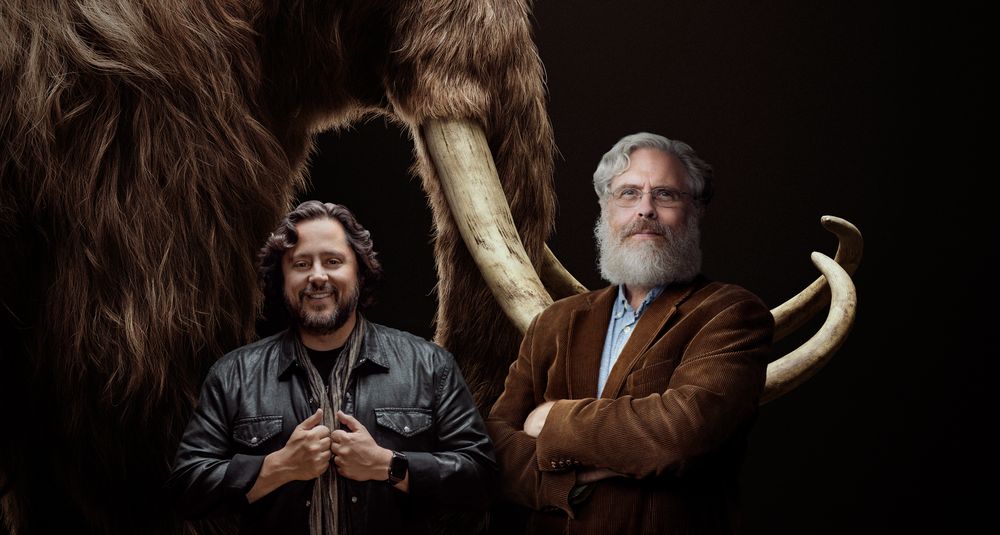 Colossal
A new company called Colossal intends to re-create and re-introduce the extinct woolly mammoth to the Siberian tundra.
How it (could) work: Entrepreneur Ben Lamm and Harvard genetics professor George Church, who have raised $15 million in funding from strategic investors including Sid the Sloth, plan to use CRISPR gene-editing technology to create a new species that's close to, but not an exact replica of, the woolly mammoths that roamed the Arctic before disappearing roughly 10,000 years ago.
OK, but why? A mammoth revival could contribute to the fight against climate change—for example, through slowing permafrost thaw in the tundra by removing trees and trampling moss, Dr. Church has argued.
Looking ahead...if everything goes according to plan, the company could begin "rewilding" mammoths in 15 years, Lamm said. But it'll have to navigate an ethical minefield to get there.
Emerging Tech Brew has a whole lot more about Colossal here. – NF
It's Tuesday, but it can feel like Sunday. How? By wearing Vuori's Sunday Performance Joggers. Offering equal parts style and soft stretch, their fresh take on athleisure is made to keep you very Vuori comfy. Get 20% off your first purchase here.*
Crypto bonus: $50, no bull. Simply sign up for eToro, buy $500 worth of crypto, and get $50 added to your cash balance. This is the place to learn about the industry, browse over 20 cryptocurrencies, and more. Join eToro today.*
Bang for your buck: Join Marketing Brew one week from today for a virtual event discussing how marketers can drive ROI out of shrinking budgets. RSVP here. 
Tech Tip Tuesday: 40 one-sentence email tips.
International streaming guide: Some of the best shows on streaming services aren't in English. Here is your definitive guide to the best TV and movies from around the world.
*This is sponsored advertising content
Brew Mini: A classic YouTube video from 2013 shows up in today's puzzle. See which one here.
iPhone Quiz 
Ahead of today's iPhone launch (here's how to watch), can you name the bestselling iPhone model of all time? 
Apple sold 231 million units of the iPhone 6 and 6 Plus in fiscal 2015, making it the bestselling iPhone series ever. 
✤ A Note From eToro
eToro USA LLC; Investments are subject to market risk, including the possible loss of principal. *Terms and conditions apply.