☕️ Suspend it
| TOGETHER WITH | |
| --- | --- |
Good morning. Considering that we just finished the final weekend of the summer, take 30 seconds to revisit the past three months. What were the highlights? Who were the people you met? What are the experiences you hope to build upon? 
...
I hope that put a smile on your face—it did for me. Enjoy the news and have a great day.
—Neal Freyman
| | | | |
| --- | --- | --- | --- |
| | Nasdaq | 15,043.97 | |
| | | | |
| --- | --- | --- | --- |
| | S&P | 4,432.99 | |
| | | | |
| --- | --- | --- | --- |
| | Dow | 34,584.88 | |
| | | | |
| --- | --- | --- | --- |
| | Bitcoin | $46,045.87 | |
| | | | |
| --- | --- | --- | --- |
| | 10-Year | 1.371% | |
| | | | |
| --- | --- | --- | --- |
| | Oil | $71.41 | |
*Stock data as of market close, cryptocurrency data as of 11:00pm ET. Here's what these numbers mean.
Markets:

While stocks have been

in a mood

lately, the September sell-off hasn't been that steep. All three indexes

remain

within 3% of their all-time highs. 

World:

Canadians

head to the polls

today to vote in the country's federal elections. Prime Minister Justin Trudeau's Liberal Party and the Conservatives are running neck and neck.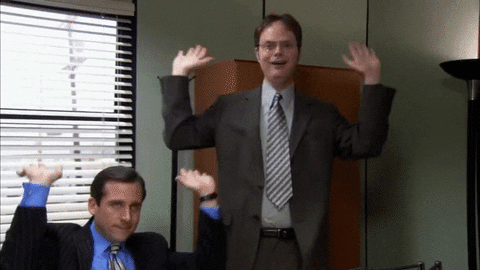 Giphy
House Democrats will make moves this week to suspend the $28.5 trillion debt ceiling as an October deadline fast approaches. 
Without suspending the debt ceiling, the US wouldn't be able to borrow money to pay its bills—and things would get ugly if that happened. The federal government would have to slash spending for programs like Medicaid, local governments would find it harder to borrow, and financial markets could go haywire. In short, a failure to act would "produce widespread economic catastrophe," Treasury Secretary Janet Yellen wrote in the Wall Street Journal. 
This one's going to be on the Dems. Senate Republicans, led by Mitch McConnell, are saying they won't vote to suspend the debt ceiling in order to make a statement about the level of spending Democrats have proposed. "Republicans will not facilitate another reckless, partisan taxing and spending spree," McConnell tweeted last week. 
What is the debt ceiling? 
A cap on how much the US government can borrow to finance its operations. 
It was introduced during World War I so that Congress wouldn't have to approve every bond issuance by the Treasury Department as it had done previously—freeing up more time for name-calling. 

The debt ceiling has been suspended dozens of times over the years, including 3x during the Trump administration. 
Important note: The debt ceiling doesn't account for new spending, like the $3.5 trillion proposal the Democrats have on the table. Instead, it's about spending Congress has already authorized, such as paying out Social Security. 
Over the years, the debt ceiling has become a "political weapon," according to the AP, as each party tries to blame the other for their spending habits and for heaping more debt on the US. 
Bottom line: Business leaders don't care who's in charge—they just want someone to take care of the problem. The Business Roundtable, an influential group of top executives, wrote that a failure to suspend the debt ceiling could "produce an otherwise avoidable crisis and pose unacceptable risk" to the country's economy and markets.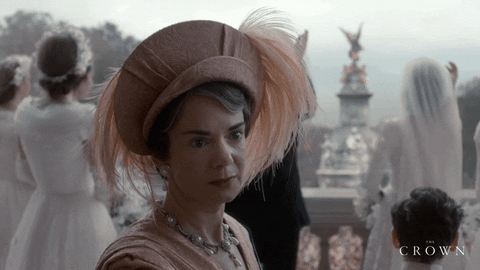 Giphy/The Crown
The Emmy Awards aired last night during a funny moment in entertainment history: Streaming TV shows have never been more popular, but the awards shows about them are sliding out of relevance. Still, the Emmys were relevant enough for the newsletter, so here are the highlights.
Obligatory pandemic disclosure: The Emmys were held in-person, but with a much smaller live audience. Cedric the Entertainer was the host.
The Crown gets crowned. The Netflix show brought home seven wins, the most of any show. The Crown also became the first Netflix show to win outstanding drama series (typically dominated by HBO).
Stache + Beard = winning combo: Ted Lasso won best comedy, becoming Apple TV Plus's first series Emmy. 
Hulu who? The streaming service came away with zero wins despite 21 nominations for The Handmaid's Tale. 
Conan to the rescue: Conan O'Brien channeled his inner class clown and stole the show multiple times, like crashing the stage for Stephen Colbert's win. 
+ Final fun fact: The SNL episode hosted by Elon Musk won an Emmy for outstanding contemporary makeup for a variety, nonfiction or reality program (non-prosthetic).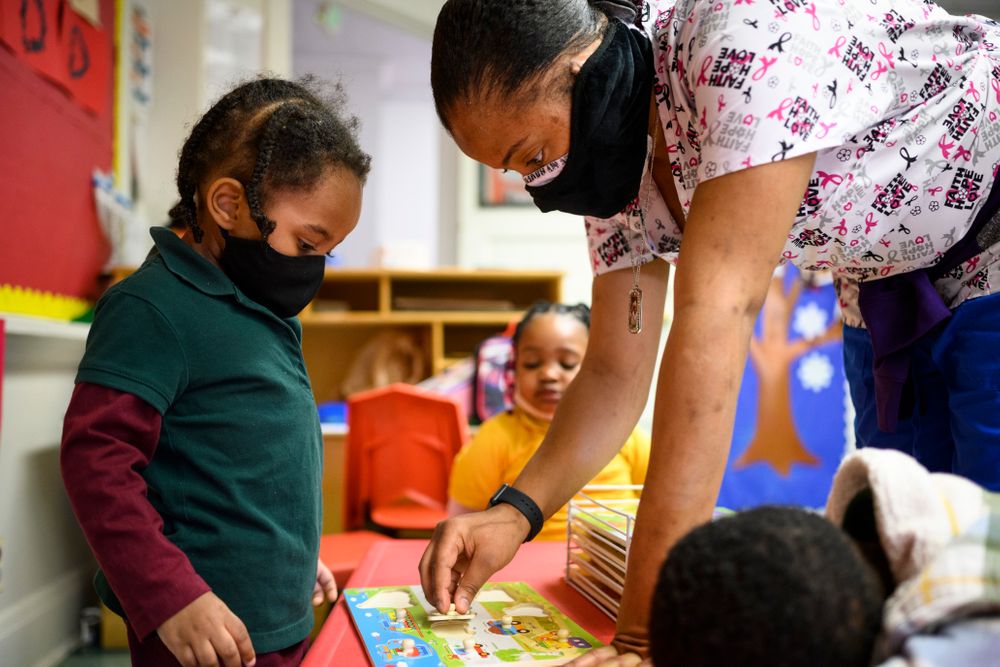 The Washington Post/Getty Images
Of all the sectors desperate to fill jobs, the child care industry is sending the most urgent SOS signal, according to the Washington Post.
Child care is down 126,700 employees since before the pandemic, a drop of more than 10%. And more than 10,000 workers have left for other industries since June, per the Department of Labor. 
Why? "The pay is absolute crap," one former child care worker told the WaPo.  
The median income for the industry is $25,460, putting it in the bottom 2% of all professions. 

Child care workers regularly make less than $15/hour, lower than most retail jobs at this point.

College graduates who major in early childhood education earn the least out of 137 majors, according to a report from Georgetown University.
Big picture: The Treasury Department has called the child care system "unworkable" in its current form. More than one-third of child care providers are considering quitting or closing down within the next year, per a recent survey. 
Looking ahead...the Biden administration is proposing a ~$450 billion investment in child care as part of its budget bill—the largest federal investment in child care in history.
SPONSORED BY FIDELITY INVESTMENTS
Do you have some money invested, but only check in on it kinda like your succulent in the living room: infrequently, and with a bit of trepidation? 
If so, and you want to level up your investing strategy, we've got the podcast for you. 
In Episode Two of Season Two of Fresh Invest, the investing podcast sponsored by Fidelity Investments and powered by Morning Brew, we give you the tools you need to help become an active trader, rather than a passive investor (if that's what you're into). 
Spoiler: It's all about being smart. Do your best to make a plan and stick to it. 
Morning Brew cofounder and executive chairman Alex Lieberman and Brett Yoder of Fidelity's Active Trader Strategy Desk walk listeners through how to do exactly that—and avoid getting caught up in hype cycles. 
Download Episode Two, Season Two, of Fresh Invest to help you become a smart, active trader here.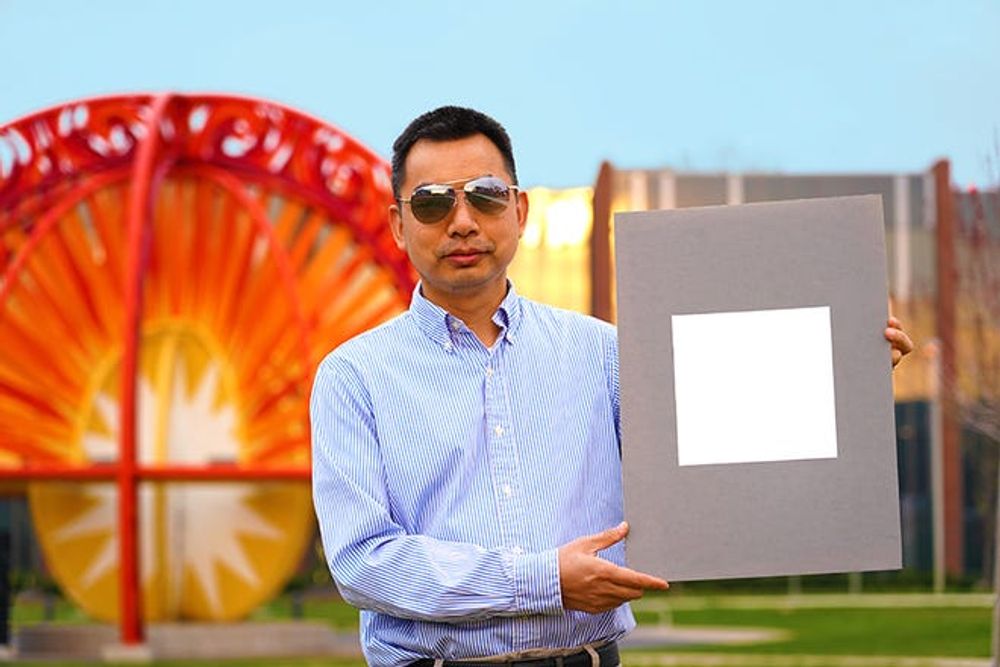 Purdue University/Jared Pike
Stat: A white paint created at a Purdue University lab has been named the whitest paint ever made by the Guinness World Records. There is a madness to the whiteness: This paint reflects 98.1% of solar radiation, keeping whatever it's coating cooler than the surrounding temperature. Researchers are calling it an important tool for energy conservation.
Quote: "I don't think they made a mistake."
Dr. Fauci supports the FDA panel's decision on Friday to not recommend a third Covid-19 vaccine booster shot for the general public. He said he could eventually get behind boosters as more evidence rolls in.
Read: How Lil Nas X mastered the art of attention. (GQ)
Michael Nagle/Getty Images
UN: World leaders will once again clog the streets of New York City for the United Nations General Assembly this week, after last year's meeting went virtual. They'll discuss Covid-19, climate change, and how to cheer up a salty France.
Economy: After the Fed wraps up its meeting on Wednesday, Chair Jerome Powell will give an update on plans for winding down pandemic-era stimulus measures.
Earnings: FedEx, Stitch Fix, Nike, and Costco all report earnings this week. Expect to hear about supply chain woes.  
Everything else: 
Fall officially begins on Wednesday. 

Golf's Ryder Cup starts Friday, pitting the US vs. Europe.

TV shows returning this week:

Survivor

,

The

Great British Bake Off

,

The Voice, Dancing With the Stars
SPONSORED BY THRIVE CAUSEMETICS
Your eyes aren't playing tricks on you—this mascara works magic. And with over 15,000 five-star reviews, it's clearly got others under its spell too. This mascara gives you lush, long lashes without extensions. Plus, its formula nourishes lashes so they get healthier—and longer—over time. Get in on the hype with 15% off today.
This will floor you. What if we told you there's a product that uses AI, LiDAR mapping, and ultrasonic tech that could be in your home today? We'll tell you where in this article about the rise of high-tech consumer products. Read this high-tech tale here.*
Work sounds: There are many background noise generators out there. This one rules them all. 
Dive back into the week.
*This is sponsored advertising content
Kriss Kross: Today's puzzle asks you to identify famous American landmarks. Solve it here.
Nutritional Facts
We'll give you the ingredients for a popular food product. Can you name the product? 
Chili, Sugar, Garlic, Salt, Distilled Vinegar, Potassium Sorbate and Sodium Bisulfite as preservatives, and Xanthan Gum.
✢ A Note From Fidelity Investments
Investing involves risk, including risk of loss.
Fidelity Brokerage Services LLC, Member NYSE, SIPC, 900 Salem Street, Smithfield, RI 02917