A Reality Show Dumpster Fire
Happy Friday!
It's been a good week. Spencer hit theaters last weekend and did not disappoint. Kristen Stewart was a 👸 in more ways than one. Eternals also crushed it -- but more on that later.
In streaming world, season two of Squid Game was finally confirmed-- although at this point it was basically a formality. More surprising was "Squid Game" Creator Hwang Dong-hyuk revealing that season one almost ended differently.
Also on Netflix, Love Hard has been sitting comfortably at #1 despite mixed reviews. The Harder They Fall is the second-most watched, and is amazing if you haven't seen it yet.
Lastly, for Apple TV subscribers, The Morning Show got HEATED last Friday. Any predictions? Can't wait to watch tonight.
Until next week,
Gretchen
PS. If you see a something that you think should be the 'Tweet of the Week," send it to me @tarrantgretchen and I'll be sure to shout you out 💃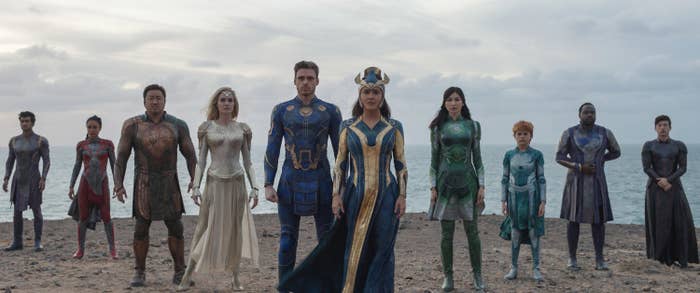 This isn't the first time critics have led us astray, but damn, Eternals exceeded every expectation I thought I had for this latest addition to the MCU.
First, the film was chock-full of tiny, genius details.
Second, the cast was extraordinary and more inclusive than ever before, from Salma Hayek as Ajak, to Lauren Ridloff as Makkari, to Brian Tyree Henry as Phastos. It also doesn't hurt that the cast stories from behind the set are just so freakin wholesome.
Third, I'm obsessed with Druig, who **humble brag** happened to be my result on the Eternals character quiz.
Who has feelings about Love Hard? I, for one, have always embraced Hallmark (and Hallmark-adjacent content) in all its ridiculous glory -- especially during the holiday season. But it seems that the internet disagrees. You can't win 'em all.
BuzzFeed, Inc.
111 E. 18th St.
New York, NY 10003
We hope you love the products we recommend! Just so you know, BuzzFeed may collect a small share of sales from the links in this email.