Kyle Rittenhouse and George Zimmerman claimed self-defense and were acquitted. Will the same be true for a young Black man who shot a white teen?
Good morning, Alexa here. Incoming is taking a brief pause on Nov. 25 and 26 due to the Big Turkey Day. We'll be back in business on Monday. I hope you have a safe and special holiday, and don't let anyone pressure you to eat cranberry sauce because it sucks.
THE BIG STORY

A Charlottesville jury ordered white nationalists to pay $25 million to victims of the "Unite the Right" rally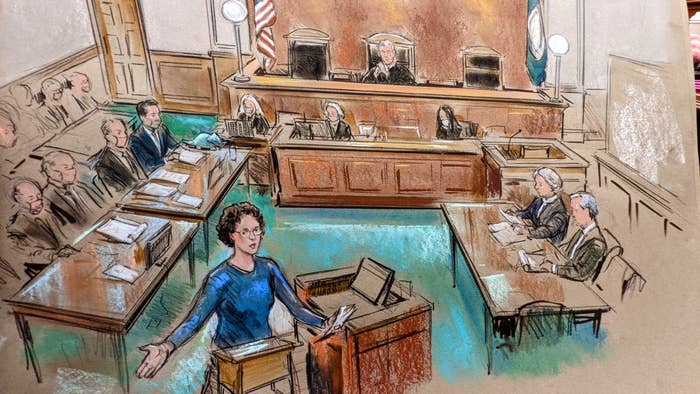 Attorney Karen Dunn addresses the jury. Bill Hennessy
A jury found that a group of American white supremacist leaders violated state civil rights laws by conspiring to commit racially motivated violence at the 2017 "Unite the Right" rally.
"This case has sent a clear message: Violent hate won't go unanswered. There will be accountability," said the executive director of Integrity First for America, the nonprofit that brought the case against the defendants.

The verdict in the landmark trial comes amid a resurgence of far-right domestic violent extremism and the mainstreaming of these ideologies, ushered in by Donald Trump. President Joe Biden, who said it was the racial violence in Charlottesville that convinced him to run against Trump, has made combatting far-right domestic violent extremism a top priority of his administration.
STAYING ON TOP OF THIS
Five Georgia police officers have turned themselves in after being charged with murder in the death of a 24-year-old
Georgia police officers Robert Butera, Quinton Phillips, Mason Lewis, Marcus Stroud, and Gregory Bowlden have been indicted on murder charges in the death of 24-year-old Fernando Rodriguez, who was shocked by stun guns more than a dozen times in 2019 and later died of asphyxiation.
According to the Henry County prosecutors, Rodriguez died of asphyxiation "as a result of the officers holding him down on the ground while he was handcuffed and shackled, applying pressure to his body." Graphic body camera footage provided to BuzzFeed News by his family's attorney shows Rodriguez, who was naked, being repeatedly shocked with a stun gun even after he fell to the ground.

Each officer faces one count of malice murder, two counts of felony murder, one count of aggravated assault, and one individual count of violation of oath by public officer. All five of the officers turned themselves in and have been released on $100,000 bond each.
The 2022 Grammy nominations worth keeping an eye on. "Kiss Me More" sweeps across categories, and Lil Nas X's pop reign continues.
A white cop who helped assault a Black colleague was given a lighter sentence than he'd asked for. Dustin Boone was convicted for his role in beating an undercover officer during St. Louis's 2017 racial justice protests. He received less than half the prison time his own defense lawyers requested.
New footage shows Christian Hall's hands were up when police shot him. The unredacted footage contradicts previous statements made by the Monroe County Office of the District Attorney that "Hall not only continued to advance with the gun, he actually raised it outwards and upwards."
Brian Laundrie died by suicide, his family's attorney said. Laundrie's remains were found last month at the Myakkahatchee Creek Environmental Park in Florida, in an area that officials said had been previously covered in water. Click this link to find resources for suicide prevention and crisis support.
SELF-DEFENSE AND JUSTICE
A Black man charged with murder said he shot at a group of white teens in self-defense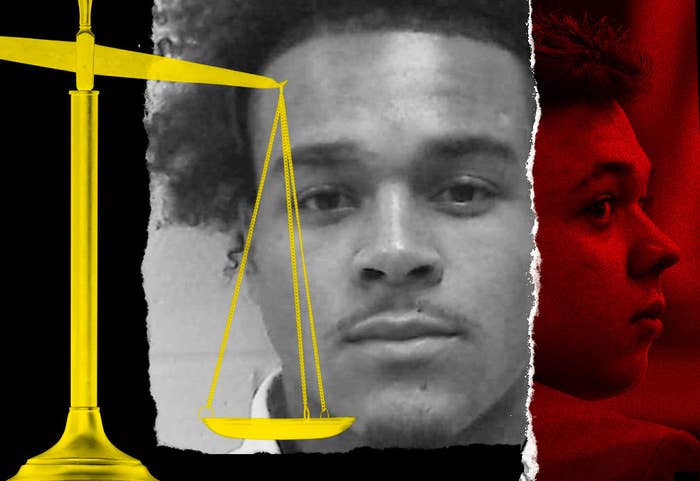 BuzzFeed News; Bulloch County Sheriff's Office via AP; Sean Krajacic-Pool / Getty Images; Getty Images
At a stoplight in Statesboro, Georgia in June 2020, 21-year-old Marc Wilson, who is Black, and his 21-year-old girlfriend, Emma Rigdon, who is white, pulled up next to a pickup truck. Wilson's lawyers say that at least one of the white teenagers inside the truck shouted the n-word and "your lives don't matter."
Wilson later told police that the teenagers in the pickup truck swerved in front of him, tried to knock his sedan off the highway, and threw an object that impacted the car with a loud sound that made him think they might be shooting at him. Wilson pulled out a gun and fired out his window at the truck. The bullet struck and killed 17-year-old Haley Hutcheson.
Prosecutors have charged Wilson with felony murder and aggravated assault. Wilson claimed self-defense, and remains in jail as he awaits trial.

For Kyle Rittenhouse, George Zimmerman, and others in high-profile homicide cases, claims of self-defense led to acquittals. But in a justice system that has historically treated Black defendants more harshly than white ones, Wilson's case raises the question of whether a young Black man's self-defense claim will carry the same weight as those made by other recent defendants.
"THERE'S NOT ONE WAY TO BE NATIVE"
A new photo exhibition challenges assumptions about Native Americans
Last year, the nonprofit IllumiNative asked over 6,000 Native citizens about their top priorities for change in their community.
The responses demonstrated a surprising solidarity, highlighting issues of mental health, violence against women, loss of language and cultural practices, protection of the land, and care for older adults. Following the survey, IllumiNative has partnered with photo collective Indigenous Photograph to visualize these results — and put forward solutions to the problems at hand.

"I think a lot of people have had a misconception that Native people are too small a population to make any difference, or that we're a politically unengaged group," said Leah Salgado, the chief impact officer of IllumiNative. "The Indigenous Futures exhibition is in direct contradiction to all of these negative narratives that people have about Native people [have] about the democratic process."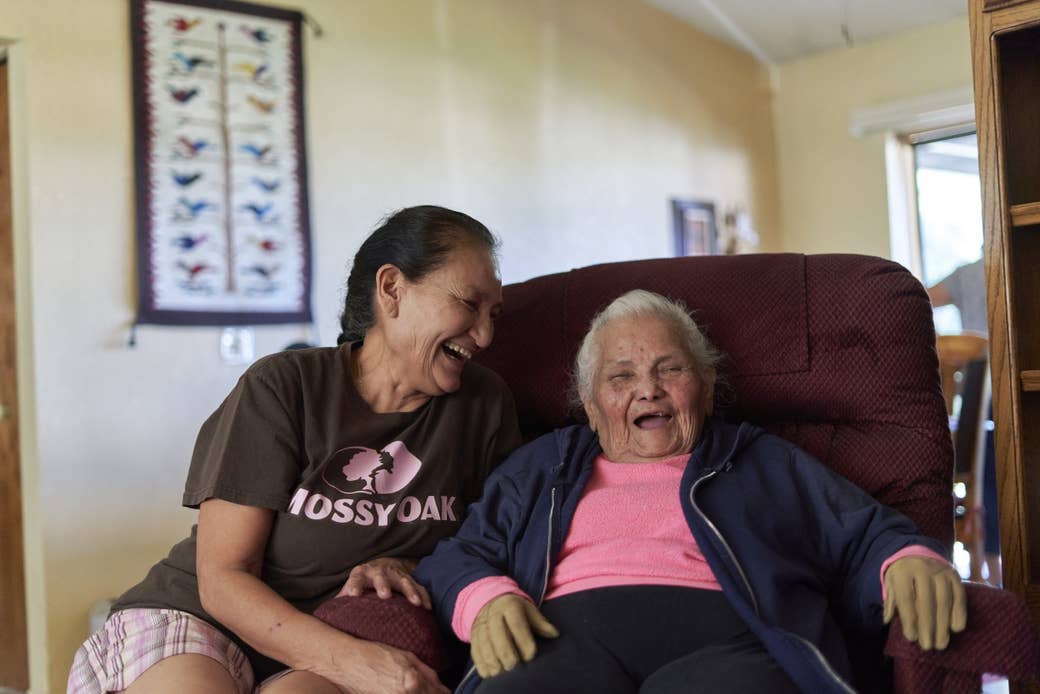 Yavapai-Apache Elder with her daughter-in-law at home in Cottonwood, Arizona, Oct. 10, 2021. Alejandra Rubio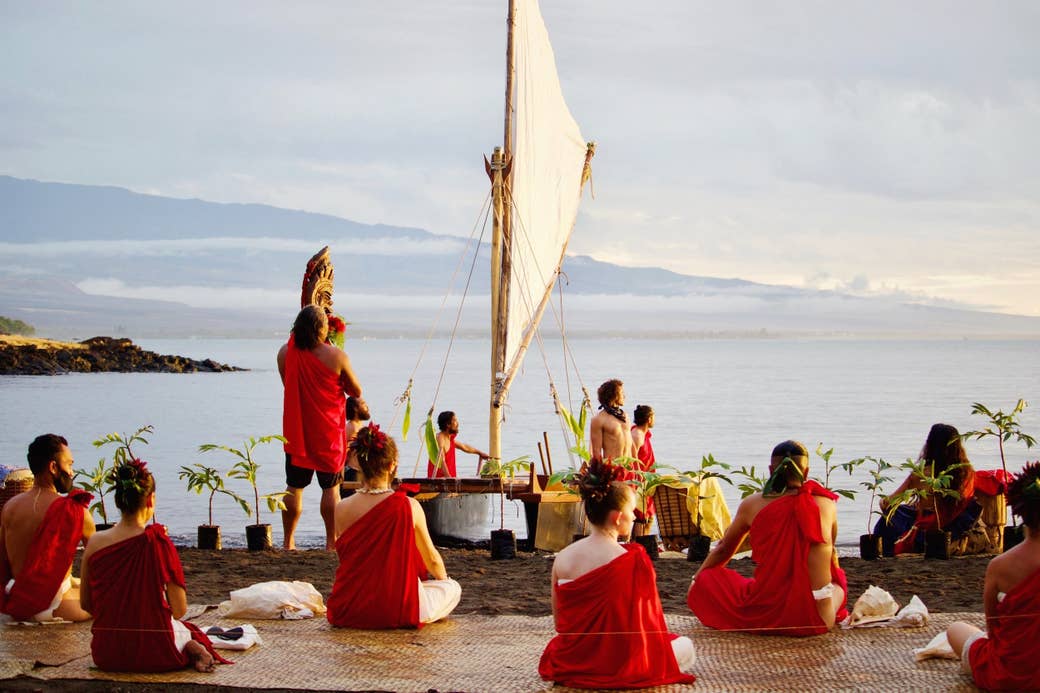 Pelekane Beach below Puʻukoholā Heiau National Historic Site on the Island of Hawai'i, March 13, 2021. Kapulei Flores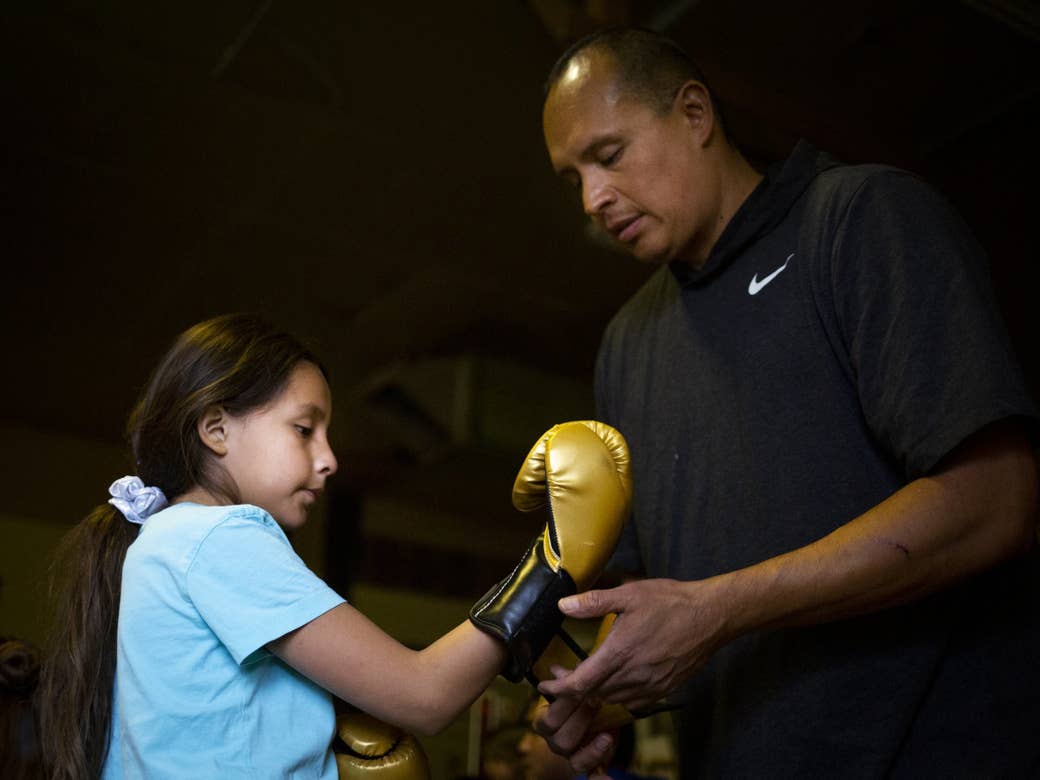 Lee Looking Calf helps his daughter Dustilee, 7, put on her boxing gloves at the Blackfeet boxing gym on Oct. 12, 2019. Lee said he wants his daughter to learn the sport not only for self-defense but to give her the confidence to become an unapologetically strong woman. Tailyr Irvine
You get to define what home means for you,
Alexa
Correction: Yesterday's newsletter mistakenly used "through" instead of "threw." Feeling pretty silly about this error. A little worried about the grammar gods smiting me. Anyway, apologies for any confusion. Have a wonderful Thanksgiving weekend.