New eBook. John Horgan Explores Consciousness, Quantum Mechanics and More in Existence and Other Questions

Examining Life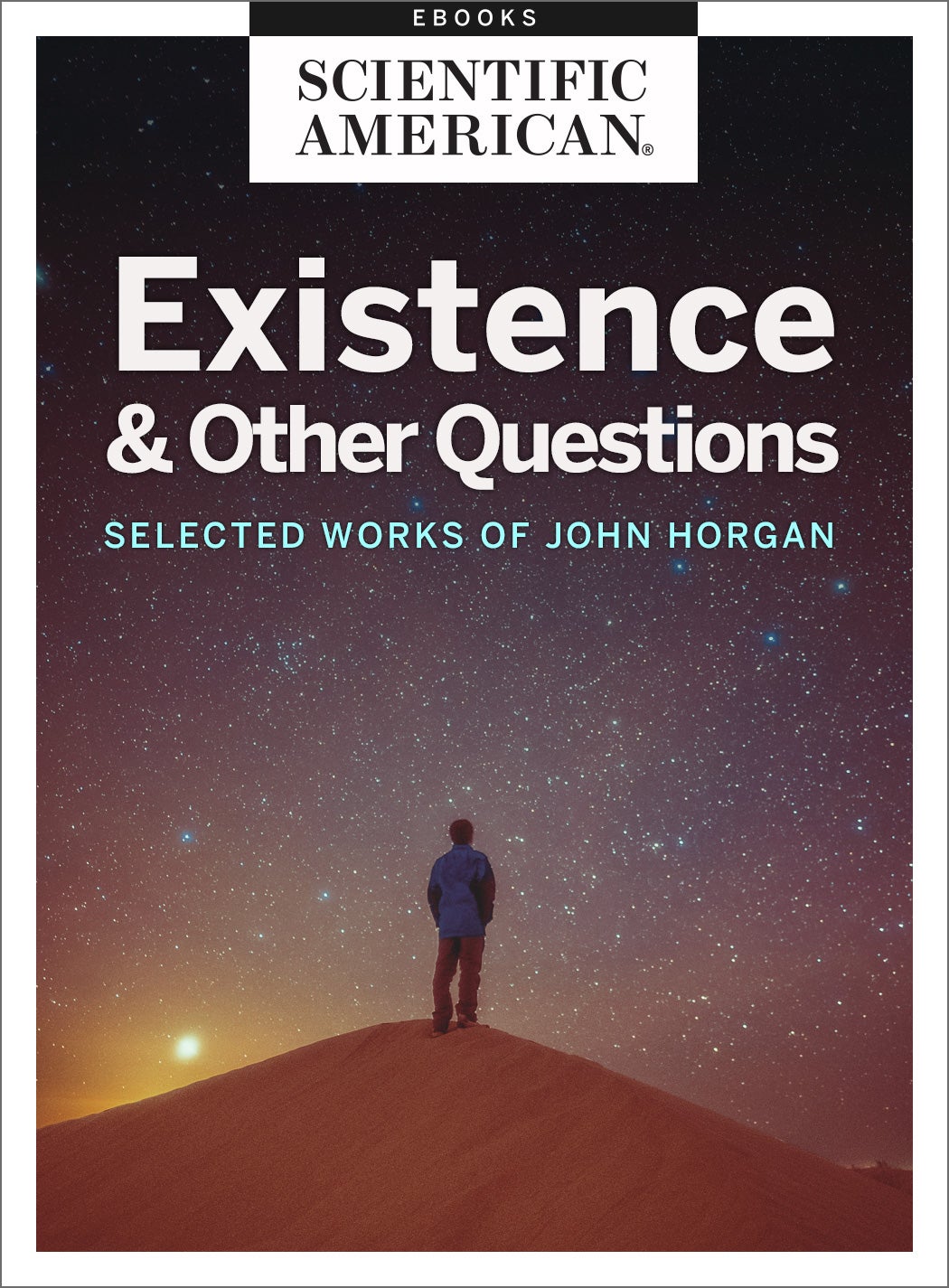 Does free will exist? Is the Schrödinger Equation True? How does matter make a mind? In his Scientific American column, John Horgan takes a scientific approach to exploring mysteries such as these, and in this eBook, we collect some of his most thought-provoking work on consciousness, quantum mechanics, the science of psychedelic drugs and more.
Quantum Universe
Strange and probabilistic, physics at the smallest scales is driving innovation and research into the nature of reality. In this eBook, we examine the latest mind-bending studies in quantum mechanics, including theoretical mysteries such as entanglement, real-world applications, innovations in communications and computing and more.

The Science of Birds
Birds are fascinating creatures. They descend from dinosaurs, soar the skies and display cognitive abilities once thought to be reserved for humans. It's easy to understand why so many people are passionate birders. The more you learn about birds, the more captivating they are, and in this eBook, we examine what we know about bird evolution, intelligence, communication, migration and behavior.

Stressed Out: Causes, Effects and Keeping Calm
Chronic stress makes people sick. The fight-or-flight response activates our bodies to face immediate threats, but that stress system must turn off to allow organs to recover. Constant anxiety keeps the system active, and in this eBook, we examine the effects of ongoing stress and trauma on both body and mind as well as ways to arm ourselves against adversity by managing stress and building resilience.

Black Holes: Going to Extremes
Once dismissed as a mathematical curiosity, black holes are so strange they almost defy belief. Since their existence was confirmed, research into the nature of black holes has opened up new vistas in physics, and in this eBook, we examine some of the most fascinating discoveries about black hole formation and behavior, the new and evolving research in gravitational wave astronomy, theoretical possibilities such as wormholes and much more.

Mathematics in the 21st Century
One of the most powerful tools in the science arsenal, mathematics allows scientists across disciplines to test hypotheses about the real world. In this eBook, we look at important recent advances in the field and examine the role of modeling and statistical analysis in understanding biology, physics, politics and more.

How to Do Anything Better
When we think about the things we do every day—driving, working, parenting—we realize that even with tasks we are generally good at, there is always room for improvement. As always, science is on the case. This eBook contains a collection of columns written by health and psychology journalist Sunny Sea Gold, whose work has also appeared in O: The Oprah Magazine and Parents. These selections, published by Scientific American between 2009 – 2017, offer practical tips for acing life from nailing that job interview to giving the perfect gift.

Follow Us