New eBook. Revolutions in Science Looks at 13 Discoveries that Could Change Everything

Upending the Past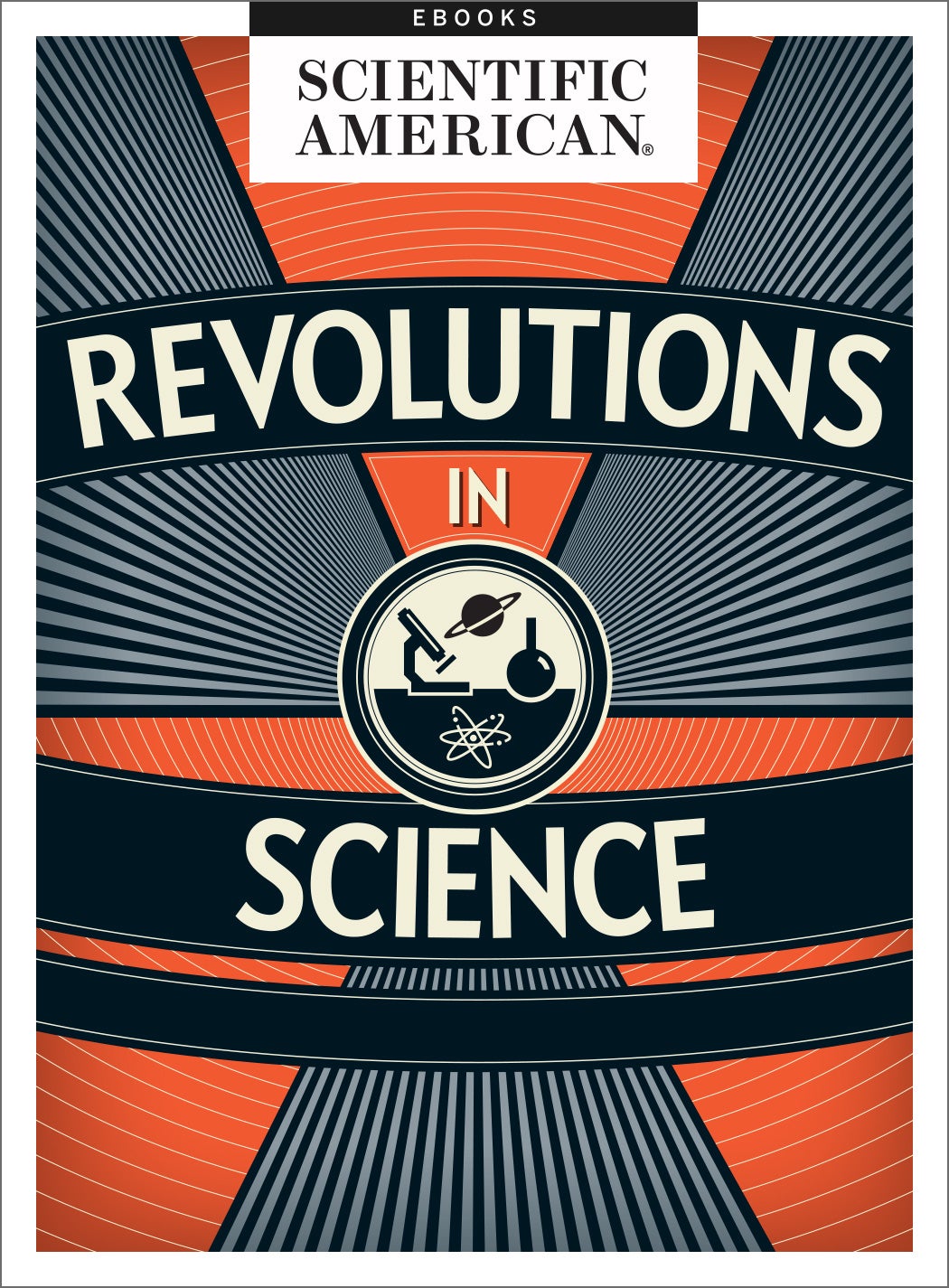 Normally science proceeds in incremental steps, but sometimes a discovery is so profound that it causes a paradigm shift. This eBook is a collection of articles about those kinds of advances, including revolutionary discoveries about the origin of life, theories of learning, formation of the solar system and more.
Existence and Other Questions: Selected Works of John Horgan
Does free will exist? Is the Schrödinger Equation True? How does matter make a mind? In his Scientific American column, John Horgan takes a scientific approach to exploring mysteries such as these, and in this eBook, we collect some of his most thought-provoking work on consciousness, quantum mechanics, the science of psychedelic drugs and more.

The Math of Everything
Galileo said that mathematics is the language of nature. This eBook examines math across disciplines, exploring how math is the backbone connecting the physical, social and economic worlds. From practical questions about the significance of p values and using math to fight gerrymandering to the top theoretical problems in the field, this collection looks at what math reveals about our universe.

Mars: A New Era of Exploration
Was there ever life on Mars? Could life exist there? The latest of nearly 50 missions, NASA's Mars Perseverance Rover is the opening shot of an ambitious plan to find answers. In this eBook, we look at the Red Planet: what we've learned from past rovers, the challenges of space travel and searching for life, proposals for how to make Mars livable and how Perseverance could change everything we know for decades to come.

The Science of Climate Change
As evidence for human interference in the Earth's climate continues to accumulate, scientists have gained a better understanding of when, where and how the impacts of global warming are being felt. In this eBook, we examine those impacts on the planet, on human society and on the plant and animal kingdoms, as well as effective mitigation strategies including resourceful urban design and smart carbon policies.

How to Do Anything Better
When we think about the things we do every day—driving, working, parenting—we realize that even with tasks we are generally good at, there is always room for improvement. As always, science is on the case. This eBook contains a collection of columns written by health and psychology journalist Sunny Sea Gold, whose work has also appeared in O: The Oprah Magazine and Parents. These selections, published by Scientific American between 2009 – 2017, offer practical tips for acing life from nailing that job interview to giving the perfect gift.

Women
Women have too long been an afterthought: denied equal opportunity at home and in society and ignored by science. Recent decades brought progress toward some measure of parity, but yawning gaps remain, and some are growing, threatening to undermine everyone's well-being. In this eBook, we explore research on the scientific and economic implications of gender disparity in the realms of economics, politics, education and health care.

Follow Us