Brave acts of resistance are coming
Repro Nation Monthly | June 2022
We've Been Preparing for This Moment
By now we've all read the chilling words in Justice Samuel Alito's draft Supreme Court opinion overturning Roe v. Wade. As I write, we're waiting for the final decision, coming any day now. Learning of the imminent demise of Roe did not come as a shock to many in the reproductive justice movement, but I'll be honest, the brazenness of Alito's language, the complete disregard for what legal abortion means for ensuring dignity and bodily autonomy, and the total lack of pretense that the court was respecting precedent while eviscerating access—that did shock me.
Fortunately, as a senior editor at The Nation, I can get to work turning shock into understanding.
I've been talking with our abortion access correspondent, Amy Littlefield, about what she'll focus on in the immediate aftermath of the decision. As Amy has reported, at least 26 states are poised to ban abortion soon after Roe is overturned; 13 states even have "trigger bans," laws banning abortion that go into effect as soon as Roe falls.
When I began reporting on reproductive rights in 2008, one of my first articles was about the spread of trigger laws. They seemed pernicious, but also far-fetched: The Christian right would soon be out of power, so Roe wasn't going anywhere—right? But the right was laying the groundwork for a frontal assault.
Still, in these same years, the reproductive justice movement has been fighting hard to expand access where it can, and, in many cases, winning. Getting old laws that criminalize abortion off the books, expanding telemedicine abortion and insurance coverage for abortion, and funding abortion outright—these and other advances are even more important now.
That organizing is now super-charged. Whatever happens in the coming weeks and months, we'll be right here, providing you with stories from across the country about the brave acts of resistance committed by activists unwilling to let access to abortion disappear.
–Emily Douglas, Senior Editor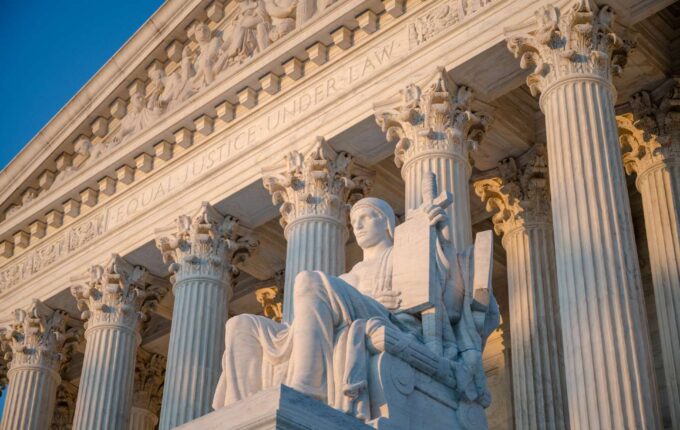 Elie Mystal on Fixing the Supreme Court
The Supreme Court is set to revoke the right to an abortion, overturning 50 years of settled legal precedent. This despite the fact that every conservative justice who will sign on to this heinous decision said—under oath, before Congress—that they would respect precedent. So their impending decision to overrule or eviscerate Roe v. Wade represents a lie.
How are they getting away with it?
Well, the answer is "because they have the votes." Conservatives have spent a generation grooming and appointing judges and justices for the stated purpose of revoking abortion rights in the United States and issuing other decisions that take away for everyone else the rights that white cishet men have enjoyed since 1787. These conservatives now have the power and votes to achieve these goals, and so they will achieve them. They are not going to let petty things like settled law or their oaths get in the way.
If we want to stop these conservatives, the solution is not fanciful legal arguments that point out the conservatives' own hypocrisies. They know their own hypocrisies and have decided not to care. The solution is to flood the court with additional justices who will stand opposed to the outcomes conservatives want. We must expand the court, because there is no argument, legal theory, or even piece of congressional legislation that will stop these conservatives from revoking the promise of a society where all men and women are treated equally. Read more.
Watch After Roe: An Urgent Conversation
On May 26, Katha Pollitt, Amy Littlefield, and Elie Mystal joined The Nation's Senior Editor Regina Mahone to discuss the reproductive justice framework, repealing the Hyde Amendment, and how we can best oppose the coming restrictions on abortion rights.
Following the discussion, Pollitt, Littlefield, and Mystal answered a series of wide-ranging questions on the attack on contraception, the Republicans' hypocrisy of "pro-life", Democrats' unwillingnes to fight for voting rights, the steps to take towards reproductive freedom, and much more! Watch the conversation.
Many Futures by Molly Costello
Please consider a donation to one of the abolitionist organizations listed at the artist's website.
| | |
| --- | --- |
| The right is inflaming another front in the culture war. | In her new book, Under the Skin, the journalist dismantles the notion that the health crisis facing Black Americans is an individual problem. |
| | |
| --- | --- |
| The number of people seeking later abortions is undoubtedly about to increase, and our medical system is unprepared to care for them. | Anti-abortion women perpetuate the idea that women's lives are about deference and self-sacrifice. But women must help one another see ourselves as human first. |
Thank you for reading. As always, you can find all of the latest abortion news and analysis from The Nation here.
Help us grow this newsletter!

Help us increase the reach of this newsletter and the resources it provides. Forward this email to your friends and they can sign up here.
Support The Nation's Journalism
Ensure that progressive, independent journalism encourages debate, foments change, and lifts up the voices of those fighting for justice continues at a moment when we need it most.
Were you forwarded this newsletter? Sign up here to get it delivered to your inbox.