'The Falling Man,' An Unforgettable Story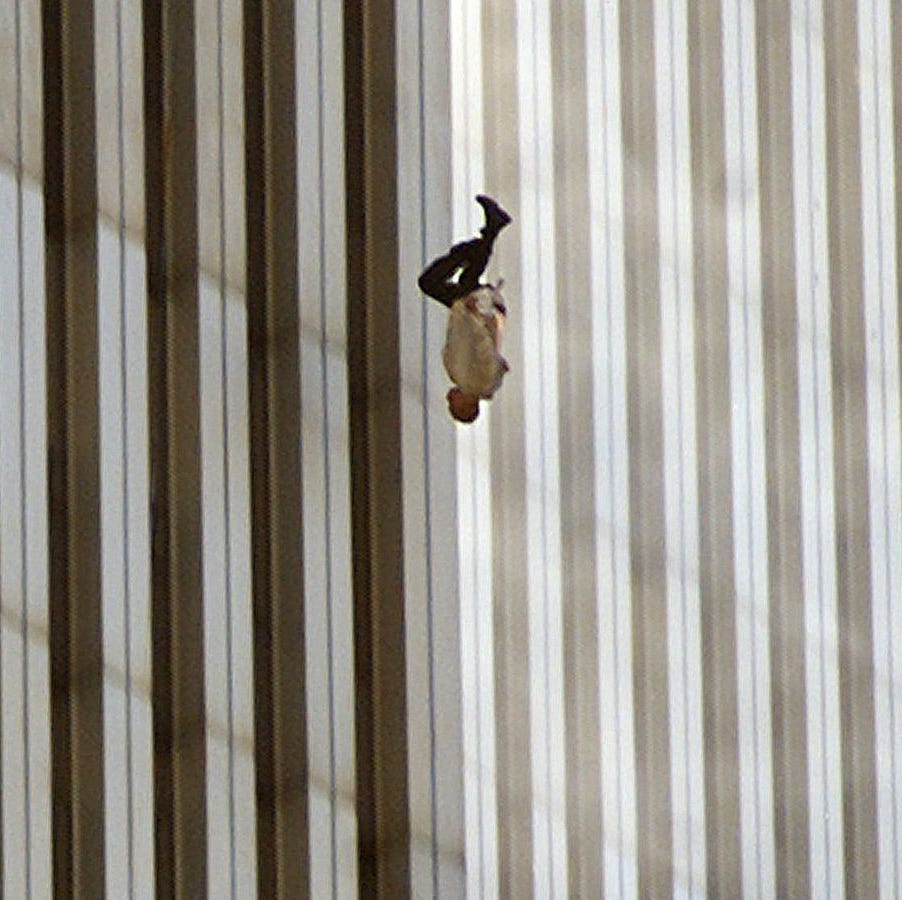 In the picture, he departs from this earth like an arrow. Although he has not chosen his fate, he appears to have, in his last instants of life, embraced it. If he were not falling, he might very well be flying. He appears relaxed, hurtling through the air. He appears comfortable in the grip of unimaginable motion. He does not appear intimidated by gravity's divine suction or by what awaits him. His arms are by his side, only slightly outriggered. His left leg is bent at the knee, almost casually. His white shirt, or jacket, or frock, is billowing free of his black pants. His black high-tops are still on his feet. In all the other pictures, the people who did what he did—who jumped—appear to be struggling against horrific discrepancies of scale. They are made puny by the backdrop of the towers, which loom like colossi, and then by the event itself. Some of them are shirtless; their shoes fly off as they flail and fall; they look confused, as though trying to swim down the side of a mountain.
The man in the picture, by contrast, is perfectly vertical, and so is in accord with the lines of the buildings behind him. He splits them, bisects them: Everything to the left of him in the picture is the North Tower; everything to the right, the South. Though oblivious to the geometric balance he has achieved, he is the essential element in the creation of a new flag, a banner composed entirely of steel bars shining in the sun. Some people who look at the picture see stoicism, willpower, a portrait of resignation; others see something else—something discordant and therefore terrible: freedom. There is something almost rebellious in the man's posture, as though once faced with the inevitability of death, he decided to get on with it; as though he were a missile, a spear, bent on attaining his own end. He is, fifteen seconds past 9:41 a.m. EST, the moment the picture is taken, in the clutches of pure physics, accelerating at a rate of thirty-two feet per second squared. He will soon be traveling at upwards of 150 miles per hour, and he is upside down. In the picture, he is frozen; in his life outside the frame, he drops and keeps dropping until he disappears.
What It Means To Be a British Man Mourning the Queen
The coolest thing I ever saw Queen Elizabeth II do was that sketch with Daniel Craig, as James Bond, for the opening sequence of the London Olympics in 2012, in which the duo met at Buckingham Palace before scattering the corgis and boarding a chopper. Minutes later, they appeared to parachute out of a helicopter directly over the opening ceremony at Wembley Stadium before the pair emerged unruffled into the royal box. Reportedly, The Queen jumped at the role and insisted on having a speaking part. As a piece of theater, imagined by director Danny Boyle, who choreographed the entire opening ceremony, it was both charming and funny. It was also as clear a representation of what the Queen actually means as you can get. Like James Bond, her Majesty's appeal as a royal figurehead is almost entirely symbolic.
American Cities Have to Find Ways to Keep Themselves From Drowning
When it comes to the climate crisis, we hear a lot about water. There's not enough of it out West (or, for that matter, in China), while there is often too much of it in other places. 2019 saw historically destructive floods in the Midwest, and that same year Esquire took a look at extreme precipitation events—and the flash floods that follow—in New York City.
Nothing much has changed. "Extreme heat conditions add energy into the atmosphere that can generate storminess," says Casey Ivanovich, a Columbia University researcher who studies the climate cycles that lead to extreme events. "As our world continues to warm and the amount of water vapor in the air increases, we would expect precipitation events to become more extreme, including those taking place after extreme heat." Klaus Jacob, also of Columbia, agreed, citing Hurricanes Henri and Ida in 2021 "which, within a few weeks from each other, broke hourly precipitation records in Central Park. Ida caused fatalities in basement apartments in Queens, and numerous subway line shut downs from urban flash flooding."
The Dirty Martini Deserves Legend Status
The early days of my relationship with the dirty martini were complex. I craved the easy sophistication that a martini conjured, but my post-college self wasn't ready for its stone-cold booziness. Few in their early twenties have dealt with enough adult life to appreciate the martini's ability to make you forget that you now have to deal with adult life. A dirty martini, however? That wisp of olive brine alongside gin and vermouth made the drink downright quaffable and fun, even though it still looked like the thing that grown-ups who had a mortgage and a dinner jacket drank. It became a go-to when I felt the need to flex some faux refinement.
My Escape From the 81st Floor of the World Trade Center
Up to that day, I'd had a Brady Bunch, cookie-cutter, beautiful life. I now know what it's like to have a 110-story building that's been hit by a 767 come down on my head. For better or for worse, it's part of my life. There are things I never thought I'd know that I now know.
It was as mundane a morning as you can imagine. Tuesdays are usually the days I go out to see clients and make sales calls. I get to my office at a quarter to eight, eat a bran muffin, drink a cup of coffee, and get my head straight for the day.
All of a sudden, there was the shift of an earthquake. People ask, "Did you hear a boom?" No. The way I can best describe it is that every joint in the building jolted. You ever been in a big old house when a gust of wind comes through and you hear all the posts creak? Picture that creaking being not a matter of inches but of feet.
A Day in the Surveilled Life
I will begin with a hot take: the Francis Ford Coppola movie with the most to say to us in 2022 is not The Godfather, not Godfather II, but The Conversation. Gene Hackman plays Harry Caul, a surveillance expert who overhears something he shouldn't, and is in turn spied upon. The movie ends with Harry destroying his own apartment—tearing down the walls, ripping up the floorboards—in search of a listening device he knows is there, but never finds. The last, iconic shot shows him sitting in a chair in his underwear, playing the saxophone in the ruins of his home and his privacy.
Almost fifty years later, it's an image that's prescient and quaint at the same time. Prescient because the notion that someone powerful is watching and/or listening to us, even in our most mundane, domestic moments, has gone from a tenet of hipster paranoia to an uncontested fact—a multi-billion-dollar postulate of twenty-first century life. The quaint part is that Harry Caul, or any of us, would mind that much. We participate in the process of our own surveillance every day. The devices that record us aren't buried in our walls (well, sometimes they are, but we'll get to that later): we strap them to our wrists, put them on our fingers, carry them in our pockets, and install them in our homes. We gravitate toward connectivity, and if we do that without ever really asking ourselves "connected to what?", it's not because we're stupid or gullible—it's because the answer doesn't really bother us the way it used to.