☕ Hardcore
| TOGETHER WITH | |
| --- | --- |
Good morning. This intro is dedicated to anyone who's lost friends by playing the word "qat" in Scrabble.
The seventh edition of the official Scrabble dictionary has been released with about 500 new words. Some of our favorites from the new batch:
"Guac" (shorthand for guacamole) now counts.

"Fauxhawk," which could reliably get you lots of points, is also kosher.

"Zonkey" and "zedonk" are both new entries for the starting letter Z. What's the difference? A zonkey is the offspring of a male zebra and a female donkey, while a zedonk is the offspring of a male donkey and a female zebra.
—Matty Merritt, Abby Rubenstein, Neal Freyman
| | | | |
| --- | --- | --- | --- |
| | Nasdaq | 11,183.66 | |
| | | | |
| --- | --- | --- | --- |
| | S&P | 3,958.79 | |
| | | | |
| --- | --- | --- | --- |
| | Dow | 33,553.83 | |
| | | | |
| --- | --- | --- | --- |
| | 10-Year | 3.690% | |
| | | | |
| --- | --- | --- | --- |
| | Bitcoin | $16,682.00 | |
| | | | |
| --- | --- | --- | --- |
| | Target | $155.47 | |
*Stock data as of market close, cryptocurrency data as of 3:00am ET. Here's what these numbers mean.
Markets:

Stocks

dipped

yesterday after Target predicted that it will have a not-so-merry Christmas saleswise. The news dragged down not just its stock price but also those of several other major retailers—even though the government released data showing retail sales were up in October.

Election update:

The Republicans have officially

taken back

the House of Representatives from Democrats. While their margin of victory is slim, the GOP will be able to stymie many of President Biden's plans in the last two years of his term.
Francis Scialabba
The Taylor Swift Eras Tour presale started Tuesday and it's running about as smoothly as a garbage disposal full of baby teeth. Fans have recounted horror stories of Ticketmaster glitches, hourslong virtual queues, and tickets on resale sites hitting five digits, renewing accusations that Ticketmaster is a monopoly that harms consumers.
What happened: A select few Swifties got a special code that was supposed to let them snag tickets priced anywhere from $49–$450 apiece before the masses could. But Ticketmaster was not prepared for the millions of fans it said showed up to secure a ticket to Swift's first tour since 2018, despite issuing the presale codes.
Downdetector.com showed 5,000+ outages for the site on Tuesday around noon, according to Axios. Ticketmaster issued an apology and pushed back other scheduled Taylor presales.
This isn't Ticketmaster's first offense
The ticketing behemoth faced pushback over its virtual stranglehold on the ticket market even before it merged with concert organizer Live Nation in 2010 and cornered the live event space. Despite being dogged by antitrust allegations, Ticketmaster has continued to introduce offerings that frustrate fans (i.e., "dynamic pricing" that led to $5,000 Bruce Springsteen tickets this summer). And with each fiasco, it's made more powerful enemies.
During Tuesday's ticket mayhem, Rep. Alexandria Ocasio-Cortez tweeted that Ticketmaster is a monopoly and should be broken up.

Tennessee Attorney General Jonathan Skrmetti said he worried Ticketmaster may have potentially violated consumer protection laws.

And last month, President Biden said he would look into sky-high processing fees on concert tickets (but didn't call out Ticketmaster directly).
There's another way: Paramore's upcoming tour is trying out a "face value ticket exchange" to curb resale gouging.—MM
If you've been looking for comfy pants that can transition from the couch to the car (and back again), we've got some good news: Your dream joggers are now a reality.
Designed with a premium stretch fabric that's softer than the cozy blanket you look forward to curling up in after a looooong day at work, Vuori's Performance Joggers have an ultra-flattering, elastic-waist fit that offers comfort and support for wherever your day takes you.
The Performance Jogger has more to it than just softness. It's also got style, with a slightly cropped leg and 10+ different color options to suit your mood—and whatever's on your cal for the day.
Get 20% off your first order here.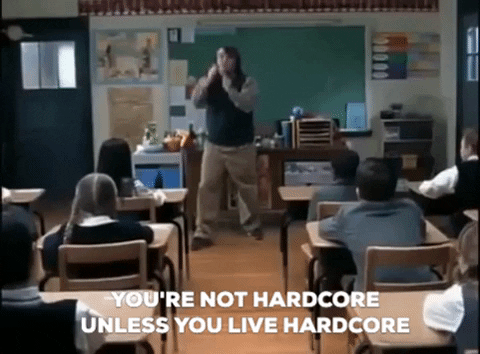 School of Rock/Paramount Pictures via Giphy
Musk says Twitter will become "extremely hardcore." He gave remaining employees an ultimatum: By 5pm ET today, they can choose to keep working at Twitter for "long hours at high intensity," or give up their job and collect three months' severance. At the same time Musk demanded Twitter employees crank up the heat, he's been musing about shifting away from his own leadership roles. Yesterday, a Tesla board member said Musk has considered finding a successor to lead the automaker, and Musk himself said he would eventually hand over the reins of Twitter to another CEO.
Federal protections for same-sex marriage are poised to become law. Yesterday, the Senate advanced legislation to recognize same-sex marriage federally with bipartisan support from 12 GOP senators, putting it on track to become law while Democrats still hold the House. Same-sex marriage is already the law of the land thanks to a Supreme Court precedent, but language used in overturning Roe v. Wade called its future into question. Support from unexpected corners, including the Church of Jesus Christ of Latter-day Saints, shows just how much has changed since the 1996 passage of the Defense of Marriage Act, which this would officially repeal.
NATO crisis defused. NATO member Poland said that the missile strike that killed two people there on Tuesday was likely launched unintentionally by Ukraine as it tried to defend itself from Russian shelling. The incident is still being investigated, but the preliminary finding that the missile did not come from Russian forces helped ease fears that NATO would be drawn directly into the conflict. NATO Secretary-General Jens Stoltenberg stressed that Russia was still ultimately responsible.
Craig Barritt/Getty Images for CARE For Special Children.
Typically, people who are being investigated by dozens of global authorities about the shady, potentially criminal circumstances of their collapsed company don't talk off the cuff to the press.
And then there's Sam Bankman-Fried (SBF). The former CEO of FTX has been tweeting explanations of how he messed up and giving candid interviews to media outlets, almost certainly against the recommendation of his lawyers.
The most startling conversation was published yesterday by Vox, whose reporter Kelsey Piper was messaging with SBF on Twitter. What did he say?
On regulations: SBF admitted his public calls for crypto regulation were "just PR" and that regulators "make everything worse…they don't protect customers at all."
On ethics: SBF acknowledged that his talk of being ethical was mostly a "front" to boost his reputation, and suggested that people get harmed "by this dumb game we woke westerners play where we say all the right shiboleths [sic] and so everyone likes us."
On bankruptcy: SBF told Vox that he regrets caving to peer pressure and filing for Chapter 11 bankruptcy. If he hadn't, he estimates that ~70% of the problem would be fixed.
On how he loaned out customer funds and didn't have collateral to cover it: "Sometimes life creeps up on you."
Meanwhile, the legal barrage against FTX is just getting started. A potentially massive investor class action was lodged yesterday against SBF and FTX's celebrity boosters, including Larry David, Tom Brady, Naomi Osaka, and the Golden State Warriors.—NF
Hannah Minn
If the portions Aunt Sally serves look a little skimpier than usual this Thanksgiving, blame inflation (and maybe bird flu). The average cost of a typical Thanksgiving meal is up 20% from last year, according to the American Farm Bureau Federation's yearly survey. It's on track to be the costliest turkey dinner since the survey started 37 years ago.
While we're grateful that inflation finally started to cool last month, food prices are still sky-high—for the year, the government expects they could go up as much as 10.5% (compared to a typical 2% rise). And traditional Thanksgiving fixings are no exception, according to the survey:
A 16-pound turkey costs 21% more per pound this year than last year.

Prices for potatoes, pie crusts, canned pumpkin, and stuffing mix have all gone up.

The only holiday staple whose price went down: fresh cranberries (so maybe volunteer to make the cranberry sauce).
Broader food inflation isn't the only factor driving turkey prices higher this year—supply is down due to a particularly deadly bout of avian flu. But there should still be enough to go around: Butterball, which supplies one-third of all Thanksgiving turkeys, said only 1% of its production was affected because of its safety measures.—AR
Photo Illustration: Dianna "Mick" McDougall, Source: Getty Images
Stat: Mom was right—your music is too loud. A new study found that more than 1 billion people between the ages of 12 and 35 are at risk of hearing loss from listening to music at too high a volume on devices like smartphones and at venues like bars. The researchers combed through 33 previous studies conducted between 2000 and 2021 to determine that young people around the world are engaging in "unsafe listening practices."
Quote: "Florida Man Makes Announcement"
That was the mocking headline the conservative New York Post ran about former President Trump announcing another bid for the White House. The Murdoch-owned paper is not excited about Trump potentially dragging down the GOP in 2024 like he did in the midterms. Also yesterday, Blackstone co-founder Stephen Schwarzman and Estée Lauder heir Ronald Lauder, both GOP megadonors, said they wouldn't support Trump's campaign.
Read: No one knows what will happen when AI art meets copyright laws. (The Verge)
To elaborate…learn this trick and never forget the difference between i.e. and e.g. again.
Harder to get than a Birkin bag. Find out why these frozen beef croquettes have a 30-year waiting list.
News from a new angle: Audie Cornish hosts The Assignment, a new weekly podcast from CNN that pulls listeners out of their echo chambers by talking to people actually living the headlines. Listen wherever you get your podcasts.
A superpowered sale: Sakara's only sale of the year is back.
Improve digestion, ease bloat, and boost your energy with 25% off their Signature Nutrition Program and bestselling Metabolism Super Powder. Brew readers get early access here.*
Power up, pronto: From communication to leadership, your personal strengths boost your workflow. Smartsheet's intuitive tools can help you power your process to unlock your full potential. See if you can name every workflow strength in our crossword.*
*This is sponsored advertising content.
Brew Mini: The grid for today's Mini is so aesthetically pleasing you'll almost feel bad about filling it in. But you should do it anyway.
Three headlines and a lie
Three of these headlines are real and one is faker than your 2022 reading goal. Can you spot the odd one out?
Kick off your holiday shopping with early access to our Black Friday event. Shop the White Elephant collection now for everything from hilarious coworker goodies to gag gifts for your work bestie. Add to cart ASAP for up to 55% off.
On Imposters: Actress Andrea Savage discusses her TV show getting canceled and what you can learn from how she rebounded from it. Listen here.
Want to learn how to tell your story using data? Join the waitlist for Morning Brew's upcoming Data Storytelling Sprint and start prepping for that promotion.
Employee expectations are changing faster than Instagram's "improvements." Listen to this virtual event to learn the importance of employee engagement tools.
We made up the Nora Ephron one.
Written by Abigail Rubenstein, Neal Freyman, and Matty Merritt
Was this email forwarded to you? Sign up here.
WANT MORE BREW?
Industry news, with a sense of humor →
Healthcare Brew

: the comprehensive industry guide for administrators, medical professionals, and more

Marketing Brew

: the buzziest happenings in marketing and advertising

Retail Brew

: retail trends from DTC to "buy now, pay later"
Accelerate Your Career with our Courses →
ADVERTISE // CAREERS // SHOP // FAQ

Update your email preferences or unsubscribe here.
View our privacy policy here.

Copyright © 2022 Morning Brew. All rights reserved.
22 W 19th St, 4th Floor, New York, NY 10011