☕ Maybe he should be
| TOGETHER WITH | |
| --- | --- |
Good morning. On Veterans Day, we want to express our deep gratitude to all those who have served in the US military.
Here's one factoid:

Gulf War-era veterans now make up the largest share of US veterans, having surpassed Vietnam-era veterans in 2016.

And another:

The share of veterans who are women is projected to increase significantly, from 11% currently to 18% in 2046.
On a logistical note, most banks are closed today, but the stock market is open.
—Neal Freyman, Abby Rubenstein, Matty Merritt
| | | | |
| --- | --- | --- | --- |
| | Nasdaq | 11,114.15 | |
| | | | |
| --- | --- | --- | --- |
| | S&P | 3,956.37 | |
| | | | |
| --- | --- | --- | --- |
| | Dow | 33,715.37 | |
| | | | |
| --- | --- | --- | --- |
| | 10-Year | 3.819% | |
| | | | |
| --- | --- | --- | --- |
| | Bitcoin | $17,586.88 | |
| | | | |
| --- | --- | --- | --- |
| | Ethereum | $1,300.85 | |
*Stock data as of market close, cryptocurrency data as of 4:00am ET. Here's what these numbers mean.
Markets:

Stocks went

b-a-n-a-n-a-s

after the consumer price index report showed that inflation cooled last month. All three indexes posted their best days since 2020, and, while we don't usually write out points totals, the Dow gained more than 1,000 points (which is pretty cool). Crypto also bounced back after Wednesday's FTX-related sell-off.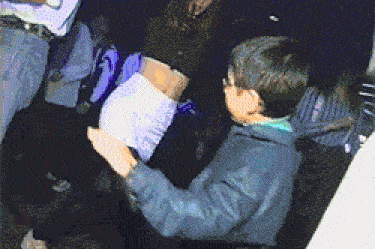 Giphy
Like edibles, interest rate hikes take a while to kick in. But when they do, you can definitely feel the effects.
Yesterday's inflation report showed that US consumer price growth came in lower than expected in October and dropped from the month before. It's a hopeful sign that Fed Chair Jerome Powell's rate hikes, paired with easing supply chain snags, are starting to cool off inflation.
The deets:
The consumer price index increased 7.7% annually and 0.4% monthly. That yearly figure is the slowest rate since January.

But more important is the slowdown in core CPI, which is a better gauge of inflation because it strips out volatile food and gas prices. Core CPI rose 0.3% monthly in October, a big drop from 0.6% in September and August.
What's pushing inflation lower?
Prices of goods are slowing down considerably, led by declines in apparel and used cars (sorry, Carvana). Economists had been expecting goods inflation to chill out now that supply chain bottlenecks have been cleared, and it's encouraging to see that show up in the data.
Inflation in service-based industries is historically a tougher nut to crack, but even there prices cooled as airfares, sporting event tickets, and medical care became cheaper. And while shelter prices remain painfully high, private-sector data has shown that rental and housing costs are decreasing in the US (it'll just take time for that to show up in CPI).
*Buzz Killington enters the chat.* While inflation could be on the comedown, a 7.7% rate of inflation is significantly higher than the Fed's 2% target, so don't expect J-Pow to stop hiking rates anytime soon. Also, you don't have to be a statistics prof to know that a one-month sample size is too small to draw any broad conclusions from—more data is needed to prove this cooling off is actually a trend.
Bottom line: Coming after the Phillies loss in the World Series, October's CPI report inches up the probability that the economy could glide to a "soft landing" after this inflation shock.—NF
TOGETHER WITH FIDELITY INVESTMENTS
Alex (right): Experts say that a good hedge for inflation is diversification. For a retail investor who's trying to gauge healthy diversification versus over-diversification, how should they be thinking about it? 
John (left): Diversification is always a good thing. One thing I would say to be weary of is overlapping. 
Hear more about overlapping, buying the dip, crypto, and more in the video season finale of Fresh Invest, our investing podcast sponsored by Fidelity. We reflect on the financial lessons learned throughout this season and answer some final (read: highly relevant) audience questions. 
Sam Bankman-Fried on Twitter
SBF apologizes as FTX scrambles to stay alive. Following his crypto exchange's epic implosion, FTX boss Sam Bankman-Fried (SBF) said he was sorry for mistakes he made, and pledged to "give anything I have to" in order to raise the $4 billion in capital FTX needs to avoid bankruptcy. As finance cops bear down on the company, shady activities are coming to light: FTX loaned its affiliated firm, Alameda Research, ~$10 billion worth of customer assets to fund high-risk bets, per the WSJ.
Washington takes on the Commanders. In a lawsuit filed yesterday, DC's Attorney General Karl Racine accused the Washington Commanders, team owner Daniel Snyder, the NFL, and NFL Commissioner Roger Goodell of withholding information about the team's alleged toxic workplace culture from DC residents, allowing the Commanders and the NFL to benefit financially. The lawsuit comes just over one week after Snyder signaled he was planning to sell the team.
Election update: The balance of power in DC became only a bit clearer yesterday as votes continue to be counted in competitive House and Senate races. The GOP appears on track to eke out a win in the House, but they still need to win two of the three outstanding Senate races to gain control of that chamber. Meanwhile, in a surprisingly close House race in Colorado, Democrat Adam Frisch and incumbent GOP Rep. Lauren Boebert are separated by a razor-thin margin that could trigger a recount.
Francis Scialabba
Elon Musk has owned Twitter for two weeks now, and he's been following the old Silicon Valley credo of moving fast and breaking things. So, a whole lot is starting to look broken: Musk warned some employees yesterday that bankruptcy "isn't out of the question."
As Twitter teeters at the brink, it's losing key executives. Twitter's chief information security officer, chief privacy officer, chief compliance officer, senior director of trust and safety, and interim head of advertising all quit yesterday.
Those exits come during the rushed and chaotic rollout of the expanded Twitter Blue subscription service that Musk is hoping will drive revenue—a relaunch that one employee told The Verge skipped the company's usual security review. Those review processes don't just protect users: They're also required by a settlement Twitter reached in May with the Federal Trade Commission. Breaching the deal leaves Twitter open to "billions" in fines, a member of the company's legal team reportedly wrote on Slack. The FTC said it's watching the goings on at Twitter "with deep concern"—to which Musk replied Twitter "will do whatever it takes" to comply with FTC rules.
What Musk will try next to stop the bleeding from his $44 billion investment is anyone's guess, but an email he sent to Twitter's whole staff cautioned "the economic picture ahead is dire."—AR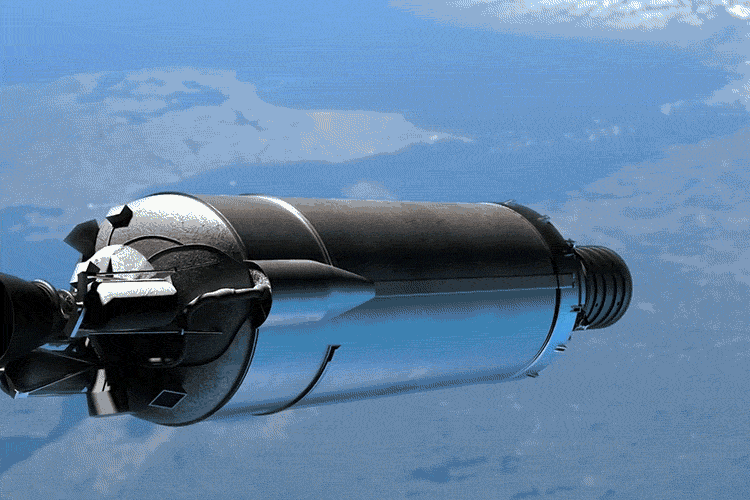 NASA
Inflatable space heat shields just jumped past dancing car dealership guys on the list of coolest air-filled devices.
Yesterday, NASA used a satellite launch to test out its new heat shield. The successful Low-Earth Orbit Flight Test of an Inflatable Decelerator (LOFTID) is a milestone for someday getting humans to Mars.
Besides being confined in a small space with Elon Musk, a big hurdle for humans setting foot on Mars is the final step: a safe landing. To pull this off, a spacecraft needs a heat shield to protect it from extreme temps as it barrels through a planet's atmosphere. But the shields that are currently in use are rigid and limit how much weight the spacecraft can carry, making human voyages impossible.
The weight of NASA's Mars spacecrafts have been limited to one metric ton (about the weight of a car).

To send people and supplies, it would need to bump that up to 20–40 metric tons.
Which is why the inflatable shield is a game-changer. It weighs much less than traditional shields and, when folded up, fits neatly in a capsule that's not much bigger than a United Airlines carry-on. But once deployed, it expands to 20 feet and can withstand temps of 3,000 degrees Fahrenheit.—MM
Francine Orr/Los Angeles Times via Getty Images
Stat: These gas industry profits are seriously getting out of hand. Joseph Chahayed, the owner of a gas station in Altadena, California, was awarded a $1 million prize for selling the winning Powerball jackpot ticket. A true mensch, Chahayed said he'd share his award with his family members…though at least one of them doesn't need the cash. Chahayed's son-in-law is Domata Peko, a defensive tackle in the NFL.
Quote: "May this tusk root out the lice of the hair and the beard."
It's official: Humans have been complaining about head lice for at least 3,700 years. Israeli archaeologists found this inscription on an ancient comb, which could be the earliest known full sentence in Canaanite alphabetical script, a study published on Wednesday said. Interestingly, this comb was dug up in 2016, but a researcher only noticed that an itchy Canaanite wrote something on it late last year.
Look: Photos of our world impacted by climate change. (New York Times)
The feeling of getting a 5/5 on the Brew's Weekly News Quiz has been compared to wearing the new clothes you just bought even though they make no sense for the situation.
It's that satisfying. Ace the quiz.
Moneyball/Sony Pictures Entertainment
Are you ready to be the most confident analytics expert at your company? It's about to be a good look for you, because Morning Brew's virtual course, the Business Analytics Accelerator, kicks off in January.
In just seven weeks, you'll get up to speed on how businesses use finance and data to drive performance, all while maintaining your 9–5. Don't just take our word for it—check out all there is to learn.
Jigsaw: You probably never thought that a Lego Cherry Blossom Tree existed. Now you know it does. Build it here.
Friday puzzle
The name of only one US state can be typed on a single row of a traditional English QWERTY keyboard. Which one?
Channel your inner child with the World's Smallest collection. Whether you're feeling nostalgic for your youth or you're aiming to de-stress during the workday, these OG fidget toys are the perfect addition to your desk.
Business Casual dives into the claim that esports is the future of the entertainment industry. Listen here.
Recession prep: The director of the Duke CFO Global Business Outlook explains how businesses can find their competitive edge during a recession.
✢ A Note From Fidelity Investments
Investing involves risk, including risk of loss. 
Morning Brew and Fidelity Investments are independent entities and are not legally affiliated. 
Fidelity Brokerage Services LLC, Member NYSE, SIPC. 
Written by Neal Freyman, Abigail Rubenstein, and Matty Merritt
Was this email forwarded to you? Sign up here.
WANT MORE BREW?
Industry news, with a sense of humor →
Tips for smarter living →
ADVERTISE // CAREERS // SHOP // FAQ

Update your email preferences or unsubscribe here.
View our privacy policy here.

Copyright © 2022 Morning Brew. All rights reserved.
22 W 19th St, 4th Floor, New York, NY 10011