☕ NYC tokes up
| TOGETHER WITH | |
| --- | --- |
Good morning. President Biden continued the bizarre White House Thanksgiving tradition of pardoning turkeys yesterday when he absolved two large birds, Chocolate and Chip, of their crime of being large birds.
Why is this a thing? The simplest answer is always the correct one: It's a PR stunt by Big Turkey, according to NPR. Since 1947, the National Turkey Federation lobbying group has provided turkeys to presidents to raise awareness for the industry. Initially, these turkeys were intended to be eaten, but in 1963 President Kennedy became the first on record to "pardon" one.
Fun fact: The National Turkey Federation is among the top 5% of outside groups that have donated to US political causes.
—Abby Rubenstein, Max Knobauch, Matty Merritt, Sam Klebanov, Neal Freyman
| | | | |
| --- | --- | --- | --- |
| | Nasdaq | 11,024.51 | |
| | | | |
| --- | --- | --- | --- |
| | S&P | 3,949.94 | |
| | | | |
| --- | --- | --- | --- |
| | Dow | 33,700.28 | |
| | | | |
| --- | --- | --- | --- |
| | 10-Year | 3.833% | |
| | | | |
| --- | --- | --- | --- |
| | Bitcoin | $15,768.15 | |
| | | | |
| --- | --- | --- | --- |
| | Disney | $97.58 | |
*Stock data as of market close, cryptocurrency data as of 4:00am ET. Here's what these numbers mean.
Markets:

Stocks

slumped

yesterday as China made it clear that its era of strict Covid restrictions isn't over after all. Plus, rumors about a potential OPEC oil production increase battered energy stocks and crude prices. One shining star, though, was Disney. Investors are amped that former CEO Bob Iger is returning to try and put the mouse house back in order.
Hannah Minn
That's kind of a joke—most New Yorkers know that you can already buy marijuana on practically every city block. But next month it can be done legally.
The state, which legalized recreational cannabis back in March 2021, awarded its first 36 retail licenses yesterday, prioritizing sellers impacted by the drug's former illicit status. There's still another round of paperwork ahead, but New York has said it expects the first dispensaries to open their doors in December.
What took so long?
Red tape mostly, but also good intentions. Part of the delay in issuing licenses to sellers after the law passed and growers got permission to get started was New York's effort to have its burgeoning legal cannabis market help out those harmed by the war on drugs.
Under a special equity program, 150 of the first licenses will be made available to individuals with prior marijuana convictions or their family members, and 25 are reserved for nonprofits.
For the licenses granted yesterday, 28 individuals or LLCs and eight nonprofits were selected from a pool of 900.
Still, if the program works as anticipated (despite a lawsuit that's delayed it even further in some areas), it will give the communities most affected by past crackdowns on marijuana a chance to benefit from the new status quo, rather than big companies that have swooped in from other states.
But New York already has a black market for weed
And it's huge: One estimate puts its size at ~$2 billion. That's a lot of competition for the newly minted legal sellers, and it's competition that doesn't have to worry about things like taxes or getting product from approved vendors.
What's more, after the law decriminalizing weed passed, a huge gray market of "weed bodegas" and weed trucks, where cannabis is openly displayed and sold, sprang up in New York City.
Bottom line: Without new efforts to halt illegal sales, it's not clear whether legal sellers will really have a leg up in a crowded field.—AR
TOGETHER WITH FACET WEALTH
Burned turkeys. Misplaced gifts. Awkward family convos after one too many eggnogs. Sure, most holiday mishaps are all in good fun, but there's one thing you don't want falling susceptible to seasonal blunder: your bank account.
Fortunately, Facet has your back. A Facet membership provides virtual financial planning using industry-leading tech and a CERTIFIED FINANCIAL PLANNERTM professional (the highest certification) to help you fortify your finances through the holidays and beyond.
True to the festive spirit, Facet is offering 2 months of free planning* during your first year. Their fees are affordable, fixed, and based on your needs, so there's no need to fret when the promo concludes.
NASA
Looking good, moon. Unlike the crypto market, NASA's Orion spacecraft reached lunar orbit yesterday and flew just over 80 miles above the surface. Orion's journey is a key step in the space agency's Artemis program, which aims to send humans back to the moon for the first time since 1972. If all goes according to plan, the next orbital flight will have astronauts aboard and will happen as early as 2024. Before the end of the decade, "we're going to be sending people down to the surface and they're going to be living on that surface," asserted NASA Program Manager Howard Hu, who oversaw Orion's launch.
Dog whiskey will get its day in court. The US Supreme Court agreed yesterday to hear a trademark lawsuit brought by Jack Daniel's against a dog-toymaker, VIP Products LLC. Jack Daniel's claims a dog toy, shaped like the brand's iconic whiskey bottle and bearing the name "Bad Spaniels" along with a couple of dog poop puns, infringes on its trademarks. The whiskey-maker asserts that a federal appeals court ruling that sided with the dog toy company "paves the way for companies…to unleash mass confusion in the marketplace."
The story ends for Simon and Penguin. Simon & Schuster parent company Paramount scrapped its plan to sell the publisher to its rival Penguin Random House for $2.2 billion yesterday. The deal was already on thin ice: A federal judge blocked the deal last month after the Justice Department sued to stop the merger over antitrust concerns. Paramount had planned to appeal the decision, but instead it will shell out $200 million for a termination fee. Simon & Schuster is still up for sale, though, if anyone needs a good Christmas gift for a book lover.
Getty Images
The nation's largest rail union yesterday narrowly voted down a tentative labor contract brokered by the Biden administration, increasing the risk of an economy-debilitating rail strike ahead of the winter holidays. A strike could start as soon as December 5 unless a new agreement is reached or Congress steps in with prevention measures.
A rail strike would cost the US economy about $2 billion per day, according to the Association of American Railroads. The ripple effect of a shipping stoppage of that magnitude could lead to global food shortages and more: The American Chemistry Council says about $2.8 billion in chemical shipments would be impacted each week.
What do the workers want? The contract—which offered a 24% pay increase by 2024, the largest in four decades—was rejected due to a lack of concessions from management around what members feel are unfair attendance policies and persistent understaffing issues since the pandemic, according to union officials.
One federal agency estimates that freight carriers employ ~30% fewer workers than they did six years ago.
There are 12 unions that need to approve the contract, and yesterday the SMART Transportation Division union rejected it, joining a handful of smaller unions that have also voted it down. The other largest railway workers union, BLET, narrowly voted to ratify the contract but said it would honor the picket line.—MK
Piaras Ó Mídheach/Getty Images
World Cup host country Qatar was probably hoping the controversies would end when the games began. But as we've learned from any Thanksgiving gathering, you can't escape politics even when the football comes on.
The first full day of World Cup matches was laced with political overtones.
Iran players join the protest. Players on Iran's team did not sing the country's national anthem before their match with England yesterday, breaking tradition. The team's silence was interpreted as a display of solidarity with protesters across Iran demonstrating in response to the death of a young woman in police custody after she was detained for how she was wearing her hijab.
Captains lose their armbands. A group of seven European team captains ditched their plans to wear LGBTQ+ OneLove rainbow armbands after FIFA threatened the players with yellow cards if they wore them. FIFA has not publicly said why the armbands are banned, but homosexuality is illegal in Qatar and "political" additions to uniforms are against the rules. The Belgian team was also told to remove the word "Love" from the inside of their jerseys, and American soccer writer Grant Wahl said he was detained when he tried to enter the stadium wearing a rainbow shirt. He was eventually released and allowed to wear the shirt inside.
As for the soccer part of the tournament: The young USA team conceded a late goal to Wales for a disappointing draw.—MM
Level up your workleisure wardrobe. And get major savings while you're at it with the CUTS Black Friday Sale. It's their biggest sale EVER, so buy these classic staples and brand-new styles now—before they sell out of select styles for good. Shop for yourself or for holiday gifts, all 25% to 50% off sitewide, here.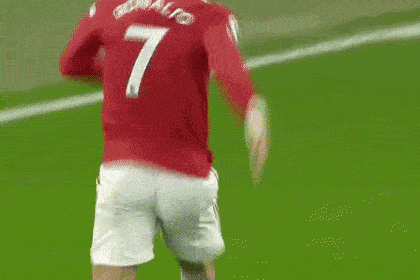 Manchester United via Giphy
Stat: Soccer legend Cristiano Ronaldo may be bickering with his club, Manchester United, but he still became the first person to hit 500 million Instagram followers yesterday. Now, the only account in existence with more followers than Ronaldo is the actual Instagram Instagram account…the only account that forces everyone to watch its stories. Ronaldo was pushed over the threshold by a Louis Vuitton ad he posted of himself playing chess with Lionel Messi (who has the third-most followed Instagram account, with 376 million followers).
Quote: "My firstborn child died in my arms. I felt his last heartbeat. I have no mercy for anyone who would use the deaths of children for gain, politics, or fame."
Elon Musk made it clear on Sunday that while he took over Twitter as a "free speech absolutist" and he's down to allow Donald Trump, Kanye West, Marjorie Taylor Greene, and other people whose accounts were suspended back on the platform, he does draw the line somewhere—and that somewhere is at Alex Jones of Infowars. Jones repeatedly insisted that the Sandy Hook school shooting was a hoax, and he's been ordered to pay nearly $1 billion to families impacted by the tragedy.
Read: These startups want you to measure your blood sugar. Should you? (The Verge)
If you work in healthcare, you know it's a constantly changing industry. Luckily for you, this is our specialty. Introducing Healthcare Brew, a twice weekly Morning Brew newsletter focused on the global healthcare industry. From tech and mental health to pharmaceuticals and hospital administration, there's something new to learn for everyone.
This editorial content is supported by ConnectRN.
Brew Mini: Today's puzzle asks you to name a Hollywood superhero franchise star named Chris who's *not* Pine, Pratt, or Hemsworth. Think you can? Solve the Mini here.
What happens in Vegas…
After postponing her Las Vegas residency at the last minute in January, Adele finally took the stage at the Colosseum at Caesars Palace Friday night for her "Weekends with Adele" show. The reviews are…glowing.
Let's see how well you know Vegas residencies. We'll give you the name of a popular show and the years it was running in Vegas. You have to name the artist.
No title / 1969–1976

"A New Day…" / 2003–2007

"The Million Dollar Piano" / 2011–2018

"Piece of Me" /  2013–2017

"All I Have" / 2016–2018

"Jazz & Piano" / 2019–2022
Live from Money 20/20, the fintech industry's biggest conference, Nora goes inside the world of casino payments with Andrew Crowe, SVP of business development for Sightline Payments. Listen here.
Want to start traveling for free? We thought so. Check out Money with Katie's Travel Rewards 101 and learn how to use points to fund your next trip.
Calling all marketing professionals: Check out Marketing Brew, your go-to source for industry updates, trend alerts, and much more.
Elvis Presley

Celine Dion

Elton John

Britney Spears

Jennifer Lopez

Lady Gaga
✢ A Note From Facet Wealth
*Facet Wealth is an SEC Registered Investment Advisor headquartered in Baltimore, Maryland. This is not an offer to sell securities or the solicitation of an offer to purchase securities. This is not investment, financial, legal, or tax advice.
*Two months free offer is only valid for an annual fee paid at the time of signing.
Written by Neal Freyman, Abigail Rubenstein, Max Knoblauch, Matty Merritt, and Sam Klebanov
Was this email forwarded to you? Sign up here.
WANT MORE BREW?
Industry news, with a sense of humor →
Accelerate Your Career with our Courses →
ADVERTISE // CAREERS // SHOP // FAQ

Update your email preferences or unsubscribe here.
View our privacy policy here.

Copyright © 2022 Morning Brew. All rights reserved.
22 W 19th St, 4th Floor, New York, NY 10011