☕ Rush hour
| TOGETHER WITH | |
| --- | --- |
Good morning. If you open your laptop in the next few days to find a morning brew, it'll only be because you spilled coffee everywhere. We are off through the rest of Thanksgiving week to spend time with our families and explain the FTX collapse to them.
You can still stay productive by checking out Money With Katie's fourth-generation Wealth Planner, which is back and better than ever for 2023. Track your income, spending, investments, and net worth in one easy-to-use tool. Sign up for a discount.
Have a wonderful holiday. See you Monday.
—Neal Freyman, Jamie Wilde, Max Knoblauch
| | | | |
| --- | --- | --- | --- |
| | Nasdaq | 11,174.41 | |
| | | | |
| --- | --- | --- | --- |
| | S&P | 4,003.58 | |
| | | | |
| --- | --- | --- | --- |
| | Dow | 34,098.10 | |
| | | | |
| --- | --- | --- | --- |
| | 10-Year | 3.758% | |
| | | | |
| --- | --- | --- | --- |
| | Bitcoin | $16,114.33 | |
| | | | |
| --- | --- | --- | --- |
| | American Eagle | $15.37 | |
*Stock data as of market close, cryptocurrency data as of 3:00am ET. Here's what these numbers mean.
Markets:

Stocks

zoomed higher

after a batch of retailers posted strong financial results ahead of Black Friday. And it might be time to break out the puka shell necklace—both Abercrombie & Fitch and American Eagle popped by double digits after topping earnings projections.
Kevin Dietsch/Getty Images
It's the day before Thanksgiving, and you're probably scrambling to fire off emails before joining a crowd of other travelers at the airport heading home for the holiday.
Or…maybe you're already at home, leisurely tapping at your keyboard from the couch while the smell of pumpkin pie wafts in from the kitchen. In this age of hybrid work, typical holiday travel schedules are being upended as employees, unchained from the office, make travel plans on their own terms.
What are the effects of this shift?
For one, airlines are expecting less of a mad rush during what traditionally have been peak Thanksgiving travel times and more of a low boil across the entire week. That appears to be playing out: On both Sunday and Monday, more people passed through TSA checkpoints than they did on the same days in 2019.
It's also making life easier for airlines and passengers. Airlines say their businesses are easier to run when the chart of travel demand looks less like the Rockies and more like the Plains. "We're seeing demand is more spread out…I see it all over the place, and that bodes well," American Airlines CEO Robert Isom said at the Skift Aviation Forum. And for passengers, more work flexibility = more opportunity to snag lower-priced tickets at odd times.
Overall, the travel industry is bullish on a future where the line separating business and leisure travel is increasingly blurred (call it "bleisure," if you can handle the cringe). With 35% of all business trips now including a weekend, airline execs say that they can capitalize as long as they better understand when people are flying in this new normal.
Any normalization would be welcome in an industry that's been shaken up the past few years—first by Covid keeping everyone at home, then through getting overrun by the rebound in travelers once the world opened back up.
Price check: Airfares are really expensive this fall. Peak prices for a domestic Thanksgiving round-trip flight will top more than $450, and prices for Christmas flights are at a five-year high, per Hopper.—NF
That was our thought when we first read about this credit card's perks. Did we read 'em too quickly? See too many 2s? Nope. These are the types of perks so good, you don't have to think twice about 'em.
But before we get in too deep, let us give you the too-good deets: unlimited 2% cash rewards on purchases and a $200 cash rewards welcome bonus.

It shouldn't come as too much of a surprise that this card was named the Best Cash Back Credit Card of 2022.
Yep, it's true. Apply for this cash back card here.
Tom Williams/Getty Images
Student loan repayment pushed back...again. President Biden extended the pause for borrowers making student loan payments back from this New Year's Eve to June 30, 2023. There have been more delays on this deadline (eight) than there are planned Avatar sequels, but Biden doesn't want to resume the payments until his plan to forgive up to $20,000 of student debt per borrower conquers the many legal challenges it's facing. Last week, a federal court blocked Biden's plan from going into effect, and earlier this month a Texas federal judge deemed the debt forgiveness unlawful.
FTX lawyers unload on SBF. Calling FTX the "personal fiefdom" of former CEO Sam Bankman-Fried, lawyers in charge of handling the crypto exchange's bankruptcy said that FTX spent $300 million on real estate for its senior staff and…SBF's parents. But if this was indeed a fiefdom before, it's now a barren village. A "substantial amount" of FTX's assets "have either been stolen or are missing," an attorney said, adding, "We have probably witnessed one of the most abrupt and difficult corporate collapses in the history of corporate America."
Democrats cleared to get Trump's tax returns. In what appears to be the final chapter of a yearslong legal battle, the Supreme Court refused former President Trump's request to block a House committee from accessing his tax returns. The Democrats who run the committee have said they need to look at the documents to gauge whether the IRS is auditing presidential returns properly. Trump, who recently announced another bid for the White House in 2024, was the first president in four decades who refused to release his tax returns.
Francis Scialabba
HGTV better hope there are enough Property Brothers bathroom remodels to cover a year of programming—the housing market's getting clobbered.
The latest sign? Home sales to investors plunged 30% annually in the third quarter. It shows how the unfriendly market conditions that have pushed regular buyers out of real estate are also scaring off buyers with deeper pockets.
The 30% drop is the steepest since the subprime mortgage crisis, aside from a couple of months at the onset of the pandemic.
But after that initial Covid pullback, the investor market exploded. Firms bought up properties in high-demand areas, driving out first-time homebuyers and raising rents by double-digit percentages. In Q1 2022 one in every five home purchases was made by an investor, according to Redfin.
Keep Tarek El Moussa in your thoughts: Home-flippers aren't doing great, either. As of October, the share of investors using a mortgage to buy a house, add some subway tile backsplash, and resell it for a profit is at a three-year low, according to mortgage clearinghouse Optimal Blue.
Zoom out: Don't expect investors to ride the bench for long. Earlier this month, JPMorgan announced a joint venture with Haven Realty Capital to purchase $1 billion in houses.—MK
Alex Korotchuk
The social media site Tumblr is having a viral moment right now after (almost) convincing the internet that Martin Scorsese directed a 1973 movie called Goncharov. Tumblr users have created expansive lore around the nonexistent film, including soundtracks, books, essays, posters, and memes.
The creation of a fictional Scorsese movie is textbook Tumblr: When an idea sparks the imagination of the blogging site's hivemind, users binge-create content around it.
A Tumblr renaissance? Tumblr peaked in popularity in the mid-2010s, but it's been making a comeback over the past couple of years, with a recent boost from disgruntled Twitter users.
During the pandemic, cool

Euphoria

teens joined the platform, and as of this January, 48% of the site's active users and 61% of the new ones were from Gen Z, per

The New Yorker

. Since advertisers love the youths, revenue has subsequently climbed.

Then came Elon Musk's chaotic acquisition of Twitter, and Tumblr's iOS downloads surged 62% the week after the deal closed.
In a dig at Musk's plan to charge $7.99 per month for one checkmark that displays next to a user's name, Tumblr now lets users buy two check marks for a one-time fee of $7.99, and up to 24 total. But except in jest, the site's not trying to copy Twitter, and neither are other companies, including Meta, Google, and Microsoft. The business case just isn't there.—JW
A cozy-season must-have. Get comfy with Bombas' Sunday Slippers, perfect for wearing around the house all cozy-season long. With fuzzy sherpa material inside and out, cushiony memory foam, and rubber soles, we won't blame you for never wanting to take these off. Find your Sunday Slippers style here.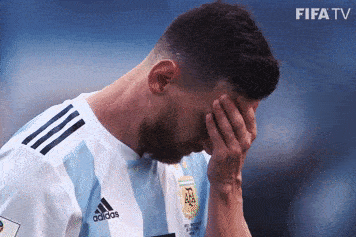 FIFA via Giphy
Stat: Saudi Arabia beat Argentina 2–1 yesterday in one of the most shocking upsets in World Cup history. Just how improbable was it? One quarter of all money wagered on the World Cup on DraftKings Sportsbook is for Argentina to win it all, the most for any team. And 51st-ranked Saudi Arabia was an 18–1 to 20–1 underdog in the match, meaning if you had bet $100 on the Saudis to win, you would've made up to $2,000. It's yet another World Cup setback for Argentine star Lionel Messi, who has never won the tournament despite being one of the best to ever play the game.
Quote: "My final message—maybe the final message I give you from this podium—is that, please, for your own safety, for that of your family, get your updated Covid-19 shot as soon as you're eligible, to protect yourself, your family, and your community."
Dr. Anthony Fauci urged Americans to get their reformulated Covid boosters in his final White House press briefing yesterday. Fauci, the nation's top infectious disease official and the leader of the National Institute of Allergy and Infectious Diseases since 1984, announced this summer that he'd be stepping down to "pursue the next chapter" of his career in December. Fauci's plea comes as public health officials warn that a "viral jumbalaya" of respiratory infections threatens to push hospitals to the brink this winter.
Watch: Why this is the future of imagery—but no one knows it yet. (Corridor Crew)
Picdoku: Ultimate Frisbee finally gets some love in today's Picdoku. Play it here.
Three Headlines and a Lie
Since the Brew is off tomorrow, we're shifting Three Headlines and a Lie from its traditional Thursday slot to this morning.
You know how this game works: Three of these headlines are real and one is faker than our "homemade" pumpkin pie filling. Can you guess the odd one out?
Founder and investor Codie Sanchez tells Alex about which boring businesses are actually worth investing in, how to hire good operators, and the art of deal structuring and negotiation. Listen here.
Don't miss our free workshop discussing innovation with Range author David Epstein on Wednesday, Nov. 30. Register here.
The problems with automated interviews are real. Here's what HR professionals need to know.
There is no catastrophic mulled wine shortage…that we know of.
Written by Neal Freyman, Max Knoblauch, and Jamie Wilde
Was this email forwarded to you? Sign up here.
WANT MORE BREW?
Industry news, with a sense of humor →
Tips for smarter living →
Accelerate Your Career with our Courses →
ADVERTISE // CAREERS // SHOP // FAQ

Update your email preferences or unsubscribe here.
View our privacy policy here.

Copyright © 2022 Morning Brew. All rights reserved.
22 W 19th St, 4th Floor, New York, NY 10011