☕ Big Tuna
| TOGETHER WITH | |
| --- | --- |
Good morning. If you're having trouble keeping up with all of your group chats, one dad's message to his family provides an off-the-shelf template for anyone to use (via @snakel3t):
"I can't keep up with the pressure of always having to lol or like or heart everyone's random thoughts, pics and amusements.
For all future texts: I love them, laugh at them, or like them, unless it's bad, then I dislike them.
In perpetuity.
I can't live with this pressure. I'm out."
—Matty Merritt, Sam Klebanov, Max Knoblauch, Neal Freyman, Holly Van Leuven
| | | | |
| --- | --- | --- | --- |
| | Nasdaq | 11,095.11 | |
| | | | |
| --- | --- | --- | --- |
| | S&P | 3,990.97 | |
| | | | |
| --- | --- | --- | --- |
| | Dow | 33,910.85 | |
| | | | |
| --- | --- | --- | --- |
| | 10-Year | 3.549% | |
| | | | |
| --- | --- | --- | --- |
| | Bitcoin | $21,310.51 | |
| | | | |
| --- | --- | --- | --- |
| | Goldman | $349.92 | |
*Stock data as of market close, cryptocurrency data as of 3:00am ET. Here's what these numbers mean.
Markets:

The Dow

snapped

a four-day winning streak after Goldman Sachs posted its biggest earnings whiff in more than 10 years (Q4 was miserable for dealmaking). Crypto prices, though, continued to tick higher, and bitcoin has now clawed back all of its losses since the implosion of FTX.
Illustration: Dianna "Mick" McDougall, Source: Alano Design/Getty Images
The University of Texas at Austin, one of the largest public universities in the nation, banned TikTok from its wi-fi and across its wired networks yesterday—and not because someone made a call-out video of Bevo's Shein haul.
The university is complying with Texas Gov. Greg Abbott's recent decision to forbid state employees from having the app on government-issued devices. And it's just the latest major US campus to confine its students to Instagram Reels: Public universities in at least five states, including Auburn University in Alabama, the University of Montana, and schools in the University System of Georgia, have banned the app.
The backstory: In the last few months, more than half of US states have barred TikTok from government devices, according to CNN. Government officials all the way up to President Biden—who last month signed legislation that banned TikTok from federal devices—are on edge about the national security and privacy concerns around the app, which is owned by China's ByteDance. In the past year, ByteDance has admitted to tracking journalists who cover it, and accessing US TikTok user data from China.
These college bans will mostly be...annoying
When you tell a college student not to do something, they're probably going to find a way to do it. Tech-savvy undergrads are skirting the bans by using their own data plans or personal wi-fi to access one of their favorite social media platforms.
Still, the bans are causing uncertainty, and everyone from communications professors to the people running university mascot accounts are wondering how these restrictions will affect their work. Think of the college improv teams trying to Impractical Jokers people, or the sorority rush chairs who use the app to hype recruitment.
But it goes beyond depleting DG's follower count: Some critics also argue that banning TikTok on university wi-fi hinders professors' abilities to better understand the app and how it spreads the misinformation policymakers are so concerned about.
Bottom line: It's unlikely that most students at UT Austin, Auburn, or any other school that decides to ban TikTok in the future will ditch the app. According to Pew, 67% of 13- to 17-year-olds have used the platform, making it the second most popular app behind YouTube.—MM
There are a lotta ways to diversify your portfolio, but not many that are built specifically to protect your investments as much as they are to capture growth. There is one alternative investment manager to put on your radar that stands above the rest.
We know what you're thinking: In this economy?
That's right: We're talking about Fundrise. With a decade-long track record of outperformance through various market environments, they can help you invest smarter by adding real estate private equity to your portfolio. Even better, Fundrise expects 2023 to be one of the most opportune real estate investing environments of the last decade.
Find out how Fundrise's real estate portfolio is well positioned for the long haul and join over 350k other investors here.
Hesham Elsherif/Getty Images
Greta Thunberg hauled away by police at German coal mine protest. The climate activist and other demonstrators were detained (and later released) by police yesterday while protesting the demolition of a village to allow for the expansion of a coal mine. Protesters had been trying to defend the town, called Lützerath, for years, turning it into a symbol of government hypocrisy on climate change. But the energy crisis spurred by the war in Ukraine, and Germany's desperate search for more energy sources, lent new urgency to the coal mine's expansion. Last week, hundreds of protesters who had been living in Lützerath were cleared out by police.
Disney's proxy battle is getting nasty. The Mouse House is not pleased that activist investor Nelson Peltz is trying to gain a spot on its board. In a fiery filing yesterday, the company bashed Peltz for lacking a "basic understanding" of the media industry (Peltz has a history of pushing for changes at consumer giants like P&G and Unilever). Last week, Peltz launched a proxy battle with the Disney board after accumulating a $900 million stake. He claims that Disney's acquisition spree has harmed shareholders, and he's called out the company's fumbled execution of its CEO succession plan.
🪓 Microsoft prepares the pink slips. The tech giant is following its peers and will reportedly lay off a large number of employees today: a rumored 5% of its workforce, equivalent to more than 10,000 people. CEO Satya Nadella recently said that Microsoft wasn't "immune to the global changes," and predicted a "challenging" next two years. Still, Microsoft isn't totally hunkering down. It's currently prepping its largest startup investment ever: $10 billion into ChatGPT creator OpenAI.
Morning Brew
China recorded a population drop in 2022—its first in over six decades, government data shared on Tuesday showed. The last time this happened was around 1960, when the abysmal Great Leap Forward economic initiative caused widespread famines.
Though it occurred sooner than demographers predicted, the current decline isn't shocking—China's birthrate has been dropping for years, reaching a record low in modern history in 2022. Observers blame the high cost of parenthood, strict Covid lockdowns, and decades of the restrictive one-child rule. As a result of the country's aging population, funerals outnumbered baby showers by about 850,000 last year.
Everyone–not just China–should be worried
An aging population usually creates a noxious economic cocktail of less working-age people available to fill jobs and more retirees requiring costly care. This can slow economic growth (any gains in the daytime TV industry notwithstanding), which for various reasons in China was already at a multidecade low of just 3% last year.
If things go south for the world's second-largest economy, the rest of the world would feel it, too. Fewer workers in the exporting powerhouse of China could mean more expensive products for consumers globally, as well as reduced demand for goods and services that the country sources from abroad.
Zoom out: Some experts are staying optimistic about China's future, pointing to its ongoing embrace of less labor-intensive industries like semiconductors and finance, while manufacturing shifts to countries with more abundant workers.—SK
Francis Scialabba
Whoever heads up PR for the anchovy lobby deserves a few extra zeroes at the end of their paycheck. After reportedly being killed by millennials just four years ago, canned fish—like tuna and sardines—are surging in popularity, receiving huge boosts from TikTok and sustainability trends.
Sales of canned seafood shot up by 10% (to $2.7 billion) in the US in 2022, according to Euromonitor International. The primary driver? TikToks in which aesthetic, photogenic tinned fish boards are prepared as part of a romantic date night charcuterie.
While some users claim the trend is "giving Great Depression," it doesn't seem to be slowing down. Over the course of last year, users on the app posted their #tinnedfish dinners—some claiming to do this every week—and the hashtag now has more than 26 million views.
Companies are jumping aboard the cannedwagon, utilizing vintage design styles in packaging and developing new strategies, like selling pairing kits, to move fish. Scout Canning, a popular Vancouver-based brand, told the WSJ that its revenues jumped 82% in 2022.
Could be nice for Earth, too: Tinned fish's long shelf life, lack of refrigeration requirements, and recyclable packaging make for a more climate-friendly protein than many other meats.—MK
Meet your new skin savior: the Fibroquin Essence, a revolutionary new formula that tackles challenging issues for aging skin—including the loss of volume, tightness, and elasticity—without any irritation. In a clinical trial, 93% of participants showed a significant improvement in skin elasticity by week 8. Get 15% off.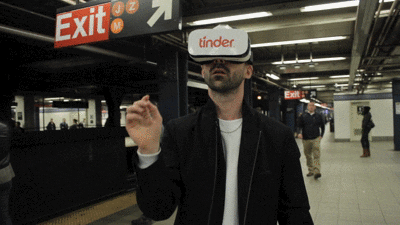 @tomgalle via Giphy
Stat: Can you put a price on love? Match Group is testing a $500/month subscription to Tinder, according to Bloomberg. And while that Tinder feature is still in experimental mode, Match is moving ahead with new subscriptions for Hinge, another of its dating apps, rolling out a souped-up version for "highly motivated daters" that costs up to $60/month. We'd totally sign up if it meant never seeing a "Looking for the Pam to my Jim" on a profile again.
Quote: "This song sucks."
At least one person isn't impressed by the imitative powers of ChatGPT. On his blog, the singer-songwriter Nick Cave blasted a song that was written by ChatGPT "in the style of Nick Cave," calling it "a grotesque mockery of what it is to be human." Cave's entire post on the AI-written song, in which he reflects on songwriting more broadly, is worth reading.
Watch: A fact-checked debate about legal weed. (Vox)
The Office/NBCUniversal
Don't miss the opportunity to become the best leader you can be. Learn how to hone your strengths, improve your communication, foster a healthy team environment, and execute efficiently with Morning Brew's Leadership Accelerator. It's an eight-week, online course that kicks off next week on Monday Jan 23. Apply here.
A berry good map: See the distribution of 19 different berries native to North America.
Shocking geography fact of the day: It's about Brazil and Canada.
Charting obesity in the US: It's going in the wrong direction…fast.
We all want to retire early, but most of us don't know where to start. That's why Money with Katie put together this series to help break down the steps to early retirement.
Get in on the action: You could pick your stocks on a whim, or you can get market-beating picks through The Motley Fool's Stock Advisor. New members, get in for only $79 (regularly $199/year).*
*This is sponsored advertising content.
Word Search: You'll visit the most famous landmarks in the world without leaving your chair in today's Word Search. Play it here.
For the gram
We're handing over the mic to our copyeditor, Holly, who's going to give you all a grammar quiz. Can you spot the stylistic/grammatical errors in the following Brew sentences?
(No literary sensibilities were harmed in the making of this puzzle. We caught each error before the fish emoji hit Slack.)
A survey from Resume Builder found that 90% of companies will require a return to the office this year, signaling a shift away from the softly-enforced hybrid policies that became popular during the pandemic.

The world's richest person and CEO of luxury goods conglomerate LVMH named his daughter Delphine Arnault CEO of the fashion house Dior, setting up a sibling battle for succession of his company.

With a narrow majority in the House, these early days are key for the GOP in organizing and setting the stage for their agenda leading up to the 2024 general election.

NATO crisis diffused.

NATO member Poland said that the missile strike that killed two people there on Tuesday was likely launched unintentionally by Ukraine as it tried to defend itself from Russian shelling.
The year 2022 was monumental for tech—from AI innovations to climate solutions. Here are the top three technologies that hit an inflection point in 2022.
On The Crazy Ones, hosts Alex and Jesse discuss some of the critical beliefs Alex has about himself as a founder, and how he's learned to reframe them. Listen here.
Tired of hearing the same old money saving tips? You need Money with Katie's newest on-demand course, Budget Like a Millionaire. This virtual master class is designed to help you create a spending plan that actually works. Sign up now.
A writing tip you can keep in your pocket (if it's not already there) is that adverbs ending in -ly should

not

be hyphenated. Here "softly-enforced" should become "softly enforced."

If Bernard Arnault had more than one daughter, this sentence would be correct. But he only has one, so "Delphine Arnault" should be offset by commas.

Here is a classic case of a misplaced modifier, as it sounds like the early days won a narrow majority in the House. The fix we went with: "With a narrow majority in the House, the GOP needs to optimize…"

The problem here is homonyms. We meant "defused," which means to make less tense. "Diffused" means spreading out.
✤ A Note From The Motley Fool
Discount disclosure: $79 introductory price for new members only. $79 introductory price based on current list price of Stock Advisor of $199/year. Membership will renew annually at the then-current list price.