☕ Huge number
| TOGETHER WITH | |
| --- | --- |
Good morning. We did it, folks—we made it through the darkest timeline. The sun will set at 5pm in New York City tonight, and the next pre-5pm sunset won't be until November 6. It's basically pool weather.
—Neal Freyman, Sam Klebanov, Matty Merritt, Max Knoblauch, Abby Rubenstein
| | | | |
| --- | --- | --- | --- |
| | Nasdaq | 11,140.44 | |
| | | | |
| --- | --- | --- | --- |
| | S&P | 3,972.61 | |
| | | | |
| --- | --- | --- | --- |
| | Dow | 33,375.49 | |
| | | | |
| --- | --- | --- | --- |
| | 10-Year | 3.480% | |
| | | | |
| --- | --- | --- | --- |
| | Bitcoin | $22,610.45 | |
| | | | |
| --- | --- | --- | --- |
| | Netflix | $342.50 | |
*Stock data as of market close, cryptocurrency data as of 12:00am ET. Here's what these numbers mean.
Markets: Stocks staged a comeback yesterday, closing higher with the tech-heavy Nasdaq leading the way, as tech giants looked to cut costs by cutting jobs. Netflix stock soared on the news that it gained more subscribers than expected, since everyone keeps binge watching its original programming. So, if you bought Netflix for $1 when it IPOed 21 years ago and hung onto it all this time…good for you.
Hannah Minn
Across the United States, tens of thousands of tech workers are waking up to the longest weekend of their professional lives.
Google parent company Alphabet became the latest tech giant to conduct mass layoffs, beginning to let go of 12,000 employees (~6% of its workforce) yesterday morning. And while layoffs have been hitting tech for months now, this week felt particularly painful: Three of the biggest tech companies in the world—Alphabet, Microsoft, and Amazon—all announced job cuts that affected 40,000 employees combined.
That brings total layoffs in the tech industry to more than 200,000 over the last year, the FT notes.
That's a huge number
But it only underscores Big Tech's breathtaking hiring spree during the pandemic. Believe it or not, most Big Tech workforces are up—way up—since the beginning of Covid. Let's take a look at the numbers:
Microsoft hired 40,000 people from June 2021 to June 2022. So after the recent layoffs, it's still up 30,000 employees (or more than one Visa) in 18 months.

Alphabet's 12,000 layoffs represent ~33% of the 36,751 staff it hired in the single year to September 2022.

Meta hired more than 26,000 employees in 2020 and 2021; it recently cut 11,000 jobs.
So what's going on? Big Tech companies feasted during the Covid boom times, believing they'd never get heartburn later on. Now, facing a deteriorating economic environment, they're letting go of some "moonshot" ideas, promoting efficiency, and being more surgical about their investments (like in AI).
Finally, there's one elephant in the room: Apple. Maybe it got lost while using Apple Maps, but the iPhone maker remains the only Big Tech company that hasn't yet announced layoffs. One factor, CNBC suggests, could be that it hired far more methodically than its peers during the pandemic. Apple increased its headcount by just 6.5% in the year to September 2022—about the same growth rate it's had since 2016.—NF
We all begrudgingly accepted the idea that jeans ≠ comfort. But like your ol' cargos with side pockets, that's pretty dated. Especially now that Mugsy's designed the most comfortable jeans ever made.
Mugsys have the feel of soft sweatpants with the look of stylish jeans. They stretch to move with you while keeping the fit juuust right—never too baggy and never too tight.
Sure, you could read through some 13,000+ 5-star reviews on Mugsy's site, but we thought this one summed it up: "Just. Buy. Them. Absolute perfection."
Try these game-changing jeans for yourself and get 10% off your first purchase with code BREW10, plus free shipping + free returns.
Photo Illustration: Dianna "Mick" McDougall, Photo: Getty Images/Frederic J. Brown
Elon Musk admits his tweets are not all-powerful. "Just because I tweet about something doesn't mean people believe it or will act accordingly," the Tesla CEO testified in court yesterday in a lawsuit over whether investors were duped by his 2018 tweet saying he had funding to take the electric car company private. The jury in the case is tasked with deciding whether Musk knew the tweet was false and whether it really impacted investors' decision-making.
Elizabeth Holmes accused of trying to flee the US. Prosecutors claim the Theranos founder booked a one-way ticket to Mexico after being convicted of fraud, and shows "no remorse" for pretending her company had a revolutionary product that worked when it…didn't. They're arguing that Holmes should report to prison in April rather than being allowed to continue living on an estate that reportedly costs $13,000 a month for upkeep while she appeals.
That consumer banking push really didn't go well for Goldman Sachs. First came the news that the investment bank's efforts to get into consumer banking has cost it ~$3 billion since 2020, and now it might be creating even more headaches. The Federal Reserve is investigating whether the right safeguards were in place for lending, according to the WSJ. The bank has already announced plans to stop making personal loans.
Diego Herrera Carcedo/Anadolu Agency/Getty Images
Ukraine's hopes of getting German tanks have tanked (for now). Its allies met in Germany yesterday and agreed to send more weapons aid to the country, but failed to reach an agreement on supplying tanks.
Why are tanks still a big deal in the age of drones?
Drones and surface-to-air missile systems may be more modern, but Ukraine says it's got to have the good ol' armored beasts to mount a counteroffensive against Russia.
The armored vehicles equipped with heavy guns are the go-to when breaking enemy lines in a ground offensive.

Both sides are preparing for a major forward push in the spring, and state-of-the art tanks would be ideal for the flatlands in the east of the country, where much of the anticipated combat will likely take place.
Ukraine is currently fighting with Soviet- and Russian-made tanks, but they are not the next-gen machines its war effort requires. The UK recently agreed to supply 14 heavy-duty tanks, but Ukraine says it needs 300 of them.
Zoom out: While the tank situation remains uncertain, Ukraine's allies consented to send it an assortment of weapons including air-defense systems, rockets, and artillery rounds. The US is planning a $2.5 billion arms shipment that for the first time includes powerful Stryker armored combat vehicles.—SK
Jose Francisco Hernández via NASA
Space is yet again throwing a once-in-a-lifetime viewing experience at us. A green comet is approaching earth for the first time since the Ice Age and may never return, so look up now or forever hold your peace.
What makes it green? The comet, nicknamed ZTF, is similar to other giant hurtling balls of dust and frozen gas, but produces a unique glowing green light. How? The sun's ultraviolet radiation hits the diatomic carbon in the comet (which is actually just two carbon atoms fused together) and…we would go more into that, but this isn't Space Brew.
Scientists first spotted ZTF last March, and now it's your turn: For northern hemisphere residents, your best bet is to look north this weekend, either late in the evening or early in the morning in a place with little light pollution. The comet will be close to the Draco constellation starting tonight. You have until about early February when ZTF heads to the southern hemisphere.
Besides just looking cool…Astronomers will study the rare comet over the next month before it leaves our solar system, in hopes of getting a better glimpse of the phenomenon that may have helped create life on earth. And luckily, they've got the James Webb Telescope to take some pics.—MM
Queensland Department of Environment and Science
Stat: A new amphibian has claimed the title of world's biggest toad. The cane toad, dubbed "Toadzilla" by the Australian park rangers who discovered her, weighed in at 5.95 pounds—outweighing the previous 5.8 pound record holder. Unfortunately, Toadzilla was not given much of an opportunity to celebrate her victory, as cane toads, originally introduced to Australia to control the cane beetle population, are considered environmental pests and euthanized when found.
Quote: "After looking into this matter, we have today…issued a 42-year-old man from London with a conditional offer of fixed penalty."
Police in Lancashire, England demonstrated their belief that no one is above the law yesterday by fining UK Prime Minister Rishi Sunak for riding in a car without his seatbelt on. The politician, who was seen cruising in the passenger seat without his safety belt on in a social media video, admitted his mistake and said he plans to pay up. The fine for riding beltless in the UK is usually around £100 (about $124), according to the BBC.
Read: This 96-year-old doctor came up with the abortion pill after joining the French Resistance and befriending Andy Warhol. (New York Times)
Max Knoblauch
Weekend conversation starters:
Rabbit, rabbit: Here are all the recipes you need for an epic Lunar New Year feast.
Laws of attraction: Check out all the fun things you can do with magnets.
Trying to stay ahead of the curve? Get key digital and customer insights delivered to your inbox daily with Chart of the Day, a free newsletter summarizing the latest in online and consumer trends.
Sharpen your mind: Give your math, data, and computer science skills a boost with Brilliant. With visual, hands-on learning, they make it fun + easy—and 10 million+ people already agree. Try for free + get 20% off.*
*This is sponsored advertising content.
Brew Crossword: More than 40,000 Brew readers played last Saturday's crossword. Can we beat that today? Do your part by playing it here.
Open house
Welcome to Open House, the only newsletter section that will have to fight a gator today. We'll give you a few facts about a listing and you try to guess the price.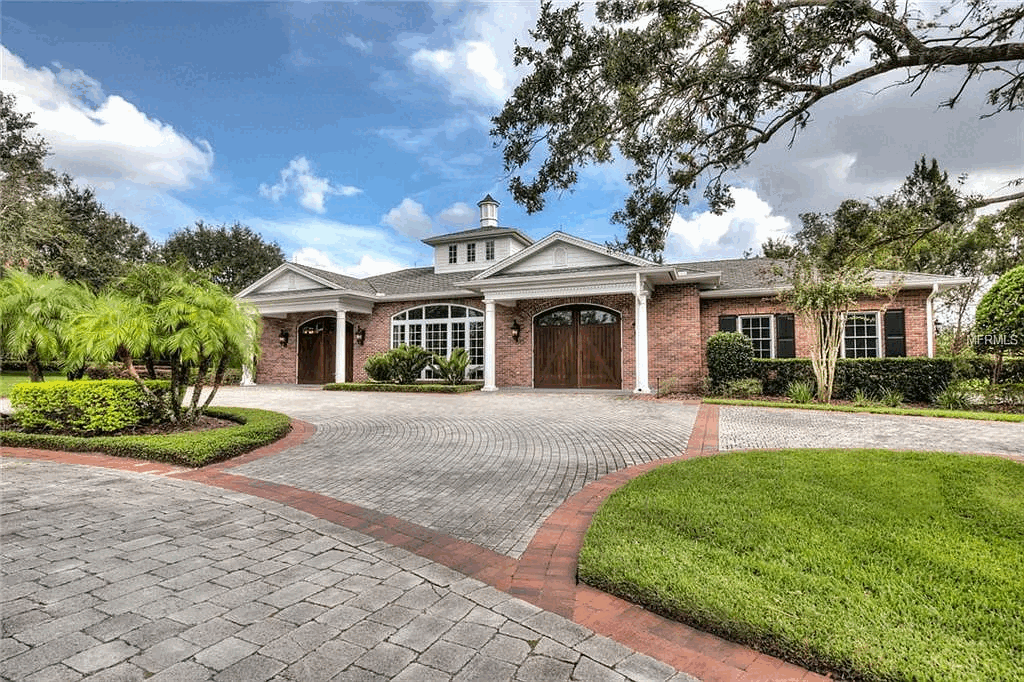 Zillow
Today's listing is in Orlando, Florida, smack dab in between a bunch of Disney properties. But don't worry, your likelihood of witnessing a Magic Kingdom flash mob proposal is low: You've got over 12,000 square feet of private property to roam by yourself. Amenities include:
5 beds, 9 baths

Personal gym and pool

Slippery stairs into your jacuzzi tub
How much for your oasis in the Mickey Mouse desert?
Legally Blonde/MGM
Gain Elle Woods-level confidence with The Brew's Leadership Accelerator. Our eight-week virtual course is designed to give you the tools to be an effective leader and a successful manager. Learn more & apply today.
Wanna level up your personal finance game in the new year? Get started with Money Scoop, the free newsletter full of investing tips, budgeting hacks, retirement advice, and more.
Thinking about implementing automated interviews at your company? HR Brew can help you weigh the pros and cons. Download the guide.
Written by Abigail Rubenstein, Sam Klebanov, Matty Merritt, Neal Freyman, and Max Knoblauch
Was this email forwarded to you? Sign up here.
Take The Brew to work
Get smarter in just 5 minutes
Business education without the BS
Interested in podcasts?
ADVERTISE // CAREERS // SHOP // FAQ

Update your email preferences or unsubscribe here.
View our privacy policy here.

Copyright © 2023 Morning Brew. All rights reserved.
22 W 19th St, 4th Floor, New York, NY 10011