☕ Zuck's new worry
| | |
| --- | --- |
| Together with | |
Lunar New Year is here, ushering in the Year of the Rabbit. VCG via Getty Images
The wackiest headlines from the week as they would appear in a "Classifieds" section...
Careers
STUNT DOUBLE FOR CAR COMMERCIALS: An engineer at Tesla admitted that a 2016 video showing off its self-driving technology was staged. Turns out, Elon Musk reportedly oversaw the creation of the video.
FINANCIAL ADVISER DESPERATELY NEEDED: New York's Belfer family, which gained riches from oil, is racking up quite an investing losing streak. They lost billions in Enron's collapse and were clients of Bernie Madoff, and now it's come to light that they were shareholders in FTX.
CELEBRATORY GRAVEDIGGER: Scientists dug up Gregor Mendel, the father of genetics, on his 200th birthday to test his DNA. Weirdest episode of Maury ever.
CPAS WANTED: Just as tax season kicks off, US firms are facing a national shortage of accountants, forcing them to look overseas for workers to look over your W-2. More than 300k accountants and auditors have quit in the last two years, per the WSJ.
FRENCH PROTEST CONSULTANT: Centuries of protesting against the government have made the French really good at it. During this week's protests against a bump in the retirement age limit, some strikers developed an ingenious contraption to keep them fed while they marched.
For sale
SLACKERS' HOME OFFICE: Citigroup CEO Jane Fraser, a hybrid work champion, said she's bringing underperforming staff back to the office so they can wander around and waste paper clips in an expensive building (and get coaching).
GARLIC POWDER, UNUSED: A new study found that your spice cabinet is the germiest place in your kitchen because of cross contamination. OK, just wait until you see our microwave.
Personal
ISO USAIN BOLT'S MONEY: More than $12.7 million is missing from a bank account the Jamaican sprinter had with a private investment firm, his lawyers said. Jamaica's financial authorities are on the case.—MM
TOGETHER WITH BABBEL
Say "ciao" to learning a new language
If one of your #2023goals is to learn Italian so you can spend a week living it up at a historic Sicilian hotel, we know exactly what can help: 55% off Babbel's language learning platform
With Babbel's 10-minute language lessons, you can start having real convos in as little as three weeks, giving you plenty of time to master the pronunciation of every pasta dish you want to try.
With 14 languages and 150+ expert linguists and teachers, Babbel makes language learning fun with podcasts, games, videos, articles, and live online classes you can enjoy at your own pace.
Get 55% off a Babbel subscription for a limited time.
Emmanuel Dunand/AFP via Getty Images
Louis Vuitton is going all-out to promote its new capsule collection with Japanese artist Yayoi Kusama. The luxury brand installed this inflatable replica of Kusama painting polka dots on the exterior of its flagship store in Paris. And if you happen to pass the Louis Vuitton location on Fifth Ave. in NYC, you'll see an animatronic of Kusama looking back at you from the window display.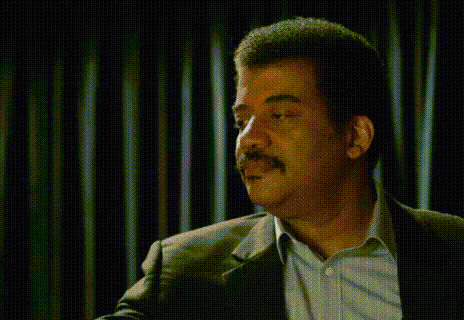 Cosmos: A Spacetime Odyssey/National Geographic Channel via Giphy
Here are some illuminating scientific discoveries from the week to help you live better and maybe even survive the nuclear apocalypse.
Where to be when a mushroom cloud is in your vicinity. Here's some science we hope you'll never need to use: Physicists have determined the best place to hide if you're trying to survive a nuclear blast. Unsurprisingly, their study showed there's no great place to be if a nuclear bomb goes off—but your best odds are to be inside a concrete-reinforced building at a distance from the initial fireball. Within that building you're going to want to avoid windows, hallways, and doors if your goal is to emerge to rule over the wasteland.
We're flush with fertilizer. A new European study found that fertilizer made from human excrement is safe for growing vegetables (and to keep the research extra stinky, they tested this out with cabbages). The researchers concluded that only minuscule amounts of chemicals from medicines made it into the cabbages, meaning there would be little risk of pharmaceutical contamination if human waste-based fertilizer is used to grow food. While it might give you the ick, the news that we're already producing an abundant fertilizer source comes as the cost of synthetic fertilizer has spiked due to the war in Ukraine's impact on the natural gas market.
🫘 Your K-Cups can save the world. If you're worried about the environmental impact of your morning brew, Canadian scientists have found you should opt for coffee pods over traditional filter brewing methods. While the single-use pods have been criticized for producing unnecessary waste, it turns out they actually produce less greenhouse gas emissions than a regular coffee pot because they use less water, ground coffee, and electricity. Doesn't mean they taste good…—AR
Alex Wong/Getty Images
The threat of a Palo Alto mansion-to-British jailhouse pipeline could soon loom over the moguls of Silicon Valley. UK lawmakers are crafting the Online Safety Bill to govern the digital space, and this week they added an amendment that would create criminal liability for social media executives if their companies deliberately fail to keep children out of harm's way.
The landmark legislation is moving through Parliament, and could still change along the way to potentially becoming a law, but part of its aim is to hold social media companies accountable for the content shared on their platforms. Though final details are still being ironed out, the current version includes:
A requirement for social media firms to remove illegal content, enforce community guidelines, and shield children from online ills like porn or content involving self-harm.

Hefty fines for noncompliance of up to 10% of a company's annual revenue.
But the recent amendment raises the personal stakes for social media bosses: Executives who "willingly ignore" repeated requests from the UK's communications regulator to deal with not-safe-for-kids material could find themselves eating British prison grub for up to two years.
Critics say this is a step too far
The amendment is a welcome concession to child safety advocates and parents wondering whether their phone-glued kid is being recruited into a deranged cult, or just texting her friends. But digital rights campaigners are uneasy about the prospect of Elon Musk being hauled away in a patrol wagon.
The industry advocacy group TechUK warns that draconian penalties might scare away investors and industry talent from doing business in the UK.
Others worry that the amendment overreaches. Rebecca MacKinnon, a top executive at the foundation behind Wikipedia, expressed concern to BBC that it "limits freedom of expression." She maintains that the online encyclopedia, which relies on a decentralized network of volunteer content moderators, should be treated differently from big tech companies. Meanwhile, internet lawyer Neil Brown pointed out that the bill's broad scope means someone could theoretically end up behind bars for failing to properly moderate a Minecraft server.
Zoom out: The Online Safety Bill will likely serve as inspiration for other countries once it clears Parliament and gets the ceremonial nod from King Charles. It's unlikely that anything so stringent could gain a foothold in the US, but it could certainly help shape the terms of the debate as Congress looks to rein in Big Tech.—SK
Meal prep: Perfect chicken breasts, every time.
Workout: How to do Miley Cyrus's workout routine from her new music video for "Flowers." Bonus: How to become a morning exercise person.
Book club: A TV adaptation of sci-fi novel The Three-Body Problem is all the rage in China right now.
Smart purchase: These analog timing cubes are perfect for following through on your work priorities.
Playlist: Besides "Flowers" on repeat…the latest albums from City of the Sun and Khruangbin are perfect for relaxing, reading, or working.
Productivity tip: Why a vertical monitor setup will change your life.
Life hack: Whether you're buying or just using a gift card, here's how to avoid getting scammed.
Tech tip: The ultimate guide to the plug adapters you need in different countries.
Interview evolution: Tell me why you want this job in 20 seconds. Go! The problems with automated interviews are real—here's what HR professionals need to know.
It's a big world out there. In this section, we'll teleport you to an interesting location—and hopefully give you travel ideas in the process.
Forget Davos—the ski resort town to be this time of year is Park City, UT, which is hosting the renowned Sundance Film Festival after going virtual for two years due to Covid.
Park City has tons of skiing (it is the largest ski resort in the country, after all), and rose to international prominence after hosting some events in the 2002 Winter Olympics. In fact, it has one of only three Olympic bobsled tracks in North America.
But if you're more of a "sip hot chocolate in front of a crackling fire" type of person, you can easily skip the slopes and hit up Park City's picturesque Main Street, where you can shop for Western attire to live your best Yellowstone life. Hate the cold altogether? Park City has emerged as a top summer destination for activities like mountain biking, hiking, fly fishing, and more.
See you at the No Name Saloon.—NF
After world-famous restaurant Noma announced it was closing down, last Sunday we asked you to design a meal that you would happily pay $500 for.
Our favorite responses:
"If science ever found a way to recreate velociraptor meat, I would pay $500 to be the first person to chow down on a well-seasoned and cooked velociraptor thigh. I'm imagining it tasting like a turkey leg you get at a theme park, but larger."—Aaron from LA
"That thing made by the mouse chef from the movie Ratatouille with an actual English-speaking mouse making it, for authenticity."—Wilbur from Jargalan, Mongolia
"A pizza big enough you could pizza wrestle in. And eat at the same time!"—Gary from West Branch, IA
"Give me a side of beef and a couple of gallons of BBQ sauce and leave me alone for a week."—Ray
"My $500 dream meal would consist of the best cheeses in the world with the finest vehicles: the best chips, breads, crackers, and pastas. Naturally, dessert would be the best cheesecake you've ever tasted. And some really good espresso or coffee. Because that would be extremely necessary."—Jess from Kansas
This week's question
Season 27 of The Bachelor premieres tomorrow night. If you're familiar with the show, you know the best way to stand out in a sea of contestants in ball gowns is to deliver a memorable opening line (or a prop or costume.) What's your winning gimmick to make it past the first rose ceremony?
Here's Matty's response to get the juices flowing: I'd emerge from the limo and hand the Bachelor an ear of corn and say, "I'm from Nebraska, home of the Cornhuskers." Then he'd shuck the corn to reveal another husk. This would continue like a Russian doll of corn husks, but there would never be any corn.
Share Morning Brew with your friends, acquire free Brew swag, and then acquire more friends as a result of your fresh Brew swag.
We're saying we'll give you free stuff and more friends if you share a link. One link.
Your referral count: 1
Click to Share
Or copy & paste your referral link to others:
morningbrew.com/daily/r/?kid=8e8ccc8f
How are those Q4 earnings calls going? Stay up to date on the latest forecasts and reports with CFO Brew. Subscribe here.
Keeping tabs on the latest tech can be overwhelming. Let Emerging Tech Brew do the work for you. It's the free email that curates all the latest tech news into one convenient newsletter.
Written by Neal Freyman, Sam Klebanov, Matty Merritt, and Abigail Rubenstein
Was this email forwarded to you? Sign up here
Take The Brew to work
Get smarter in just 5 minutes
Business education without the BS
Interested in podcasts?
ADVERTISE // CAREERS // SHOP // FAQ

Update your email preferences or unsubscribe here.
View our privacy policy here.

Copyright © 2023 Morning Brew. All rights reserved.
22 W 19th St, 4th Floor, New York, NY 10011