☕ Power maneuvers
| | |
| --- | --- |
| Sponsored by | |
Cherry blossoms in Japan. Tomohiro Ohsumi/Getty Images
The wackiest headlines from the week as they would appear in a Classifieds section...
Careers
AI PROMPTER: AI tools like ChatGPT are only as useful as the humans asking them questions, so some companies have begun to hire "prompt engineers" for extracting the right info from chatbots. Finally, a job AI can never replace.
SLAP BLOCKER: The Oscars have a new team to handle real-time crises at the 2023 ceremony. The squad—created in response to Will Smith slapping Chris Rock last year—is hopefully just a guy with a long hook to pull celebs off stage when they start getting weird.
PUTIN SPEECH EXTRA: People in Russia were paid $7 and handed free merch to attend a freezing outdoor rally in Moscow this week. What did their work consist of? A series of performances and a three-and-a-half minute speech from Vladimir Putin.
Personal
SEEKING DESKMATE: To cut costs, Google is asking some employees to come into the office on alternating days so they can share desks. On one hand, you'll finally have someone to water your desk succulent when you're OOO, but on the other, the butt print on your chair is never gonna be just right.
SIXTEEN WEEKS AT SEA WITH ME: MSC Cruises introduced a 116-night cruise that will visit 50 destinations across 21 countries. The around-the-world voyage, set to debut in 2025, costs $13,200+ per traveler and features a 4D theater in case you get bored of watching sunburnt people do cannonballs.
ISO CUTOFF TEES: Guns N' Roses is going on another reunion tour this summer and fall. Your parents are already distressing their jeans.
SPONSORED BY APPLE CARD
Spend $75, get $75
What's that, you ask? It's the $75 Daily Cash back that Brew readers can earn when they spend $75+ with a new Apple Card within their first 30 days using this link by 3/6—a prettyy sweet deal if you ask us. 
Apple Card also gives you up to 3% Daily Cash back on every purchase you make. That's real cash in your pocket every day, which never expires or loses value.
What you don't get with Apple Card? Fees. No annual, late, over-the-limit, or other hidden fees. (We know—we almost can't believe it ourselves.) 
Don't miss out on this limited-time offer—apply by 3/6 using this link.
Terms apply.
Alessandro Bremec/NurPhoto via Getty Images
If you're thinking "That's not what I remember Venice's canals looking like," you'd be correct. Water levels in some of the city's smaller canals have dramatically decreased over the past few weeks due to a series of unusually low tides. Gondola rides are still a go, but your route might be a little different so you don't get stuck in the mud.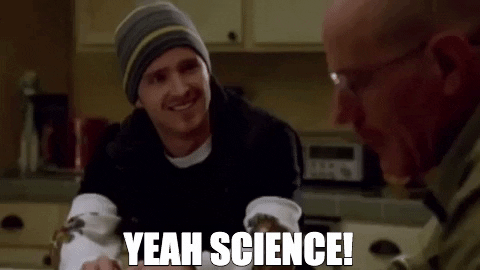 Breaking Bad/AMC via Giphy
Here are some illuminating scientific discoveries from the week to help you live better and maybe even longer.
Self-cleaning is for more than just ovens. While there's plenty of debate over whether touchscreens in cars are safe or convenient, there's no denying they're covered in more fingerprints than a crime scene. But according to a recent patent filing, GM has solved that problem. The automaker has invented a self-cleaning screen to save your sleeve from having to do the work. It's got a coating that will break down those smudgy prints after being activated by violet light from pixels inside the screen.
There's a right time to exercise for a longer life. It's not news that exercise can help you live longer, but a new study of ~92,000 people in the UK suggests that if longevity is your goal, you might want to get your workout in after lunch. The study found that people who work out between 11am and 5pm are less likely to die prematurely than people who #riseandgrind. This upside of afternoon exercise was most pronounced for the elderly, men, people who were generally less active, and people with cardiovascular conditions.
A promising new drug to defeat superbugs. Researchers at UC Santa Barbara have developed a new type of antibiotic that cures mice of infections from bacteria deemed close to untreatable in humans. Even more importantly, the bacteria developed almost no resistance to the drug. If the drug turns out to work the same way for humans, then it could be a big step forward, since the WHO considers antimicrobial resistance a huge and growing threat to human health, food security, and even the economy.
TOGETHER WITH MASTERWORKS
Putting a cool $29.8m in investors' pockets. With 11 art sales under their belt, the fintech unicorn Masterworks has returned $29.8m in profits in just 4 years. New offerings launch each week but can sell out in just minutes. Now Morning Brew readers can skip the waitlist.
Leon Halip/Stringer/Getty Images
There's no consensus on whether pro wrestling is really a sport, but few doubt that major changes await the biggest supplier of the spectacle. The legendary wrestling promotion WWE is on the market, with fans holding their breath to see who the buyer will be.
Whoever snags it, it'll cost them a pretty penny: Owner and CEO Vince McMahon reportedly wants $9 billion, according to Bloomberg. The 77-year-old retired from the company amid a sex scandal last year—but recently returned to oversee preparations for the potential sale.
Not many companies have been a bigger part of American pop culture than WWE (and probably no others have had their CEO fake-assaulted and shaved bald by a future US president), so let's look at how it came to be such a juggernaut.
First, WWE took over TV
Vince McMahon purchased WWE from his father in 1982, and turned the regional promotion originally active in the Northeast into an international phenomenon by recruiting top talent from other companies and getting its matches on national television.
The company launched its flagship pay-per-view live event, WrestleMania, in 1985, which would draw record-shattering crowds and secure its dominance in the industry.

WWE (then called WWF) matches quickly became a prime-time TV staple. Millions tuned in weekly to watch flamboyantly costumed larger-than-life personalities play out colorful storylines, talk smack, and use their acrobatic prowess to feign beating the living hell out of each other.
The names of early superstars like Hulk Hogan and André the Giant will probably ring a bell, but the most important persona in WWE history is arguably McMahon himself. He was a regular presence at the ring, never shying away from stunts like tossing a colleague into a trash truck.
WWE further hit its stride in the '90s, ushering in an iconic period known as the "Attitude Era." The company went all-in on mature content, in a battle for Monday night ratings with rival promotion WCW. Matches were laced with profanity, harsher violence, and sexual explicitness.
The Attitude Era ended when WWE bought out WCW. But its legacy lives on—it propelled personalities like The Rock and Stone Cold Steve Austin to fame beyond pro wrestling circles.
Then WWE won over the internet
WWE's TV ratings declined following the Attitude Era. Some attribute it to an eventual move toward PG content, while others blame creative missteps and the aging of popular stars.
WWE nonetheless posted record revenue last year. Its live events continue to draw impressive crowds, and it's hugely popular on social media and streaming platforms.
WWE's YouTube channel counts upward of 92 million subscribers (more than the NFL, NBA, and MLB combined), and it has 20 million followers on TikTok.
This massive following makes it extremely attractive to advertisers chasing after new markets and could drive up its sale price, according to the Associated Press.
Looking ahead…Endeavor Group Holdings, the owner of UFC, as well as Saudi Arabia's Public Investment Fund, are among those rumored to be eyeing the company. WWE's stock price has gone up almost 50% in the past year, in part due to expectations of an impending sale.—SK
The Brew's resident tastemaker, Jamie, compiles her favorite recs to help you live your best life.
Meal prep: Try some Sicilian home cooking with this spaghettata recipe.
Workout: Yoga With Adriene is the most popular yoga YouTuber for a reason.
Book club: Read A History of Ukraine to better understand the current war.
Streaming binge: Vinland Saga is Vikings meets Attack on Titan. Watch it on Netflix or Crunchyroll.
Playlist: Working and vibing to Melantronic on Spotify this week.
Productivity tip: Trying to cut back on caffeine? There's a whole subreddit for that.
Smart purchase: Up your WeWork game with a portable laptop stand.
Life hack: How to create "doorknobs" in conversations (full article or TikTok).
Master AI basics: Level up on cutting-edge tech in minutes a day with Brilliant. Their bite-size visual lessons make it easy—and 10M+ people agree. Try free for 30 days + get 20% off.*
*This is sponsored advertising content.
Sky Cave Retreats
It's a big world out there. In this section, we'll teleport you to an interesting location—and hopefully give you travel ideas in the process.
Want to shed light on a big life decision? Maybe spending time in complete darkness will help.
Aaron Rodgers is hoping it will. The Green Bay Packers QB emerged from a darkness retreat in southern Oregon this week as he contemplates whether to continue playing for the Packers…or in the NFL at all.
How does a darkness retreat work? Sky Cave Retreats, the facility where Rodgers blacked out, allows people to ponder life's big questions in partially underground rooms devoid of light, owner Scott Berman told ESPN. These rooms have a bed, a bathroom, a floor mat, and…that's pretty much it. It's just you and your thoughts, only interrupted by Berman delivering a day's worth of meals to your door.
While nothing screams 2023 more than a "darkness retreat," a variation of the practice has been around for millennia, originating in regions of India, China, and Tibet, according to the Sky Cave website. But if you're hoping to go full Bane mode—at least at Sky Cave—it's booked solid for the next 18 months.—NF
Last Sunday, we asked you to imagine the least romantic place to tie the knot.
Our favorite responses:
"Landfill."—

Ansh from San Antonio, TX

"On a Greyhound Bus driving across Texas."—

Keith from NorCal

"At the Nickelodeon Kids' Choice Awards while getting slimed."—

Kyle

"The Morning Brew office."—

Yannick from NYC

"Hartsfield-Jackson Atlanta airport."—

Julie from Connecticut

"At Sheetz. But I would definitely get married at Wawa."—

Ife from Philadelphia

"A bar. In Atlanta, a popular place for a 'low-budget' wedding is called Park Tavern, which is both where dogs pee inside and beer that's been spilled into the fake grass has been there for years. The food is good, though."—

Ashley from Atlanta
This week's question
American Girl Doll released its latest historical dolls: '90s twins Nicki and Isabel, two Seattle tweens, who come with many of the accessories you probably had if you spent your middle-school years burning iTunes playlists onto CDs.
Our question to you: What accessories would you include with the 2020s American Girl Doll?
Here's Matty's response to get the juices flowing: "First of all, her name would be Megan. And she'd have a cracked iPhone, a Harry Styles poster, and a Shein bag."
Hear from marketing leaders from Duolingo, OkCupid, and more as they share strategies and insights on May 11. Get your ticket to The Brief today.
I launched a startup...now what? Join us on Feb. 28 for a free virtual event where we'll chat with experts about raising money.
Share Morning Brew with your friends, acquire free Brew swag, and then acquire more friends as a result of your fresh Brew swag.
We're saying we'll give you free stuff and more friends if you share a link. One link.
Your referral count: 1
Click to Share
Or copy & paste your referral link to others:
morningbrew.com/daily/r/?kid=8e8ccc8f
✳︎ A Note From Masterworks
See important Regulation A disclosures.
Written by Neal Freyman, Sam Klebanov, Matty Merritt, Jamie Wilde, and Abigail Rubenstein
Was this email forwarded to you? Sign up here
Take The Brew to work
Get smarter in just 5 minutes
Business education without the BS
Interested in podcasts?
ADVERTISE // CAREERS // SHOP // FAQ

Update your email preferences or unsubscribe here.
View our privacy policy here.

Copyright © 2023 Morning Brew. All rights reserved.
22 W 19th St, 4th Floor, New York, NY 10011