Crosswords for the Holidays
Crossword
The Holiday Crossword: 2020 in Language
Each day through the end of the year, we bring you a new year-in-review crossword puzzle. Today, test your knowledge of the year in language.
From the Puzzles & Games Dept.
2020 in Review
Our Favorite Crossword Clues of 2020
As a source of at-home entertainment and an antidote to the mind-numbing effects of lockdown, crosswords became a staple of many quarantine diets.
By
Liz Maynes-Aminzade
,
Nicholas Henriquez
, and
Andy Kravis
Virtual Togetherness Through Partner Crosswords
Social dynamics of the crossworld, a crossword meet-cute, and other ways to puzzle with friends while social distancing.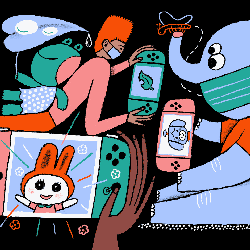 2020 in Review
The Best Video Games of 2020
Away from the corporate mainstream, artists offered games that were bold and nourishing, and that made a tough year just a tiny bit brighter.