The Daily PetaPixel for 04/21/2021
By Jaron Schneider on Apr 20, 2021 04:32 pm
Sony has published a new video that shows the company's testing methods for its impending Airpeak drone. In the video, the test shows the new drone stabilizing footage and maintaining position in 43.6 mile-per-hour winds (19.5m/s).
By Anete Lusina on Apr 20, 2021 02:32 pm
Nikon has announced firmware updates for its Z Series mirrorless cameras that bring increased AF performance, improved tracking, and more. The update will be released on April 26, 2021.
… [visit site to read more]
By Jaron Schneider on Apr 20, 2021 02:20 pm
Apple is taking the advantage of the M1 chip's power efficiency and computing ability and is packing it into the iPad. The company says that the new iPad Pro (11-inch and new 12.9-inch) has a giant leap in performance as well as a new mini-LED powered technology it is calling Liquid Retina XDR display.
By Jaron Schneider on Apr 20, 2021 02:00 pm
Wandrd has announced notable changes to its popular Prvke camera and adventure backpacks along with two new sizes: 41-liter and a new, compact 11-liter bag with an integrated camera cube called the Prvke Lite.
By Jaron Schneider on Apr 20, 2021 01:55 pm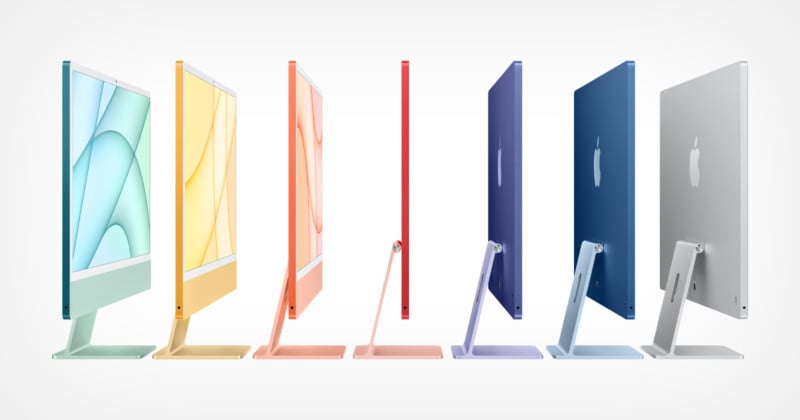 Apple has announced a new series of 24-inch iMacs that feature a new design. With a 4.5K retina display, 1080p webcam, matching keyboards and mice, and a new microphone array, the new M1-powered iMac comes in seven colors and will begin shipping in May.
By Jaron Schneider on Apr 20, 2021 01:03 pm
Photographer Zoe Wetherall has captured a series of images from the perspective of a hot air balloon, creating abstract landscape images with a top-down perspective. Called "Lines of Nature," her series juxtaposes the lines of man, nature, and where they come together.
By Usman Dawood on Apr 20, 2021 12:15 pm
One of the most common arguments that I hear in favor of Fujifilm cameras is about how great its color science is. I frequently hear about how Fujifilm camera produces the best colors and unfortunately this is not a sentiment I can co-sign. As much as I love Fujifilm cameras, I believe the colors they produce require some adjustment.
… [visit site to read more]
By Anete Lusina on Apr 20, 2021 11:55 am
Two filmmakers created a short film, "Volcano for the People," that explores the recent Iceland volcano eruption less as a natural phenomenon, but more as a collective experience that brings humanity together.
By Jaron Schneider on Apr 20, 2021 11:19 am
Polaroid has launched what it is calling the tiniest member to join the Polaroid family of cameras and also the smallest analog instant camera in the world: the Polaroid Go. Everything about it is smaller, including a miniaturized version of its classic, square format film.
By Illya Ovchar on Apr 20, 2021 11:17 am
Released in 2016, the Canon 5D Mark IV got a range of reviews, with most being quite negative. 5 years down the road, how does this camera hold up in professional jobs, and will I be upgrading from it?
… [visit site to read more]
By Ryan Mense on Apr 20, 2021 10:01 am
Super-wide-angle lenses made for full-frame cameras are usually some combination of big, heavy, slow, or riddled with image quality problems. Usually.
By Ryan Mense on Apr 20, 2021 10:00 am
Sony has unveiled the 14mm f/1.8 G-Master, an ultra-wide lens with a large aperture that the company believes is ready to take on astrophotography, landscapes, and architecture along with plus portraits and closeups thanks to its unique design.
Earlier Stories:
Police in Minnesota Round Up, Detain Photographers Covering a Protest
Nikon Z7 II Scores a 100 at DxOMark, Sits Atop with the D850, a7R III, S1R
Artist Uses Five Drones to Create Giant Light-Painted Drawing in the Sky
Researchers Given Rare Chance to Study The World's First Color Photos
The Raven Trigger Can Control Multiple Brands' Strobes at the Same Time
Copyright © 2021 PetaPixel, All rights reserved.
You are receiving this email because you opted in via our website. 
PetaPixel · 2944 N 44th St Ste 100 · Phoenix, AZ 85018-7258 · USA
You can update your preferences or unsubscribe from this list.