☕️ None of your beeswax
| TOGETHER WITH | |
| --- | --- |
Good morning. It's July 1, about 50% through the year, and we could all use a halftime pump-up speech. 
Because it ain't about how hard you hit, it's about how hard you can get hit and keep moving forward. No one—and we mean no one—comes into our house and pushes us around. This is your time. Their time is done. It's over. 
Remember readers, there's heroes and there's legends. Heroes get remembered but legends never die, and ducks fly together.
Now who's ready for Q3???????
| | | | |
| --- | --- | --- | --- |
| | Nasdaq | 14,503.95 | |
| | | | |
| --- | --- | --- | --- |
| | S&P | 4,297.50 | |
| | | | |
| --- | --- | --- | --- |
| | Dow | 34,502.51 | |
| | | | |
| --- | --- | --- | --- |
| | Bitcoin | $34,729.77 | |
| | | | |
| --- | --- | --- | --- |
| | 10-Year | 1.469% | |
| | | | |
| --- | --- | --- | --- |
| | BBBY | $33.29 | |
*Stock data as of market close, cryptocurrency data as of 6:00pm ET. Here's what these numbers mean.
Markets:

Stocks must be feeling

pretty good

heading into the halftime locker room for 2021. After another quarter in the green, the S&P and Dow have notched five consecutive quarterly gains. Reddit fave Bed Bath & Beyond also got a boost after reporting upbeat earnings.

Covid:

The director of the CDC

confirmed

the agency's guidance that fully vaccinated people don't have to wear masks in most situations. The WHO has said that everyone—fully vaccinated or not—should continue to wear masks to combat the Delta variant.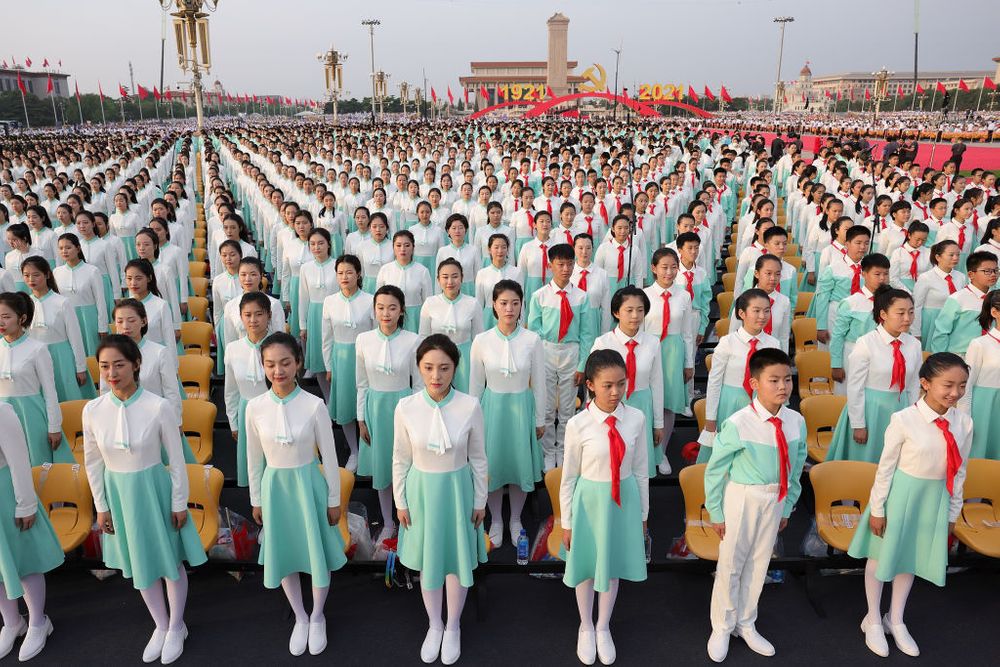 Lintao Zhang/Getty Images
The Chinese Communist Party is celebrating its 100th birthday today, and it wants to show the world it still has all of its teeth.
Chinese social media is abuzz, coal miners are getting off work to reduce air pollution, and President Xi Jinping delivered a speech that he hopes will establish him as the most powerful Communist Party leader since Mao Zedong.
Of foreign adversaries who try to bully China, Xi said, "Anyone who dares try to do that will have their heads bashed bloodied against the Great Wall of Steel." 
The origin story
Mao was one of the original 13 members who attended the first party congress in July 1921 (it was actually held on July 23, but Mao misremembered and established the holiday on July 1). At the time, China was a poor, mostly agricultural country of 400 million people plagued by civil war and unrest. 
After the Communists gained power in the 1949 revolution, Mao initiated a series of disastrous economic reforms that led to the deaths of tens of millions of people. The China that we know today only began to take shape in the late 1970s, when Mao's successor, Deng Xiaoping, opened up its market to international investors and established private property rights.
What happened next is the stuff of economic legend.
GDP rose from $191 billion in 1980 to $14.3 trillion in 2019.

More than 770 million people were brought out of poverty.

China will eclipse the US as the world's largest economy by 2028, per one estimate.
Since the liberalization of China's economy, the country has developed a close business relationship with the West—just last week Nike's CEO said, "Nike is a brand that is of China and for China." But China's authoritarian government, territorial ambitions, and alleged human rights abuses have created deep splinters in its relations with democracies. Its caginess around the origins of Covid-19 has made things worse.
Bottom line: At 100 years old, the Communist Party remains a potent global force led by a president who could be the first since Mao to rule until he dies.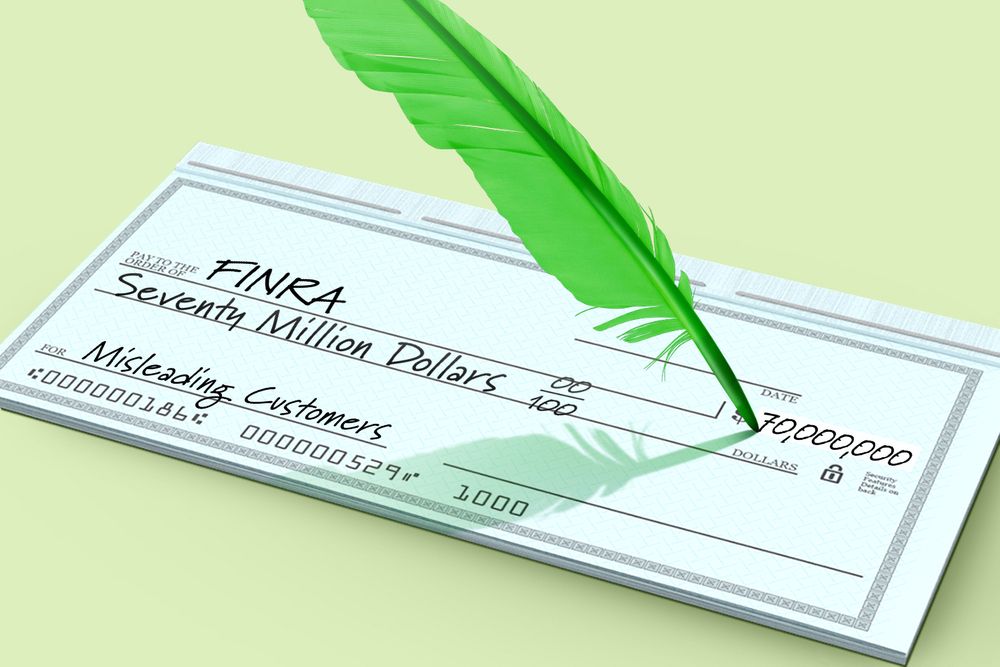 Robinhood was just handed the biggest fine from the Financial Industry Regulatory Authority...ever. It will pay $57 million to Finra and nearly $13 million to harmed investors for a total of $70 million.
What did it allegedly do? Finra accused Robinhood of misleading customers and for failing to provide support to them when asked. Some examples:
A feature that was supposed to allow users to block their ability to trade with borrowed money did not work for certain trades.

Glitches resulted in traders seeing inaccurate balances. One 20-year-old died by suicide in June 2020 after seeing -$720,000 in his account, when his balance was actually about half that. 

Two major outages resulted in tens of thousands of losses for users who weren't able to conduct trades and couldn't reach customer service agents. 
In addition to the technical problems, Finra claims that Robinhood, in its pursuit of "democratizing finance," let too many inexperienced traders make high-risk trades without properly educating them.
Looking ahead...Robinhood confidentially filed to go public in March, and like a college student 10 minutes before their parents visit, it's hurriedly cleaning up and happy to see this particular stain fade. Its IPO paperwork is expected any day now.
Amazon filed a motion yesterday to keep Federal Trade Commission Chairwoman Lina Khan out of ongoing antitrust investigations because of her past criticisms of the company.
Amazon's spokesperson Jack Evans said, "Chair Khan's body of work and public statements demonstrate that she has prejudged the outcome of matters the FTC may examine during her term."

In other words, Amazon feels like "Queen Victoria" arriving to

Bachelor in Paradise

: already the bad guy.
Who is Lina Khan? The Yale Law grad was sworn in as chair of the FTC this month. Khan is the Matt Damon of antitrust: broadly popular and famous because of something she made when she was 27. In her 2017 Yale Law Journal article, Khan argued that current US antitrust law needs to be overhauled to confront...well, Amazon.
Zoom out: With a swarm of antitrust bills floating around Capitol Hill, scrutiny over its proposed acquisition of MGM, and regulators poking into its relationship with third-party sellers, Amazon thinks going on offense is the best defense.
SPONSORED BY WEBEX BY CISCO
Formula 1 racing is complicated. Extremely complicated. Trying to figure out how to turn a car into a steerable ground rocketship? No thanks. We can barely toast a bagel.
So when the McLaren F1 Team needed to turn to hybrid work over the past year, it's safe to say they needed a solution that made virtual collaboration seamless. When communication and precision are key to your performance, you need a collab tool to keep up. 
McLaren's pick was obvious: Webex.
With Webex, McLaren is collaborating like they never have before. (Just look at how happy Lando looks up there.) And who can blame him?! In a sport where precision is paramount, Webex enables real-time communication for the McLaren Formula 1 Team.
Stat: If you want to go to bat for Big Tech in DC, there's a job (or hundreds) for you. 
Amazon has 76 openings for "government affairs"

Apple has 98 openings for "government affairs"

Facebook has 583 openings for "public policy manager" 

Google has 103 openings for "public policy manager" 
Quote: "The largest on record in the history of American theater" 
The Yale School of Drama announced a $150 million donation from entertainment mogul David Geffen that will make it tuition-free for current and future students. The department, whose alumni include Meryl Streep and Lupita Nyong'o, will be renamed the David Geffen School of Drama at Yale, proving nothing is truly free.
Read: What deadlines do to lifetimes. (New Yorker)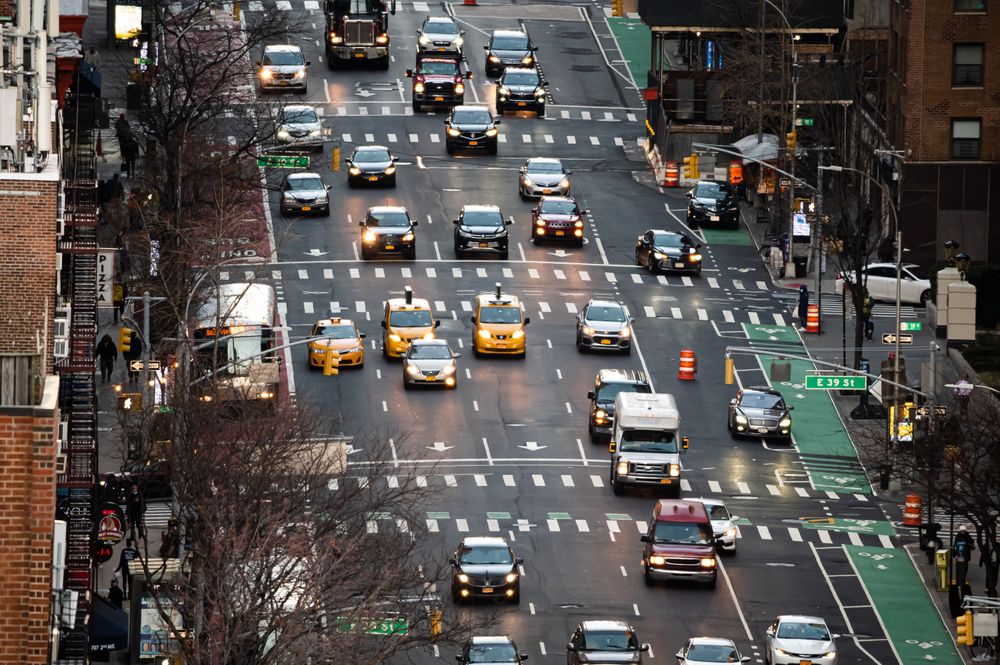 Noam Galai/Getty Images
New Yorkers have one less excuse to complain about Los Angeles, because the country's worst stop-and-go conditions moved to the East Coast last year. A study from Texas A&M found that drivers in the New York-Newark area spent 494,268 hours in traffic in 2020, compared to 365,543 hours for those in LA.
It's the first time LA has lost its traffic title in nearly 30 years.
Zoom out: The average metropolitan driver spent ~41 hours in traffic last year, but drivers in the US' five most-congested metro areas spent much more:
New York-Newark: 56

Boston: 50

Houston: 49

Los Angeles-Long Beach-Anaheim: 46

San Francisco-Oakland: 46
Bottom line: Like the Knicks' playoff appearance, this traffic ranking is a pandemic-era anomaly. LA will likely reclaim the crown this year as businesses reopen and Angelenos leave their homes for more than just In-N-Out.
Adventure-ready and comfy to boot. HOKA ONE ONE's new sustainably crafted day-hiker is the Anacapa, and this bad boy is as good at adventuring as it is at looking cool. (Extremely good.) HOKA made the Anacapa with lightweight leather, recycled polyester, and waterproof GORE-TEX fabric to keep your feet moving wherever you put them. Wander comfortably in some new HOKA boots.
No weights, no problem: This bodyweight workout on Reddit, complete with a guide and other resources, will kick your butt. 
Sidekick recs: The most popular recs from our Sidekick newsletter last week were 1) a dessert dip that's basically a Dunkaroos for adults, 2) Stanley's 40-ounce travel tumbler, and 3) this pressure relief seat cushion. Be sure to sign up to Sidekick for more finds like these.
Listen up: Malcolm Gladwell's fantastic new season of Revisionist History dives into self-driving cars, college ranking systems, and the bizarre moral universe of The Little Mermaid. Check it out.
Brew Mini: If you can complete it in under two minutes, you'll beat us. Play it here. 
Three Headlines and a Lie
If there are two French things we love talking about they are 1) the kitchen staff from Ratatouille and 2) the Tour de France. But because Disney hasn't announced Remy's Return yet, we thought we'd do a biking-themed Three Headlines and a Lie. See if you can spot the fake news story.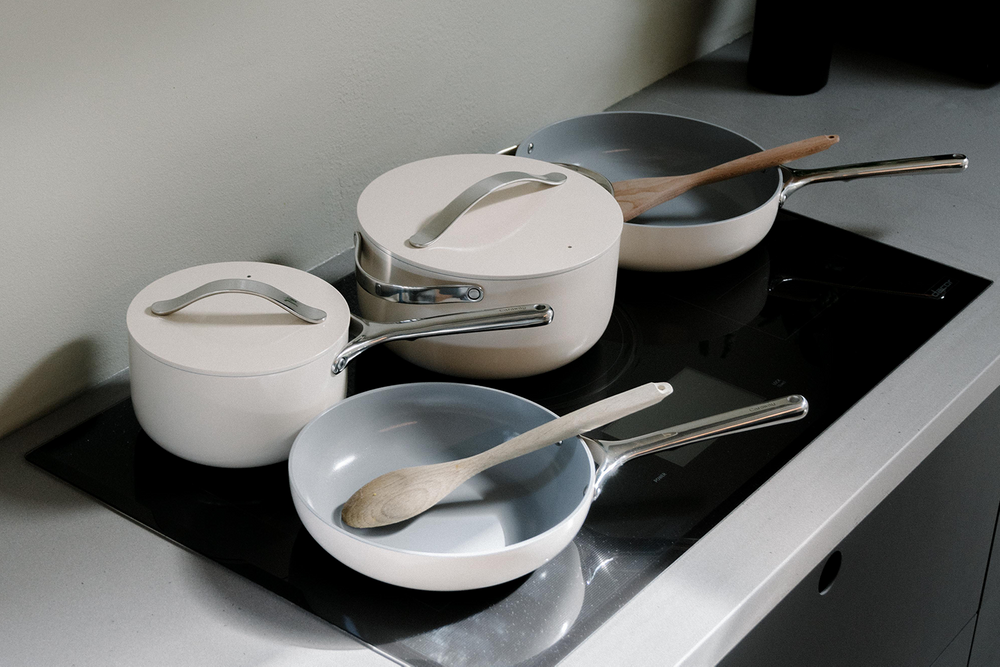 When you share the Brew with your friends and coworkers this week, you'll be entered into a raffle to win one of 15 cookware sets from Caraway. 
Remember: The more people you refer, the more likely you'll be spending the summer impressing all your friends with your fancy kitchen setup because 1 referral = 1 entry.
The raffle lasts just this week, so start racking up your referrals now. 
*US winners only. For more rules, see terms and conditions here.*
Tampa's naked bike ride was not canceled over a crop-top debate, we made that up. Does Tampa even have a naked bike ride?