☕️ France is furious
| TOGETHER WITH | |
| --- | --- |
Good morning and Happy Friday. And it's an especially Happy Friday because we just read in this article that carbonated water is in fact just as hydrating as regular water. It's proof that if you believe something is good for you for long enough, eventually science will catch up.
—Matty Merritt, Neal Freyman, Sherry Qin
| | | | |
| --- | --- | --- | --- |
| | Nasdaq | 15,181.92 | |
| | | | |
| --- | --- | --- | --- |
| | S&P | 4,473.75 | |
| | | | |
| --- | --- | --- | --- |
| | Dow | 34,751.32 | |
| | | | |
| --- | --- | --- | --- |
| | Bitcoin | $47,340.97 | |
| | | | |
| --- | --- | --- | --- |
| | 10-Year | 1.335% | |
| | | | |
| --- | --- | --- | --- |
| | Etsy | $224.15 | |
*Stock data as of market close, cryptocurrency data as of 5:00pm ET. Here's what these numbers mean.
Markets:

While yesterday was somewhat of a

snoozefest

on Wall Street, today should be more interesting. In a quarterly event known as "quadruple witching," stock options, index options, stock futures, and index futures all expire on the same day, which can produce fireworks.

Economy:

Apparently, all Americans did this August was travel to Yellowstone and

shop online

. August retail sales increased 0.7% last month, a much better-than-expected jump that was led by e-commerce.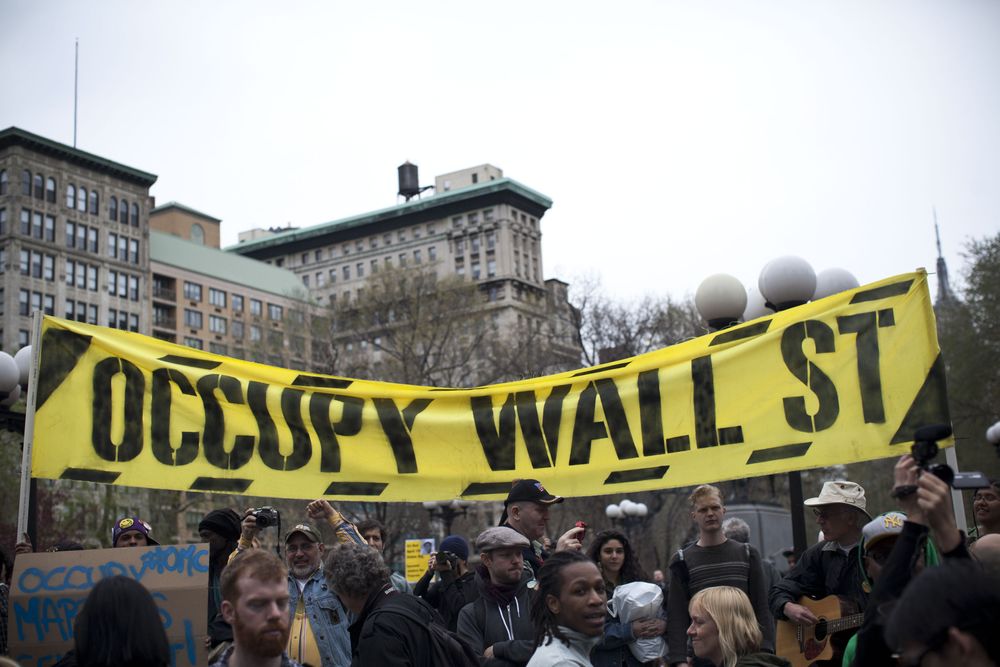 Andrew Burton/Getty Images
"Tax the rich": High fashion in September 2021, perhaps even more fashionable exactly 10 years ago.   
On September 17, 2011, Occupy Wall Street began. Protesters first gathered in Lower Manhattan that day, railing against economic inequality and Wall Street's influence on politics. Thousands set up camp in the neighborhood's Zuccotti Park, remaining there until they were forced to leave two months later, in November.
While Occupy was centered in NYC, it went global, spreading to more than 600 communities in the US and many cities across the world. Inspired by the Arab Spring protests that had occurred the year before, demonstrators utilized social media in innovative ways to organize what was for all intents and purposes a leaderless movement. 
In 2011, Time magazine named "The Protestor" as its Person of the Year. 
Occupy's legacy
People disagree about the long-term impact of Occupy Wall Street, with some calling it a flop and others arguing that it laid the groundwork for other progressive social and political movements.
The flop camp: One year after the protests, the NYT's Andrew Ross Sorkin called Occupy "an asterisk in the history books, if it gets a mention at all," arguing that it didn't lead to any meaningful policy changes that would reform Wall Street.
Even the person who is credited with spurring Occupy, Micah White, who was the editor of an anti-consumerist magazine at the time, told the Guardian he was disappointed with the outcomes. "I think if you look at the last 10 years, activism has not worked," he said.
The "it mattered" camp: Others argue that, while Occupy may not have accomplished anything concrete, it introduced a generation to protesting and made marching in the streets on a Saturday cool again. They point to #MeToo, Black Lives Matter, and Bernie Sanders's bid for the presidency as movements that borrowed heavily from the Occupy blueprint. —NF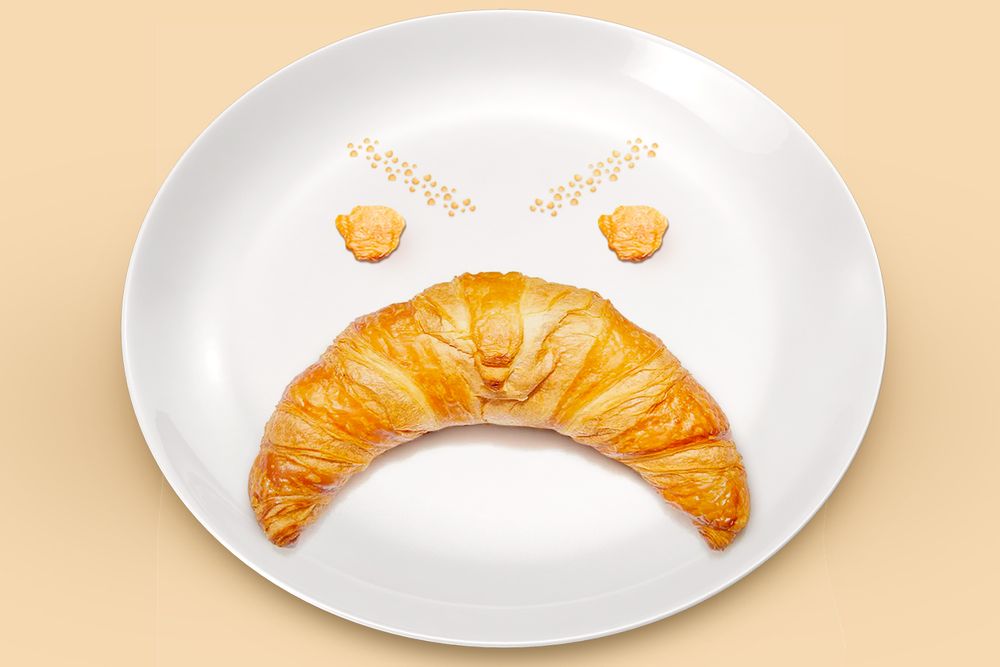 Francis Scialabba
The US, Britain, and Australia signed a major nuclear submarine deal on Wednesday to contain China's military power in the Pacific Ocean, blindsiding France like the only kid who didn't get invited to the birthday party. 
France is so infuriated that its foreign affairs minister, Jean-Yves Le Drian, unleashed a tirade against President Biden: "This unilateral, brutal and unpredictable decision" reminded him of former President Donald Trump's arbitrary and capricious behavior toward France.
France's top naval officer, who was in Washington to attend a gala, booked his flight home early after French officials canceled the event in protest.

But remember, France, no take-backs on the Statue of Liberty. 
Why France is furious: Australia had signed a contract with a French shipbuilder in 2016 to build nonnuclear submarines, but this week decided to ditch France in order to get its hands on more advanced, nuclear-powered ones. The scrapped deal could cost the French defense industry around $65.7 billion. 
Bottom line: The US-led deal is rippling across the globe, angering both China and the EU. One day after the announcement, the EU launched its own Indo-Pacific strategy to beef up its military and diplomatic presence in the region. –SQ
Giphy
The Federal Reserve said yesterday that it's breaking out the ol' ethics guidelines to look into rules surrounding senior Fed officials' personal investments.
The investigation was launched last week after documents showed that some regional Fed presidents like Boston's Eric Rosengren held hundreds of thousands of dollars in stocks like Pfizer, Chevron, and AT&T. 
Robert Kaplan, the Dallas Fed President, traded more than $1 million worth of individual stocks last year. 

And Richmond Fed President Thomas Barkin holds somewhere around $1 million in a mutual fund that invests in big names like BP and ConocoPhillips.
It's not technically against the rules. But it did raise questions as to why three of the 12 regional bank presidents who play a huge role in setting US interest rates and influencing the economy can buy that many Apple shares.
Looking ahead...both Rosengren and Kaplan have agreed to sell their individual stocks, but Senator Elizabeth Warren (separately from the investigation) sent a letter to every regional bank president yesterday asking them to delete their Robinhood accounts and ban all the Fed's senior officials from trading individual stock. –MM
The world, well, it's complicated. But lucky for us, there are a lot of smart people out there working very hard to build a world that works.
With that in mind, we are presenting a new series on Twitter Spaces with our partners at GE to get answers to some of the tough questions facing us in fields like energy, healthcare, and aviation. 
Hosted by our very own executive chairman, Alex Lieberman will be sitting down with experts in these very important fields for a chat that is as intelligent as it is entertaining (his words, he promised). 
All you have to do to be in the virtual audience is keep an eye out in the next week or so for a link to register. Our first chat is on October 7, covering all things energy.
No word yet on whether Alex will be changing his name to Lightning Lieberman in preparation.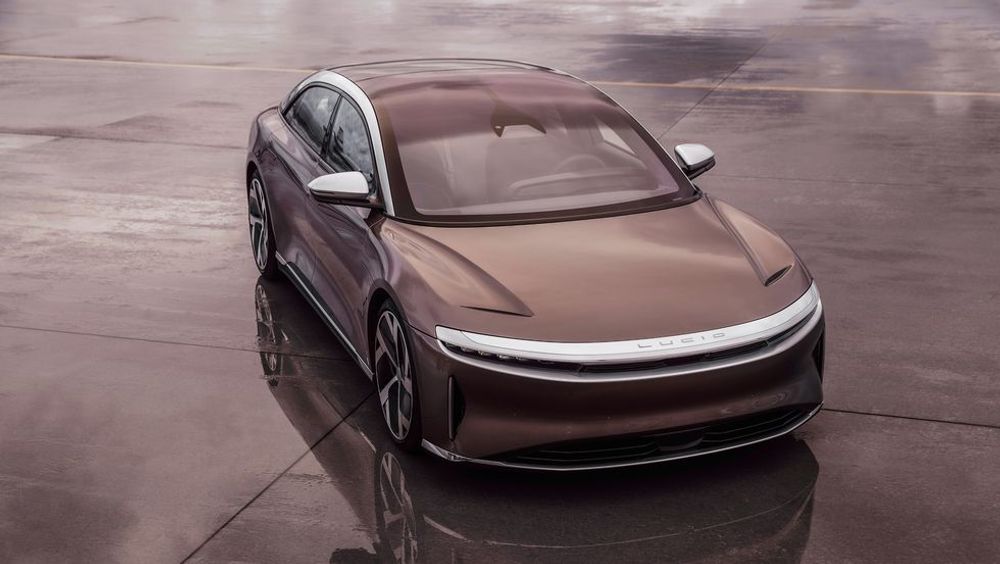 Lucid
Stat: The Lucid Motors Air Dream Edition was rated as having a 520 mile-range on a single charge by the EPA, making it the longest-range electric vehicle rated by the agency. That's more than 100 miles longer than Tesla's Model S Long Range Plus.
Quote: "We know that more people die than would otherwise because of car accidents, but by and large, cars create way more value in the world than they destroy. And I think social media is similar." 
Instagram head Adam Mosseri defended the platform on a Recode podcast following a flurry of WSJ articles this week that, among other things, showed that Facebook knows Instagram is toxic for teens but hasn't done much to address it. Some social media users were puzzled by Mosseri's analogy, pointing out that the auto industry is heavily regulated, unlike social media.
Read: The messy truth around carbon footprints. (Undark)

Getting a 5/5 on the Brew's Weekly News Quiz has been compared to eating mozzarella sticks in a white shirt and emerging completely marinara-free.
It's that satisfying. Ace the quiz.
SPONSORED BY THE MOTLEY FOOL
Oh to be this flaky. Wendy's Bacon, Egg and Swiss and Sausage, Egg and Swiss croissants are so buttery and so flaky and so toasty that...well, you should eat them. Plus, they're only $1.99 each. Get yours from Wendy's here.*
Follow Friday: It's a fall-themed edition, so if you live for raking leaves, follow this guy who reviews cider donuts, Christine McConnell for crafts, and finally, foliage. 
Best songs ever: Rolling Stone redid their list of the best 500 songs of all time. "Baby Shark" got snubbed, but see which songs made the cut.
*This is sponsored advertising content
Five words that contain the letters MO as a pair have had all of their other letters removed and placed into a pool. Put those letters back in their proper places to re-create the five words. 

1. **MO*
2. MO****
3. **MO**,
4. ***MO*
5. ***MO**

Pool: A, A, A, C, D, D, E, F, H, I, K, L, N, N, R, R, S, U, U, Y
Humor, monkey, famous, clamor, diamond
✤ A Note From Wendy's
Limited time only.  U.S. price and participation may vary. Excludes Maple Bacon Chicken Croissant.  Not valid in a combo.  Check your local Wendy's for breakfast hours.