☕ Surprise
| TOGETHER WITH | |
| --- | --- |
Good morning. You'll start to see a new name appear in the Brew going forward, and it's not because we want to project strength against our enemies. We're super stoked to welcome the incredible Abigail Rubenstein as a new editor at Morning Brew. Please give her the classic Brew welcome of pitching her your Web3 startup.
—Neal Freyman, Jamie Wilde, Abigail Rubenstein, Max Knoblauch
| | | | |
| --- | --- | --- | --- |
| | Nasdaq | 12,657.56 | |
| | | | |
| --- | --- | --- | --- |
| | S&P | 4,145.19 | |
| | | | |
| --- | --- | --- | --- |
| | Dow | 32,803.47 | |
| | | | |
| --- | --- | --- | --- |
| | 10-Year | 2.834% | |
| | | | |
| --- | --- | --- | --- |
| | Bitcoin | $23,161.74 | |
| | | | |
| --- | --- | --- | --- |
| | DraftKings | $17.96 | |
*Stock data as of market close, cryptocurrency data as of 7:00pm ET. Here's what these numbers mean.
Markets:

Stocks didn't do

all that great

yesterday, but still managed to close out a winning week that featured lots of political drama and yesterday's blowout jobs report. DraftKings likes its odds for the second half of the year—it raised its revenue forecast and its CEO said it was in "fantastic shape" to capture new customers ahead of the NFL season. 35 states and DC have now legalized sports gambling.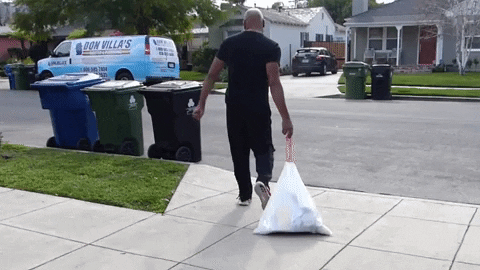 Robert E. Blackmon via Giphy
Things that have been scrapped recently: the Choco Taco, Batgirl, and any suggestion that we're in a recession.
The US smashed expectations by adding 528,000 jobs last month, while the unemployment rate sank to 3.5%, matching a more than 50-year low.
And how about this milestone: Total employment in the US has now fully returned to its levels before the pandemic in February 2020. 22 million jobs were lost during the first two months of Covid, and now they're all back.
The economy is weird, but it's not in a recession
A jobs number this strong—the biggest employment gain since February—is pretty clear evidence that the US isn't experiencing the "significant decline in economic activity" that the National Bureau of Economic Research defines as a recession.
But it is perplexing, since it comes at a time when other indicators are flashing warning signs:
US GDP fell in Q1 and Q2 of this year. Two straight quarters of falling GDP has frequently been used as shorthand for a recession.

One important measure of consumer sentiment fell to a record low in June.

Many high-profile tech companies, including Meta, Microsoft, Netflix, and Robinhood, have laid off staff or hit the brakes on hiring in recent months.
Still, the booming jobs report shows that the tech industry's problems might just be…the tech industry's problems. Companies across virtually all sectors, from hospitality to manufacturing to professional services, hired at a rapid clip last month.
And they all lived happily ever aft—
If only. We haven't yet talked about the economy's final boss: inflation. And the folks who are fighting inflation (the Fed) probably didn't love what they saw in the jobs report.
The Fed is deliberately trying to slow down jobs growth and salaries to pull back inflation from 40-year highs. But instead of a significant deceleration, more jobs were added and wages increased more than expected last month. That's why the stock market didn't light up like fireworks yesterday—the still-hot labor market means the Fed will have to continue hiking interest rates until jobs numbers and business activity start to chill out.
Bottom line: The good news is that the vast majority of Americans who want a job are employed, and that they're making more money than last year. But in the fight against inflation, the good news is also the bad news.—NF
TOGETHER WITH THE MOTLEY FOOL
And you can get in on them for 60% off. That's right—Motley Fool Stock Advisor's team of experts have found its next great stock recs, and it's offering you 60% off* the stock-picking service.
New members can get all the picks at almost half the price. Past recs have included the likes of Marvel (waaaaay back on June 7, 2002) and Booking Holdings (FKA Priceline) on May 21, 2004.
Plus, Motley Fool Stock Advisor subscribers get a 30-day complete membership-fee-back guarantee.

Sign up and get 60% off.
Zach Roberts/NurPhoto via Getty Images
Alex Jones ordered to pay $45.2 million. A jury ordered the Infowars host to pay $45.2 million in punitive damages in a lawsuit brought by parents of a Sandy Hook school shooting victim over his claims that the massacre was a hoax. These punitive damages come on top of the compensatory damages of $4.1 million that Jones was ordered to pay on Thursday. It's not clear yet how much Jones will actually fork over: In Texas, punitive damages are capped at 2x the compensatory amount plus $750k.
It's a vote-a-rama. Today, Democratic senators will attempt to push forward their signature tax, healthcare, and climate bill…but not before a bit of political theater known as "vote-a-rama." That's when Republicans will toss out any number of changes to the bill in an attempt to scuttle it last-minute, drawing out the session into a potential all-nighter. GOP Sen. Lindsey Graham said the vote-o-rama "will be like hell."
Tensions rise after Pelosi's Taiwan visit. China expressed its displeasure with House Speaker Nancy Pelosi's recent trip to Taiwan by firing enough missiles into nearby waters to spook neighboring Japan and calling off climate and military cooperation with the US. The White House reacted to the launches by hauling in China's ambassador to condemn the "irresponsible" military response. International brands are also wary of getting pulled into the feud, with Apple cautioning suppliers against using "made in Taiwan" labels and Mars Wrigley apologizing Friday for a Snickers ad that suggested the island is its own country.
Illustration: Dianna "Mick" McDougall, Sources: Getty Images
You know that corner of your room where laundry is heaped into a pile? Both your mom and Amazon want to know what it's doing there. The tech giant agreed to buy Roomba maker iRobot yesterday for $1.7 billion as part of its endeavor to smart-ify your home—and own all the sweet, sweet personal data that comes with that.
A quick roundup of Amazon's residential ambitions:
Amazon bought the app-connected doorbell Ring in 2018 and is slowly ramping up production of its Astro robot, which follows you around your home with a camera.

Plus, Alexa can be used with smart bulbs, microwaves, thermostats, and other internet-connected gadgets.
Adding Roomba to the mix could raise the IQ of Amazon's entire smart-product ecosystem. For instance, because Roomba creates a map of your home while vacuuming, acoustics and lighting devices could adjust themselves based on that blueprint. Cool, but...
The data mine goes way deeper than that
Amazon could infer your household income based on the size of your home, or that you have kids based on all the Legos your Roomba chokes on. The company can then use that info to target you with ads for relevant products.
Bottom line: Amazon's acquisition of Roomba could make your smart home work more seamlessly, but critics are worried about the personal data you'll give up in the process.—JW
Jeremie Richard/Getty Images
A volcano located on a peninsula in southwest Iceland erupted on Wednesday, belching magma just 20 miles from the capital, Reykjavik. To give New Yorkers some context, that's roughly equivalent to a volcano erupting in New Rochelle while you're standing in Union Square.
The eruption of the Fagradalsfjall volcano comes eight months after its most recent eruption ended. Before that, the Reykjanes Peninsula hadn't experienced a single eruption in nearly 800 years.
The Icelandic Meteorological Office warned people against going near the volcano, but that's like writing "Do Not Push" on a big red button. Tourists flocked to Fagradalsfjall to post TikToks and admire nature at its most sensational (and fearsome).
This being a relatively small eruption, it hasn't disrupted air travel yet—which isn't always the case with Iceland's geological flare-ups. When the Eyjafjallajokull volcano erupted in 2010, it grounded more than 100,000 flights between North America and Europe and stranded millions of passengers.
Looking ahead…lava lovers could be in for a treat. After nearly a millennium of serenity, the two recent eruptions on the Reykjanes Peninsula could "herald the start of decades of occasional eruptions," volcanologist Dave McGarvie told NatGeo.
Theo Wargo/Getty Images
Stat: Seems like a lot of you watched WeCrashed and wanted to see what all the fuss was about. WeWork said Thursday that it now has more members than before the pandemic, and occupancy rates in its coworking spaces rose to 72% last quarter, returning to levels from the end of 2019. Still no word on whether the company has managed to "elevate the world's consciousness," though.
Quote: "According to contemporary cosmology, no object related to Spanish charcuterie exists anywhere else other than on Earth."
Prominent French scientist Étienne Klein confessed that a photo he previously tweeted as an image of far away star Proxima Centauri taken by the James Webb Space Telescope was really…just a picture of a slice of chorizo.
Read: The custom sports bras that may have helped England win the Euro 2022 soccer tournament. (The Guardian)
Max Knoblauch
Morning Brew
What it takes to be a good leader is changing fast. From unpredictable markets to hiring the best team to help achieve your goals, the challenges facing managers are infinite. Connect with other leaders and dive into the tactics of leadership—including delegating, strategy, and execution—with the Brew's Leadership Accelerator, starting this September.
Brew Crossword: Today's 15x15 crossword is like a poolside bar—without any surprises in the water. Play it here.
Open House
Welcome to Open House, the only newsletter section with aspirational dreams it cannot possibly fulfill. We'll give you a few facts about a listing and you try to guess the price.
Compass
Today's listing is in Boulder, Colorado, a gorgeous city that is wildly out of our price range. The main house, carriage home, and pool house/office (yes, you get all three) add up to just over 10,000 square feet of so much reclaimed wood. This compound, if scooped up at its listing price, would set the record for the most expensive house ever sold in Boulder. Amenities include:
5 beds, 7 baths

Heated saline pool & outdoor hot tub

4-car garage

Windows for your plates and cups
How much for the most luxurious cabin on the Front Range?
✢ A Note From The Motley Fool
*60% and almost half off discounts are based on $199 per year list price. New member price is a $79 introductory offer for the first year. Subscriptions will renew at the then current list price.