Colliding Supermassive Black Holes Discovered in Nearby Galaxy
Sponsored by
January 19, 2023
Dear Reader,

This week, we're pondering some cosmic choreography. Our lead story concerns the recent discovery of two supermassive black holes, each weighing a hundred million suns or more, locked in a gravitational dance that will eventually result in their merging as one. Astronomers have spied such things many times before, but this pair is notable for being both close to us (their host galaxy is a mere half-billion light-years away) and close together (separated by just 750 light-years or so). Studying the system could unveil new details of how, exactly, two gargantuan black holes spiral together and coalesce—a surprisingly unsolved problem of astrophysics, and a crucial component of how smaller galaxies grow into larger ones. Elsewhere this week, we have stories on laser-generated lightning, a bookish history of slime, "forbidden" exoplanets, and more. Enjoy!
| | |
| --- | --- |
| | Lee Billings, Senior Editor, Space & Physics |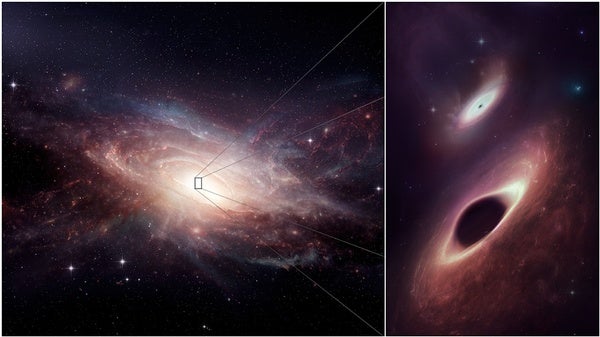 Quantum Physics
Science in meter and verse
FROM THE ARCHIVE


LATEST ISSUES


Questions? Comments?
Download the Scientific American App