☕ 1.5x speed
| TOGETHER WITH | |
| --- | --- |
Good morning and welcome back to the week. Yesterday, I attended an MLB spring training game that, no joke, lasted two hours and 16 minutes. Before you ask: It wasn't cut short by rain, and it did go a full nine innings.
We'll discuss baseball's shift to 1.5x speed further down the newsletter.
—Neal Freyman
| | | | |
| --- | --- | --- | --- |
| | Nasdaq | 11,394.94 | |
| | | | |
| --- | --- | --- | --- |
| | S&P | 3,970.04 | |
| | | | |
| --- | --- | --- | --- |
| | Dow | 32,816.92 | |
| | | | |
| --- | --- | --- | --- |
| | 10-Year | 3.938% | |
| | | | |
| --- | --- | --- | --- |
| | Bitcoin | $23,482.66 | |
| | | | |
| --- | --- | --- | --- |
| | Oil | $76.31 | |
*Stock data as of market close, cryptocurrency data as of 10:00am ET. Here's what these numbers mean.
Markets:

If you're looking for something to blame for stocks' recent backpedaling, throw shade at the bond market. A major sell-off in bonds has sent Treasury yields higher, making stocks less attractive to investors. Last week, the major US stock indexes posted their biggest weekly losses of the year.
Hector Retamal/AFP via Getty Images
Nearly three years after the Covid-19 pandemic shut down much of the world, we still don't know how it started.
But the Department of Energy is ready to submit its best guess. In a new report based on fresh intelligence, the agency has concluded that Covid-19 most likely spread to humans as a result of a mistake at a Chinese laboratory (aka the "lab leak" theory), the WSJ reports.
Important note: In making this determination, the Energy Dept. is about as self-assured as any Michael Cera character—it reportedly has "low confidence" that this theory is correct.
Also, why would the Energy Dept. have information about a pandemic's origins? Little-known fact: The Energy Dept. oversees a network of 17 national laboratories, and some of those labs do advanced bioresearch. The agency frequently leverages this lab network to gather information, rather than relying on typical intelligence operations, according to the NYT.
But there's still no consensus
In endorsing the lab leak theory, the Energy Dept. joins the FBI, which has concluded with "moderate confidence" that Covid originated accidentally from a Chinese lab: the Wuhan Institute of Virology. The two agencies reportedly arrived at this conclusion via different methods.
However, four other US agencies and the National Intelligence Council have concluded that Covid originated through natural transmission from an infected animal. But they, too, have low confidence their conclusions are correct.
One piece of evidence that's missing from the natural transmission theory? The animal that hypothetically did the infecting hasn't been identified. Given all this uncertainty, two other US agencies haven't reached a conclusion on Covid's beginnings yet.
So, if you're doing the math at home: Four US agencies believe it was natural transmission, two say lab leak, and two are undecided.
Zoom out: Scientists say it's important to make every effort to learn how Covid-19, a pandemic that's caused nearly 7 million deaths globally, began, so we can better prevent the next one.
But with the Chinese government thwarting investigations by global authorities, there may only be so much information the US can gather. And it might never be able to confidently answer the question: How did Covid begin?
That's the first thing that came to this model's mind when he tried on Mugsy chinos—the softest and most flexible, breathable, and best-looking pants to ever exist. There's a reason they have 13k+ verified reviews by guys of every shape and size.
Like their ultra-soft jeans, the chinos are made with 4-way stretch, lightweight fabric that comes in more colors than a box of crayons. All with a classy, effortless look that's perfect for the office, the course, and the clubhouse.
Wherever you want to wear these stylish chinos, you'll get a fancy look with a sweatpants feel. Dress yourself up in game-changing comfort today.
Get 10% off your first purchase with code BREW10, plus free shipping + free returns.
Illustration: Francis Scialabba, Photo: Okea/Getty Images
Twitter cuts more jobs. On Saturday night CEO Elon Musk laid off at least 200 workers from the company, which was about 10% of the ~2,000 employees still left at Twitter. When Musk bought the company last fall, there were roughly 7,500 people working there. Product Manager Esther Crawford was one of those let go—she had been heading up the Twitter Blue verification subscription service.
Dilbert dropped by major newspapers. The workplace-satire comic strip was pulled from the Washington Post, USA Today, and other major papers after creator Scott Adams made racist comments last week. On his YouTube livestream, Adams said that white people should "get the hell away from" Black Americans, whom he called a "hate group." When asked by the WaPo how many newspapers he expects will still carry his comic, Adams replied "by Monday, around zero."
Mediterranean migrant tragedy. At least 59 migrants, including 12 children, died when their boat crashed against rocks on the southern coast of Italy in bad weather. The boat had set sail from Turkey and was carrying at least 150 people from countries including Afghanistan, Somalia, Pakistan, and Iran. The central Mediterranean is the most dangerous migration route on the planet, accounting for more than 20,000 deaths and disappearances since 2014, per the UN's Missing Migrants Project.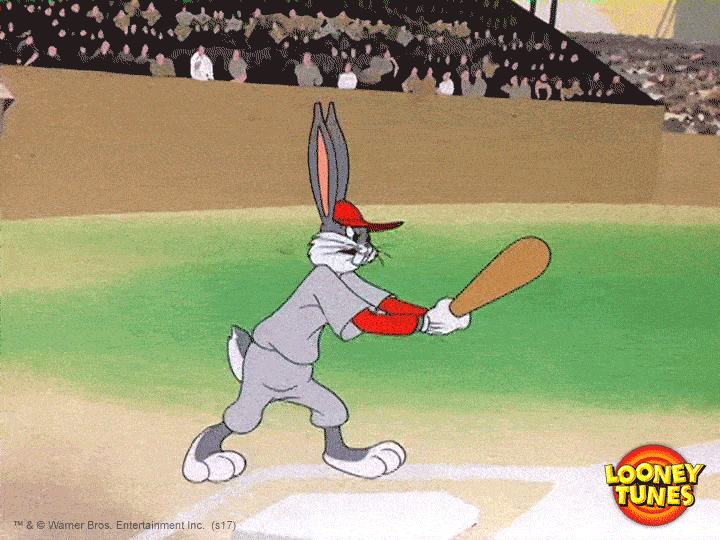 Looney Tunes/Warner Bros. Discovery
In an MLB spring training game on Saturday, the Atlanta Braves and Boston Red Sox ended in a 6–6 tie after Braves player Cal Conley struck out for not getting set in the batter's box in time.
In time. That's not a phrase you often hear associated with baseball, but you'd better get used to it because this season, baseball has entered its Sonic the Hedgehog era.
Over concerns it's getting disrupted by faster-paced sports, MLB is disrupting itself by introducing new rules this year to speed up the game and generate more offense. These rules include…
A pitch clock so pitchers (and hitters) can't loaf around in between pitches.

The elimination of extreme defensive shifts to encourage more offense.

Bigger bases to boost the number of stolen bases.

Limiting the number of mound "disengagements," like pickoff throws.
It'll take some getting used to. Strange scenarios in the first spring training games showed how players and teams will need to adjust to the new rules. On Friday, San Diego Padres star Manny Machado became the first MLB player to begin an at-bat down 0–1 in the count for stepping into the batter's box too late.
Big picture: For fans who love baseball but can't justify spending 3+ hours watching it, these could be welcome changes. That same Padres–Mariners game on Friday took just 2:29 to complete—about 40 minutes shorter than last year's regular-season average, per ESPN.
TOGETHER WITH DIVERSYFUND
A *premier* investment opportunity. Get in on the ground floor of direct investment into single-asset multifamily properties with DiversyFund Premier Offerings. They offer accredited investors the potential for hefty returns amid inflation and market volatility, and arm them with enhanced data to choose investment assets with confidence.
---
Jon Lovette/Getty Images
Student loan forgiveness on the docket: On Tuesday, the Supreme Court will begin hearing oral arguments over President Biden's student loan forgiveness program, which is being challenged by six GOP-led states. A ruling, due later this year, could have far-reaching consequences for a president's power to make rules unilaterally.
Retailers in the spotlight: This week's slate of earnings is all about retail. Target, Dollar Tree, Macy's, Kroger, and others will give us an update on American consumer health in this period of ripping inflation.
New month alert: March arrives on Wednesday and with it St. Patrick's Day, March Madness, Ted Lasso Season 3, and an extra hour of daylight in the evenings.
Everything else…
Congress gets back to work today following a break.

Tesla is holding its Investor Day on Wednesday.

Read Across America Day is also on Wednesday. That's Dr. Seuss's birthday (not a coincidence).
New Girl/20th Television
Stat: For millennials, "adulting" has meant racking up debt at a historic pace. Americans in their 30s have accumulated 27% more debt from late 2019 to late 2022, per the New York Fed. That's a bigger increase than any other age cohort and the highest rate of debt accumulation for Americans in their thirties since the 2008 financial crisis, the WSJ notes.
Quote: "Either an economic illiterate or a silver-tongued demagogue…"
In his annual letter to shareholders, Berkshire Hathaway CEO Warren Buffett blasted critics of stock buybacks as Econ 101 dropouts. Some lawmakers, such as Sen. Elizabeth Warren, have vilified the practice as a misuse of corporate funds that only benefits the elite. Buffett responded that buybacks benefit all shareholders by lifting the intrinsic value of the stock they own. Berkshire spent $7.9 billion on stock buybacks last year.
Read: Forget what you've heard—this is how large language models like ChatGPT actually work. (Stephen Wolfram)
Learn about your brain: Gauge your response to being presented with new ideas.
High-tech travel tip: This site will give you AI-generated summaries of hotel reviews.
Looking for a new car? These are the best EVs arriving in 2023.
Not shot on an iPhone: National Geographic selected its photo of the year.
Excel cheat sheet: Grab the Excel Dictionary bundle to gain access to the Excel cheat sheet of your dreams. Snag yours here.
New ketchup: Primal Kitchen just dropped a new USDA organic ketchup, this one just A Tad Sweet—made with real ingredients, a touch of organic honey, and no artificial sweeteners. Eat it up.*
*This is sponsored advertising content.
Turntable: Jumpstart your brain this week by finding the words in today's Turntable. Play the puzzle here.
Pokémon trivia
Today is National Pokémon Day, which celebrates the Japanese release of Pokémon Red and Green in 1996.
Here's our question for you: Which Pokémon is the first entry in the National Pokédex?
Want to keep your finances in check this year? Money with Katie's 2023 Wealth Planner can help. Track your income, spending, investing, debt payoff, and net worth in one easy-to-use tool.
Marketing Brew explains how to make the most of a lean marketing budget in 2023.
Our friends at Money Scoop send out easy-to-understand tips that make you smarter about your money. It's free—check it out.
✳︎ A Note From DiversyFund
Investors in The Independent or other Premier Offerings must be verified as accredited before they are fully invested.
Written by Neal Freyman
Was this email forwarded to you? Sign up here.
Take The Brew to work
Get smarter in just 5 minutes
Business education without the BS
Interested in podcasts?
ADVERTISE // CAREERS // SHOP // FAQ

Update your email preferences or unsubscribe here.
View our privacy policy here.

Copyright © 2023 Morning Brew. All rights reserved.
22 W 19th St, 4th Floor, New York, NY 10011