Henry Kissinger, War Criminal—Still at Large at 100
Read our current issue.
May 19, 2023
In 1968, Henry Kissinger successfully disrupted peace talks between the United States and North Vietnam, prolonging the war and needless loss of life in order to boost Richard Nixon's chances of winning the presidential election. This is one of the many episodes during Kissinger's tenure as a civil servant: a role in which he caused "immense suffering" and never paid for his sins, writes Greg Grandin.
Grandin's feature—part of our latest cover package—

looks back at Kissinger's life and career

on his 100th birthday, recounting some of his most infamous crimes and reminding us how little we actually know about Kissinger's work in the private sector.
EDITOR'S PICK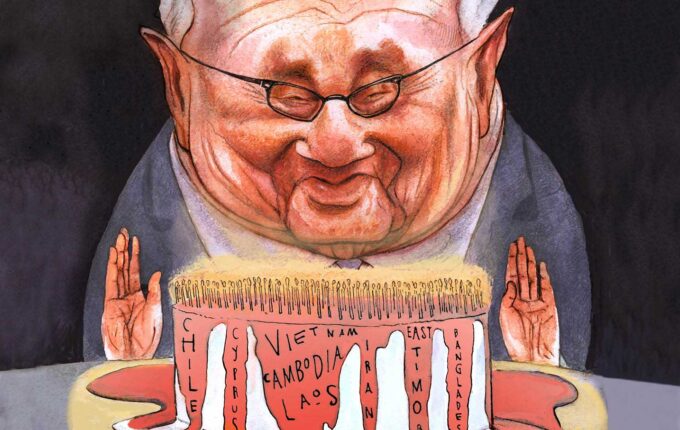 Henry Kissinger, War Criminal—Still at Large at 100
We now know a great deal about the crimes he committed while in office, from helping Nixon derail the Paris Peace Talks and prolong the Vietnam War to green-lighting the invasion of Cambodia and Pinochet's coup in Chile. But we know little about his four decades with Kissinger Associates.
Greg Grandin
ADVERTISEMENT
FEATURED
Can America Go Car-Free? Gen Z Hopes So.
Young people today are already driving less, but breaking the country's car-dependency will require unprecedented investment in infrastructure and public transit.

Hannah Reynolds
ADVERTISEMENT
A Cleaner World Lies in Nationalized Banking
The private financial sector tosses a climate-conscious sheen over its horrific practices, but the best thing it could do for the planet would be to get very public—very quickly.

Max Moran
OUR LATEST PODCASTS
| | | Jon Wiener, Start Making Sense |
| --- | --- | --- |
Support The Nation's Journalism
Donate today and support independent journalism that encourages debate, foments change, and amplifies the voices of those fighting for justice.