☕ Hard job
| TOGETHER WITH | |
| --- | --- |
Good morning. This newsletter's Word of the Day could have been any synonym for "debacle."
Hope your weekend is just the opposite!
—Matty Merritt, Sam Klebanov, Dave Lozo, Cassandra Cassidy, Abby Rubenstein, Neal Freyman
| | | | |
| --- | --- | --- | --- |
| | Nasdaq | 14,125.48 | |
| | | | |
| --- | --- | --- | --- |
| | S&P | 4,514.02 | |
| | | | |
| --- | --- | --- | --- |
| | Dow | 34,947.28 | |
| | | | |
| --- | --- | --- | --- |
| | 10-Year | 4.440% | |
| | | | |
| --- | --- | --- | --- |
| | Bitcoin | $36,470.20 | |
| | | | |
| --- | --- | --- | --- |
| | Gap | $17.85 | |
*Stock data as of market close, cryptocurrency data as of 4:00am ET. Here's what these numbers mean.
Markets:

Stocks

climbed

yesterday to reach their third positive week in a row for the first time since summer, boosted by data showing inflation is on its way down. All those Old Navy cardigans you've stocked up on helped Gap soar—the retailer rose after reporting strong sales last quarter at both Old Navy and its namesake stores.
Alain Jocard/Getty Images
Apple and IBM were among the growing list of advertisers dropping social media platform X after Elon Musk supported an anti-semitic post on the site this week.
What happened: On Wednesday, a user posted that Jewish communities furthered "dialectical hatred against whites" by supporting the immigration of minorities, a common neo-Nazi talking point that has been used to justify violence against Jews. Musk replied, "You have said the actual truth," and the interaction went viral.
Then, on Thursday, advocacy group Media Matters released a report that ads for companies like Apple, Bravo, IBM, Oracle, and Xfinity were running on the platform right next to pro-Hitler and Holocaust denial posts.
X's response: CEO Linda Yaccarino posted on the site and said in an internal memo that the company has been "extremely clear about our efforts to combat antisemitism," but didn't directly address Musk's post.
But Yaccarino's job just got a whole lot harder
Brought on five months ago to woo advertisers back to the site after many jumped ship when Musk took over, Yaccarino has had a bumpier tenure than Eric Taylor. And now, following the Media Matters report and Musk's tweet, IBM pulled roughly $1 million in ad spending, plus…
Apple, Disney, Warner Bros. Discovery, and Lionsgate

followed suit

yesterday, suspending all advertising on the site.

The EU Commission also paused ads on the site, saying disinformation was a huge concern.

Even the White House

released

an official statement condemning Musk's tweet.
It's not just X. A number of Tesla shareholders have spoken out against Musk's comments. Some have called for the company's board to censure him, or at least place him on leave for a few months.
This isn't Musk's first strike: He blamed the Anti-Defamation League, a Jewish civil rights group, for X's ad revenue dropping because the group said reports of harassment and extremist content had gone up since Musk bought the site. Last year, Musk posted and then deleted a "satirical" tweet comparing Canadian Prime Minister Justin Trudeau to Hitler.—MM
In the aftermath of Godzilla and the Titans' attack on San Francisco, a mysterious organization called Monarch was *quickly* there to investigate…almost as if they were expecting it
.
Intrigued? Follow the clues into a world of secrets and monsters with Apple TV+'s upcoming new series, Monarch: Legacy of Monsters. Tag along with an unlikely crew as they unravel the truth around the secret organization. And be sure to have plenty of your favorite snacks by your side.
Full of mystery, action, and adventure—not to mention a star-studded ensemble cast led by Kurt Russell and Wyatt Russell—Monarch is sure to be your next bingeable fave.
Justin Sullivan/Getty Images
Sam Altman? More like Sam Outman. In a shocking move that will reverberate across the business landscape, OpenAI's board of directors pushed out CEO Sam Altman, one of the world's most prominent tech executives. The company said that Altman "was not consistently candid in his communications with the board," and thus the board lost its confidence in Altman's ability to lead. OpenAI, and Altman, became household names this year after the company's ChatGPT chatbot sparked a frenzy around the field of generative artificial intelligence. OpenAI, which has received $13 billion in investment from Microsoft, is reportedly valued at $86 billion. CTO Mira Murati will keep the CEO seat warm for now.
The House Ethics Committee chair moved to expel George Santos. Rep. Michael Guest introduced a resolution to oust the New York representative one day after the committee released an illuminating report detailing Santos's use of campaign funds for things that aren't campaigns, including Hermés, botox, and OnlyFans. Congress will vote after Thanksgiving to determine if there's a two-thirds majority in favor of his expulsion. The Republican Party tried and failed to remove Santos from office earlier this month, but there are now even more lawmakers calling for his ouster. If this vote does send Santos packing, he'll be the sixth representative in history to be kicked out of Congress.
Workers at Ford and Stellantis ratify new contracts. The UAW is officially at peace with Detroit's Big Three, now that union members have voted to accept all three contracts the union negotiated to end its historic strike against the automakers. The new Ford contract won support from 68% of workers, while at Stellantis 70% voted in favor—that's in contrast to just 55% at GM, where many workers were wary of the deal despite its providing a 25% pay bump and improved benefits. All three contracts expire in 2028.
Tomas Cuesta/Getty Images
Argentinians will choose their next president tomorrow, concluding an election season that's felt like a Las Vegas variety extravaganza.
The final round of voting features two candidates vowing to jumpstart the third largest Latin American economy after it's been slammed with 143% annual inflation. Neck and neck in the polls, the candidates have radically different visions for how to turn the resource-rich country around.
Old school vs. libertarian on steroids
The traditionalist incumbent economy minister, Sergio Massa, is running against the eccentric anarcho-capitalist economist Javier Milei, who's been compared to Donald Trump and wants to burn the status quo playbook. He regularly appears at rallies wielding a chainsaw to symbolize what he thinks should happen to government spending—and the political system as a whole.
Often cheered on by costumed crowds, Milei advocates for the abolition of the central bank, weaker gun control, and ditching the peso for the dollar.

With a hairdo resembling a hornet's nest, he likens himself to a lion, and claims that his deceased pet dog inspired him to run.
Meanwhile, Massa is trying to woo voters with the major tax cuts he passed in his current role, while maintaining welfare payments and fuel subsidies.
BS alert…Milei is already making unsubstantiated claims about election fraud, while both campaigns have leaned on AI-generated content to manipulate public opinion.—SK
Just gonna circle back
. We just wrapped up the 4th season of Fresh Invest, the investing podcast sponsored by Fidelity and powered by Morning Brew. For our final ep, we're recapping some big hits from the season, including:
US Census Bureau
It took more than a decade, but the US government finally has an updated answer to the question, "How does your garden grow?"
For the first time since 2012, the USDA released a new Plant Hardiness Zone Map, the standard by which gardeners can determine which plants are most likely to survive a winter. The USDA uses it to set certain crop insurance standards, and scientists incorporate the data in research models that track the spread of exotic weeds and insects. The map shows about half the country is in a new zone, thanks to warmer conditions caused by climate change.
Christopher Daly, director of the PRISM Climate Group at Oregon State, which helped develop the map, said…
"The 2023 map is about 2.5 degrees warmer than the 2012 map."

"More sophisticated mapping techniques…also produced localized changes that are not climate-related."
Gardeners have mixed feelings. Megan London, a gardener in Arkansas, told NPR that gardeners are excited about the chance to grow new things, but "In the back of our mind, we're like, ah, that means things are warming up. So what does this mean in the long run?"—DL
Joseph Prezioso/Getty Images
Stat: If nothing says Thanksgiving to you like a wobbly red blob with the can lines still on it, you're not alone—Ocean Spray (whose farmers produce 65% of the world's cranberries) told the Wall Street Journal that Americans will consume 80 million pounds of the tart berries next week. Though the holiday makes for the 93-year-old farming cooperative's biggest sales, it's been innovating for decades to keep cranberries on your mind even when you don't have a turkey or a UTI: The company pioneered juice boxes in the 1980s and coined the term "craisin" in the 1990s.
Quote: "We've never done this before—and we'll probably never do it again—but we'd love to replace your vehicle."
After a woman went viral with a video that showed her Stanley tumbler remaining intact and keeping her drink cold (with the ice still clinking) in the aftermath of a fiery car wreck, the company decided to go bigger than just sending her some free merch. It stitched her video into one where Stanley President Terence Reilly offered her a new ride, so we're guessing her week just got a lot better.
Read: How to stop checking on your ex—and everyone else you love to hate—on social media. (Vox)
Compare: See how well-stocked your kitchen is in comparison to other Americans with the results of this poll.
Imagine: This Dutch app uses AI to show you what any street would look like as a bike-friendly one.
Sit: Actor Robert Pattinson designed a sofa that, while cozy, is not known to sparkle in the sunlight.
Judge for yourself: Here are some of the wild entries in the national costume competition at tonight's Miss Universe pageant.
Earn a $300 bonus: The best credit cards of 2023 offer exceptional rewards on purchases and a low annual fee. Start racking up huge rewards.*
*A message from our sponsor.
Brew Crossword: Consider today's Crossword the very first appetizer for your upcoming Thanksgiving dinner. Play it here.
Open House
Welcome to Open House, the only newsletter section where Christmas is coming early. We'll give you a few facts about a listing and you try to guess the price.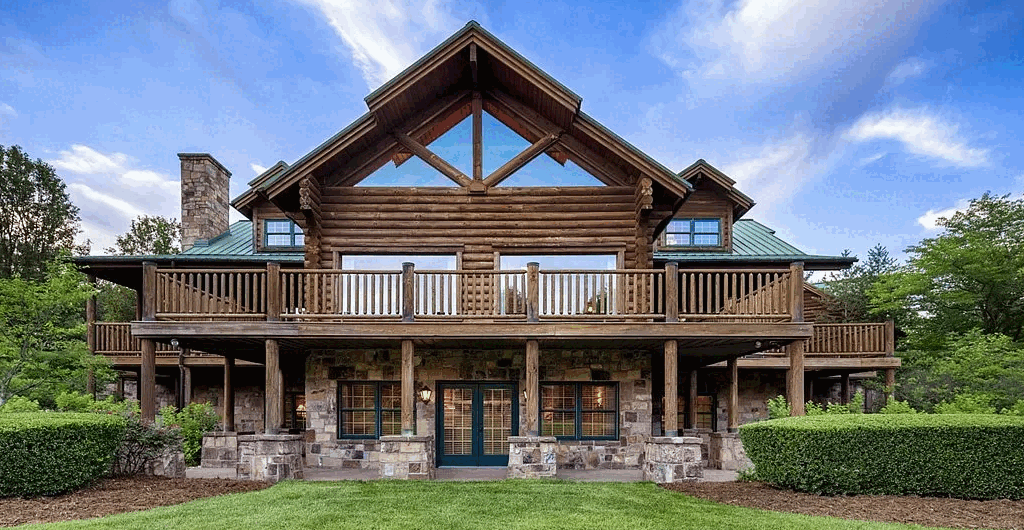 Zillow
Today's listing is in Santa Claus, Indiana, and sits on 550 acres of lush, Hoosier landscaping. This property is less of a "home" and more a "Great Wolf Lodge in a worse place." Amenities include:
15 beds, 19 baths

Your own kitschy diner

Private hoedown facility
How much for the Southwest Indiana log cabin?
$48 million
Word of the Day
Today's Word of the Day is: incumbent, meaning "the holder of an office." Thanks to Kody from Middletown, Ohio, for the status quo suggestion. Submit another Word of the Day here.
✳︎ A Note From Fidelity
Investing involves risk, including risk of loss.
Fidelity and Morning Brew are independent entities and are not legally affiliated.
Fidelity Brokerage Services LLC, Member NYSE, SIPC, 900 Salem Street, Smithfield, RI 02917

Written by Neal Freyman, Matty Merritt, Sam Klebanov, Dave Lozo, Cassandra Cassidy, and Abigail Rubenstein
Was this email forwarded to you? Sign up here.
Take The Brew to work
Get smarter in just 5 minutes
Business education without the BS
Interested in podcasts?
ADVERTISE // CAREERS // SHOP // FAQ

Update your email preferences or unsubscribe here.
View our privacy policy here.

Copyright © 2023 Morning Brew. All rights reserved.
22 W 19th St, 4th Floor, New York, NY 10011