☕ Wheelie
| | |
| --- | --- |
| Presented by | |
STR/AFP via Getty Images
The wackiest headlines from the week as they would appear in a Classifieds section.
Careers
GOOP PROP MASTER: A musical based on Gwyneth Paltrow's viral ski trial will open in London next month. We won't rest until there's a junior version to be poorly performed at middle schools.
CANADIAN CLUBBER: Canada's capital, Ottawa, known as the "city that fun forgot," is hiring a nightlife czar to teach government workers how to order a martini. About 25% of the metro area's residents work in the public sector.
Personal
NO SPOILERS FR: A cop in Australia was given 100 hours of community service for threatening to shoot his colleague if he revealed spoilers to Top Gun: Maverick.
COACHES NEEDED FOR CONTENT: Amazon Prime Video and Fox Sports anchor Charissa Thompson acknowledged that she made up midgame hits during her time as an NFL sideline reporter, sparking outrage from other sports journalists. Thompson later claimed that she had done anything unethical as a broadcaster.
BLUNT ROLLER LOOKING FOR WORK: On Thursday, prolific pothead Snoop Dogg posted on social media that he's "decided to give up smoke" after much conversation with his family.
For sale
MORE BRANDED SLIDES: Crocs is at it again with another chaotic collab. This time, they've partnered with McDonald's to make sandals and clogs based on Grimace, the Hamburglar, and Birdie. No doubt your other shoes are about to have some beef with these masterpieces.
THE MOTHER LODE OF KNOCKOFFS: The US announced its largest counterfeit bust in history, seizing more than $1 billion worth of fake handbags, wallets, and sunglasses bearing "logos" of Marc Jacobs, Louis Vuitton, and other luxury brands. Two men were charged with running the trafficking operation out of a Manhattan storage facility.
INFANT AROMA: Face it—your baby stinks. To help, Dior created a $230 "scented water" for babies to dab on their chubby, little wrists. The petite perfume is part of Baby Dior's skin care line, which sounds like an SNL sketch, but it is real and sells a $95 cleanser.
PRESENTED BY RIDGE
Gifts that last a lifetime
Attention holiday shoppers, gearheads, and everyone in between
: Call off your search for the perfect holiday gift. We've set our sights on some must-have (like, really sought-after) gear that's…wait for it…on sale.
We're talkin' about the one and only Ridge—and yep, they're currently holding their annual holiday sale. From super-durable, RFID-blocking wallets to the next-level Matte Black Everyday Carry Kit, prices are up to 30% off this festive season.
Why Ridge? Their products represent something more than just a wrapped object under a tree. They offer chances to improve someone's daily life with a gift that's functional, well engineered, and designed to last for life.
Gift like a pro and get up to 30% off today.
Guinness World Records
No, this is not a driverless automobile on a bloodthirsty rampage—this is stunt driver Paul Swift breaking a Guinness World Record for completing the tightest gap driven through by a pickup truck on two wheels. The 44-year-old navigated the 88-centimeter opening (34.6 inches for American readers) as part of Guinness World Record Day on Thursday, adding to his record for tightest parallel park in an electric car and most doughnuts around a motorcycle performing a wheelie in one minute.
If you're wondering how a person discovers these skills, it runs in Swift's family. Paul's father, Russ Swift, is a legendary stunt driver best known for his trademark parallel parking maneuver that you've probably seen replicated in commercials and movies. Paul learned to ride his family's lawnmower on two wheels at the age of 7, which would result in a phone call to police by concerned neighbors in most situations but was instead the launching point for a professional driving career.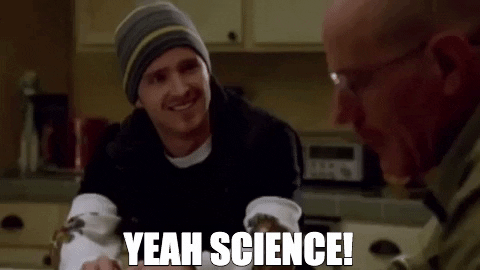 Breaking Bad/AMC via Giphy
Here are some illuminating scientific discoveries from the week to help you live better and maybe even predict the weather.
Narrow traffic lanes are safer than wide ones. Researchers at Johns Hopkins analyzed more than 1,000 streets in seven major cities across the US and found that narrower roads mitigated traffic collisions in certain conditions. The study did not find a significant difference between roads 9-feet wide and those 10- or 11-feet wide, but it did conclude that traffic accidents increase 1.5x when a road widens from 9 feet to 12 feet. Traffic fatalities are the leading cause of death for Americans aged 1–54.
AI can predict the weather better than traditional models. The AI model GraphCast, developed by Google's DeepMind, can predict the weather with more accuracy and in far less time than the best models we use now, according to a report published in Science. GraphCast is also cheaper to use because it runs on a normal-sized computer—rather than the school bus-sized supercomputers on which meteorologists currently rely. Researchers think AI will play a crucial role in preparing for future life-threatening natural disasters. The model predicted where Hurricane Lee would make landfall three days before weather forecasters could.
A fluffy planet's clouds are made of...sand? On the planet WASP-107b—nicknamed "candy floss" because of its low density—it rains sand. Similar to Earth's water cycle, on WASP-107b, silicate vapor rises up from the lower atmosphere, cools, and then forms tiny grains of sand that rain back down. Scientists also used the James Webb Space Telescope to identify that water vapor and sulfur dioxide are present on the planet, giving its atmosphere the scent of burnt matches. The discovery marks the first time that scientists have been able to identify the chemical composition of another planet's clouds, but likely not the last. Astronomers are now working to confirm if another planet's rain is made of precious gems.—CC
TOGETHER WITH WENDY'S
The "it" breakfast food. Order up the breakfast that'll make other breakfasts (and other people) jealous. Wendy's new Breakfast 2 for $3 Biggie Bundles lets you select two AM faves. Choose from their Sausage Biscuit, Egg & Cheese Biscuit, Small Seasoned Potatoes, or Medium Hot Coffee. Order now.
Sean Gallup/Getty Images
Ask anyone who rents an apartment in a major city how much they pay, and they'll respond, "too much."
But knowing there's a housing problem and knowing how to fix it are two different things, and sometimes well-meaning efforts to keep rents down end up backfiring.
Take Berlin, for example, where the housing market has been popping off: The average residential rent this June jumped 16% from last year, per real estate firm JLL. The desirability of Europe's rave capital is the main reason why average rent in Berlin has nearly doubled since 2014, as people from all over the world are drawn to its economic opportunities and cultural amenities. But a recent Wall Street Journal analysis suggests Berlin's bureaucrats, who imposed restrictions intended to keep prices at bay, are also at least partially to blame.
So, what went wrong in Berlin and what can other cities learn from it?
The Berlin approach
The German capital has imposed drastic restrictions on rent hikes and luxury upgrades to keep the number of bougie condos with granite countertops and basement gyms to a minimum.
Homeowners must navigate a bureaucratic obstacle course to make upgrades to their dwellings. One landlord told the WSJ that the city once asked him to replace a toilet that officials deemed too fancy.

Landlords are forbidden from splitting their buildings into multiple condos in an effort to prevent existing tenants from getting pushed out, not renewing a tenant's rental contract is difficult, and there are caps on rent increases for tenants re-signing their leases.
Why didn't it work? Many housing experts say this crackdown on landlords is part of the problem rather than the solution since it stamps out the profit motive for developers to supply more housing.
Plus, while the rules have kept rents stable for longtime tenants, rents have soared for people just moving in, and many skirt the formal lease process by making verbal contracts. That's why critics say Berlin should focus on making it easier to build more homes rather than regulating the existing ones.
How do you keep rent affordable?
Housing advocates say Berlin can learn from Minneapolis, whose leaders have encouraged home construction. The city came in at No. 11 in a ranking of 51 major US metros by the number of housing units built per dweller last year, according to Bloomberg. This is likely the reason why Minneapolis's average rent has grown just 1% since 2017, compared to a 31% increase nationwide.
To help spur new housing stock, local governments should avoid putting too many restrictions on the construction industry, experts say. Jason Ward of the RAND Center on Housing and Homelessness told Morning Brew that burdensome project approval processes and restrictive zoning rules that ban multifamily housing make building affordable homes not economically feasible for developers in his home state of California. He says the current system caters to "single-family homeowners, who really don't want anything that might threaten the value of [their] wildly valuable homes."
One success story: When Auckland, New Zealand, loosened its zoning rules in 2016, it was able to keep rents from growing fast. The construction that followed benefitted not just the residents of brand-new luxury cribs, but also the most modest tenants, as inflation-adjusted rents for the cheapest 25% of apartments in the city have stayed flat since the reform.
What about gentrification? The Auckland experience might reassure skeptics worried that new residential construction could displace existing residents by making a neighborhood look prettier and thus pricier. Housing economists say it's not the only evidence that even luxury housing can keep rents in the nearby area stable. That's because supplying high-end renters with new housing options makes them less inclined to compete with others for limited square footage.
Governments can do more than just get out of the way. Many experts say that the government should play an active role in bolstering housing supply by providing subsidies and ensuring that affordable options get built. Some point to Vienna with its abundance of affordable government-owned or subsidized housing and favorable construction laws, which prompted the New York Times to call it a "renter's utopia."—SK
Cook: Overwhelmed by sweet pumpkin treats? Test out this creamy pumpkin pasta.
Wear: Your comfortable, affordable defense against the cold weather.
Listen: When silence isn't an option, pink noise can help drown out unwanted sounds.
Take note: Turn any surface into a whiteboard.
Watch: This self-identified "inventor of unuseless machines" brings playfulness to mundane activities.
Play: Make colorful tortilla chips with this cornmeal mix.
Unwrap luxury: End your year behind the wheel of pure electric holiday cheer. Hurry in to The BMW Road Home Sales Event now through Nov. 30 and bring home the 100% electric BMW i5 and BMW iX. Shop now.*
*A message from our sponsor.
Friends/NBC
It's a big world out there. In this section, we'll teleport you to an interesting location—and hopefully give you travel ideas in the process.
Going home for Thanksgiving is sometimes impossible for a variety of reasons (work, lack of money/desire to travel, the anxiety of being around your family is too much to bear). That has opened the door for Friendsgiving—having a Thanksgiving meal with your friends—to grow so much in popularity in the past decade that even Joe Biden is taking part.
Friendsgiving has no official date and the menu itself can be just as flexible—some groups opt for traditional dishes, while others let Taco Bell cater the affair.
The origins are unknown, but the first mention of Friendsgiving on the internet dates to 2007, according to Merriam-Webster. There are several theories for why Friendsgiving has grown into such an ever-present holiday today.
When Friends

was on the air from 1994–2004, it devoted one episode per season to the gang having Thanksgiving dinner together. So it's possible the cultural phenomenon planted the Friendsgiving seeds (though there was no mention of the term itself).

Then in 2011,

Baileys Irish Cream released an ad that used the term, and an episode of

The Real Housewives of New Jersey

saw

Teresa host a Friendsgiving

.

The Covid pandemic

in 2020 left Americans cooped up in their homes or made it too dangerous to be around elderly loved ones, leaving many to spend the holiday with friends.
It's arguably never been as important to gather with friends: The WHO is creating a commission on social connection to combat the "epidemic of loneliness."
Last week, we asked: What horror movie would you be able to survive?
Here are our favorite responses:
"

The Ring

. I don't have a VHS player. Checkmate."—

Brennan from NYC

"

Talk to Me

. I didn't get invited to parties in high school."—

Olivia from Chicago

"

The Blob

. Step aside and let it roll on by."—

Beth from Ohio

"

The Mummy

. I can outrun him."—

Gina from Michigan

"

Nightmare on Elm Street

. It's a very simple concept: Load up on a lifetime supply of Celsius and just don't go to sleep."—

Anthony from Merrimack, NH

"

Jaws

. I live in the Rocky Mountains. There's no such thing as a Great White Trout."—

Charlie from Colorado

"

Scream

. I don't answer the phone if the number isn't saved in my contacts. He can leave a message and I'll get back to him if it's that important."—

Zack from Wisconsin
This week's question
What is the most obvious problem humans haven't figured out a simple solution for? Put another way, if aliens came to Earth, what is the first thing they'd make fun of us about?
Matty's answer to get the juices flowing: "An easier way for regular people to fill potholes. Imagine if we all had mini cement mixers that were similar to those professional pancake batter dispensers. We could all just fix the roads in front of our homes."
✳︎ A Note From Wendy's
Limited time only during breakfast hours. U.S. price and participation may vary. No substitutions. Not valid in a combo. Single item at regular price.
Written by Dave Lozo, Neal Freyman, Matty Merritt, Cassandra Cassidy, and Sam Klebanov
Was this email forwarded to you? Sign up here
Take The Brew to work
Get smarter in just 5 minutes
Business education without the BS
Interested in podcasts?
ADVERTISE // CAREERS // SHOP // FAQ

Update your email preferences or unsubscribe here.
View our privacy policy here.

Copyright © 2023 Morning Brew. All rights reserved.
22 W 19th St, 4th Floor, New York, NY 10011